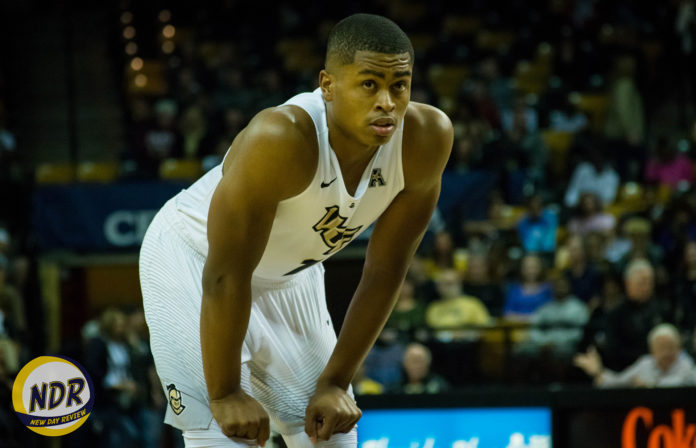 (Photo by Victor Tan / New Day Review)
ORLANDO, Fla. – In spite of the season-opening win, the University of Central Florida suffered a mighty loss on Nov. 10. In an 88-79 victory over Mercer University, Knights star point guard B.J. Taylor suffered a fracture in his left foot that will keep him out for four to six weeks. It's a difficult setback for a redshirt junior who also suffered a season-ending, right-ankle injury that kept him out of the 2015-16 season.
"Oh, I mean, I was upset the other night. I put a lot into the game. I put a lot, you know, my teammates and, you know, being a leader out there for them on the floor," said Taylor, sporting a boot and scooter, before practice Tuesday. "So, that's difficult for me not be out there with those guys for the, you know, near future. But, at the same time, I was raised that, you know, nobody having a pity party for you, and you can't sit around feeling bad for yourself because today is a new day, and, in the grand scheme of things, you know, this is just another bump in the road that I'm gonna have to get over."
In his stead, UCF head coach Johnny Dawkins expects Terrell Allen, a transfer from Drexel University, to assume Taylor's starting point-guard duties and team-leadership responsibilities. Allen, an efficient free-throw shooter at 83.8 percent, averaged 9.8 points per game and 3.5 assists per game in his freshman year with the Dragons in the 2015-16 season.
Allen has already logged significant minutes for the Knights. In the single-digit win over Mercer, he played the final 15:55 and went 4-for-4 from the free-throw line in the final 1:46 to keep the Bears at bay. He finished the game with no field-goal attempts, six points, three rebounds, one assist and three steals.
"Well I need Terrell," Dawkins said before practice Tuesday. "You know, Terrell's a pure point guard, and it's an opportunity for him to, you know, assume that role, and he's gonna have to learn to lead. You know, B.J. was our captain and our leader, and, so now, Terrell's gonna have to really step into that type of role. You know, be more assertive and look to run our team."
Taylor's fractured foot is the latest injury to Dawkins' 2017-18 squad. He, first, lost guard Aubrey Dawkins, his son, to a season-ending shoulder injury. Against Mercer, center Tacko Fall was didn't dress because of a minor hip injury.
The Knights will next play the Gardner-Webb Runnin' Bulldogs on Wednesday at 7 p.m. for their second game of the season.
---
For more on the Knights, as they prepare for the Runnin' Bulldogs, follow Victor Tan on Twitter at @NDR_VictorTan.