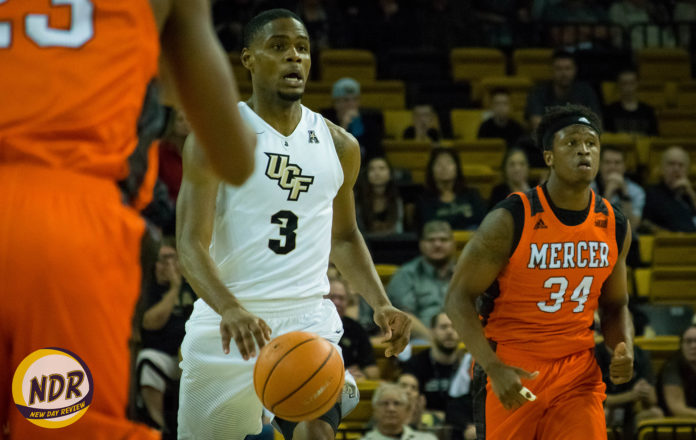 (Photo by Victor Tan / New Day Review)
ORLANDO, Fla. – The University of Central Florida started its second season under Johnny Dawkins on a positive note. Against Mercer University on Nov. 10, the Knights earned an 88-79 win without star center Tacko Fall. Now, the Knights will come up against a Gardner-Webb Runnin' Bulldogs team eager for a win and that's started its season on the road against stiff competition.
Here's what to look for in the Knights' second game of the season on Wednesday.
–
Gardner-Webb Visits UCF to Conclude Grueling, Early-season Road Trip
Gardner-Webb has been tested by some of the best teams in the country early this season. To start the new year, the Runnin' Bulldogs fell to the then-No. 13 Miami Hurricanes 77-45. Then, Gardner-Webb ventured north to Gainesville and lost to the No. 8 Florida Gators 116-74. In both games, the Runnin' Bulldogs were beaten inside the paint, as Miami and Florida combined to out-rebound Gardner-Webb 91-65. Florida also shot 15-for-29 from three-point range and 58 percent from the field.
Now, the Knights host the Runnin' Bulldogs in Gardner-Webb's final road game in Florida to start the season. The Knights and Runnin' Bulldogs will meet for the first time in over 12 years. UCF holds a 5-1 all-time advantage, having won the last meeting 63-54 on March 5, 2005.
"Gardner-Webb's a well-coached team," Dawkins said after practice on Tuesday. "They play hard; they have a number of players that are from this area. You know, they're gonna be excited to play here, of course, and it's gonna, you know, a very competitive game. And we have to make sure we come out prepared."
DJ Laster Leads Gardner-Webb Offensively
While difficult to ascertain the full quality of a team when its being blown out, the Runnin' Bulldogs have seen at least one positive in their first two losses. Forward D.J. Laster, a Pensacola native, has led the way for Gardner-Webb and its offensive production. Against the Hurricanes, he was the only player to score in double figures, notching 10 points on 5-for-13 shooting, eight rebounds and two steals. He nearly doubled his Miami total against the Gators, recording a double-double with 19 points on 8-for-15 shooting and 10 rebounds.
Laster is shooting 46.4 percent from the field while the other four starters have combined for 12-for-48 (25 percent) in the Runnin' Bulldogs' first two games. The junior has also accounted for 28 percent of Gardner-Webb's 65 rebounds (18), snagging three offensive boards in each of his first two games this year. No other player this season, for the Runnin' Bulldogs, has reached double-digit rebounds yet.
Off the bench, Gardner-Webb saw efficient production from freshman guard Jaheam Cornwall. He posted 18 points on 7-for-10 shooting, including 3-for-5 from three-point range, in the loss to Florida.
"Well, we're gonna have to make sure, one, that, you know, in the paint, we have to make sure we keep [Laster] off his sweet spot," Dawkins said. "…And then when he's faced up, we have to make sure that we understand that he's capable of putting it down one time or two times quick. We have to make sure that we get in a stance and make sure that we try to keep him out of our paint, you know, off the bounce, but, in the low post, if we have any kind of problems, we have to make sure, you know, we're ready to make our adjustments.
"But, basically, we defend the post kinda the same way, and that's making sure we try to deny the ball so [nothing] gets in there as much as possible."
Runnin' Bulldogs' 3-point Shooting Is a Weakness
Gardner-Webb took a combined 36 three-point attempts in its first two games against its Sunshine State opponents. In the Miami game, the Runnin' Bulldogs shot 4-for-16 from deep, as three-point attempts accounted for 25.4 percent of their attempts. The Runnin' Bulldogs then made six of their 20 threes against Florida, which accounted for 30.3 percent of their field-goal attempts.
Despite the high volume of three-point attempts, Gardner-Webb is shooting just 27.8 percent from long range. Cornwall is the most confident from beyond the arc, taking six three-pointers and making three of them so far this season.
–
UCF and Gardner-Webb tip off at CFE Arena on Wednesday at 7 p.m. The game will be broadcast on ESPN3.
---
For more on the Knights, as they prepare for their second game of the season, follow Victor Tan on Twitter at @NDR_VictorTan.