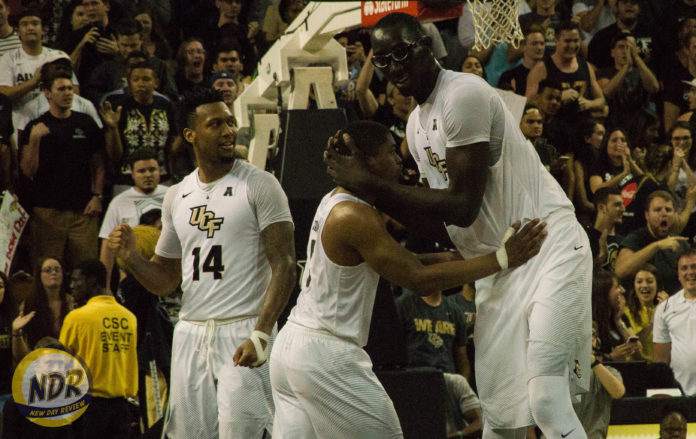 (Photo by Tommy Cardinal / New Day Review)
(Video by Victor Tan / New Day Review)
ORLANDO, Fla. – Johnny Dawkins faces a unique challenge, as he and his 1-0 UCF Knights approach the Gardner-Webb Runnin' Bulldogs for a home matchup on Wednesday. The second-year head coach will be without both his star point guard and leading scorer from last season, B.J. Taylor, and the 2016-17 American Athletic Conference Defensive Player of the Year in center Tacko Fall. Taylor suffered a fractured foot in the win over Mercer University on Nov. 10, and Fall has been nursing a minor hip injury with no timetable of return.
Working with a limited roster isn't a circumstance Dawkins is unfamiliar with, though. Last season, he had just seven scholarship players in a regular rotation and led the Knights to their first-ever winning season in the AAC and a National Invitation Tournament semifinal appearance.
Despite the early setbacks, Dawkins is mostly positive and optimistic about his team's outlook.
"You know, our mood isn't bad," Dawkins said before practice Tuesday. "You know, our guys, they understand that it's part of our game, and it's unfortunate, and, like I said, all except Aubrey [Dawkins], which is a season-ending injury—the rest of the injuries are things that happen where you can come back from, you know, relatively fast…
"But it's something that, you know, we have to go through, and I think, you know, we can be better from this based on how we perform and how some guys think, you know, we can be better from this based on how we perform and how some guys step up, and so, hopefully, when that happens, you know, we can be an improved team."
Without Taylor, who paced UCF with 17.4 points per game in the 2016-17 season, the Knights will look elsewhere for scoring. Newcomer guards Ceasar DeJesus, Dayon Griffin and Chance McSpadden fit the bill of pacey, aggressive guards that UCF is looking for. They proved it in the win over Mercer.
DeJesus and Griffin led the Knights with a team-high 16 points each, shooting a combined 10-for-17 from the field, 2-for-5 from three-point range and 10-for-16 from the free-throw line. As for McSpadden, he added 13 points on 60 percent shooting. Combined with Drexel University transfer Terrell Allen, who Dawkins said will assume the starting point-guard role, the Knights have a host of players who can assume Taylor's responsibilities.
For McSpadden, who Dawkins called his primary perimeter defender, success without Taylor comes down to how the team defends.
"I would say that we just gotta stay connected defensively," McSpadden said before practice Tuesday. "I really think it really affects the team. I mean, it's always bad to lose players to injures and stuff like that, but coach always preaches defense, and, if we keep playing defense, we'll be good."
Taylor might be down, but he's not completely out. On the sideline, Taylor looks to utilize his court vision and general basketball IQ that have helped him lead the team in assists per game (3.5) last season.
"Doing anything I can from the sideline to help, like the team grow," said Taylor of how he can help the team while out before practice Tuesday. "I have a really high basketball IQ, and I see a lot of stuff. You know, sitting out, just being a point guard, being vocal with the guys. So, I definitely can help them in that way, and, like you said, preparing for the, you know, games that will come up in the future that I might be able to be back for. Watch film on those, get ready mentally for those games and those environments."
A Taylor-less and Fall-less Knights team will host Gardner-Webb on Wednesday at 7 p.m. at CFE Arena. The game will be broadcast on ESPN3.
---
For more on the Knights, as they prepare for the Runnin' Bulldogs, follow Victor Tan on Twitter at @NDR_VictorTan.