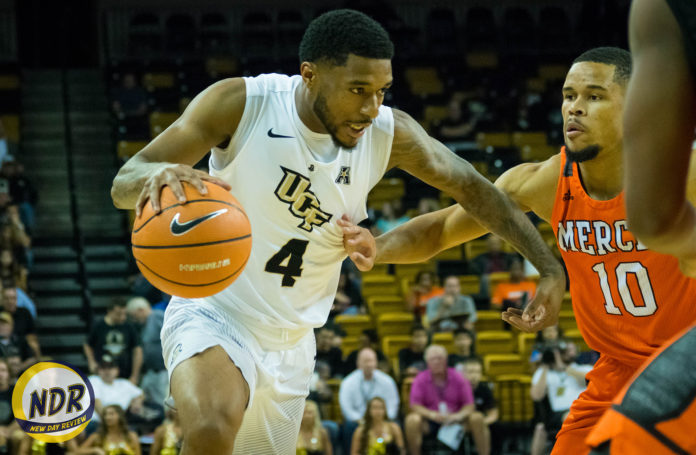 (Photo by Victor Tan / New Day Review)
(Video by Jade Nunez, Victor Tan / New Day Review)
Game Recap
ORLANDO, Fla. – Second-year UCF Knights head coach Johnny Dawkins entered the 2017-18 with a luxury he didn't have last season: depth. After having just seven scholarship players available last year, Dawkins was able to give nine players 12 or more minutes in the Knights' season-opener on Nov. 10. That kept the Knights (1-0) fresh and able for an 88-79 win over the Mercer Bears (0-1) at CFE Arena.
"We had a little more depth than we had last year," Dawkins said laughing after the win. "And I thought everybody kinda responded. I think everybody had moments for us that played in that game, and that's what you wanna see happen. So…you know, I'm encouraged by what I saw. There's a lot of things we have to work on, for sure. This film's gonna be great, I think, for our players because having 'em on the grey team last year is different than having to coach them in a real game."
The Knights were led by 16 points each from Ceasar DeJesus and Dayon Griffin in their respective debuts after star point guard B.J. Taylor left the game with an injury and 12 points. DeJesus and Griffin were instrumental in initiating UCF's momentum-snatching drive early in the second half.
After Mercer's Ethan Stair tied the game at 50-50 with his second three-pointer of the game, UCF used a 12-0 scoring run to put the game out of reach of the Bears. Rokas Ulvydas started the run with a tip-in of Griffin's missed layup. Two Mercer possessions later, DeJesus stepped in front of a pass to for one of his game-high three steals and dunked it on the fast break. Griffin snagged a defensive rebound before he and DeJesus were subbed out. UCF finished the run with six different players scoring two points each.
"Defense. Everything just comes back to defense," DeJesus said after the win. "First half, we weren't like, playing our, like actual principles—being in the pack and all that. So, like, second half, like, during halftime, Coach is, like, he had to talk with us, and he just told us we gotta lock in and play defense 'cause we're gonna score the ball. Like, we just had to lock in on defense to get that lead."
Said Dawkins of the game-changing run: "You know, I saw 'em play with a lot of poise. We started really understanding how we had to build a lead; that was getting stops. I thought we really got dialed in defensively. That led us to our fast break and getting out in the open court, and we have guys that you see that can make plays when they get out there and get that space. So, it was really kinda fun to see us kinda how we did it. But the most interesting part was after we built the lead was how to maintain that lead.
"And so I was happy to see kinda how we closed the game without, like, a B.J. and without having been in that situation before with a real poised team making a run at you, and our guys handled it well."
Mercer fought its way back into the game in the waning two minutes of the game, intentionally fouling UCF for 14 free throws. The Knights made 10 free throws, but not before Mercer came within as close as seven points with 1:12 left in the game.
Game-high scorer Ria'n Holland drained an and-1 three-pointer and the ensuing free throw to pull the Bears within eight points of the Knights with 1:31 left. After Griffin went 1-for-2 at the free-throw line, he fouled Jordan Strawberry for two more Mercer free throws that put the Bears within seven.
"That was a great team to, you know, start off our season," forward A.J. Davis said after the win. "You know, we had a lot of respect for them going into that game, and I think they showed, you know, throughout the whole game why they were a great team. They got great scorers. You know, they're really well coached. We had a lot of respect for 'em."
UCF and Mercer nearly drew even at the halfway mark, as the Bears led the Knights 47-46. Neither team broke away from the other, as each team's largest lead was five points. Holland scored his first 21 points in the first half, as the Bears shot 50 percent from the field. UCF one-upped the Bears, shooting 59.3 percent. Ultimately, though, it was the Knights' four extra turnovers and three less three-pointers that was the difference in the first half.
"I think [our offensive performance was] great. I mean, I think, you know, we get up the floor fast," Davis said. "You know, we get boards and get up the court. Defensively, we're good. Like I said, we just need to lock in more on defense and get some more stops 'cause our stops—that's what produces a lot of offense for us. So, just, our offense was good."
Player of the Game: F A.J. Davis
With Taylor leaving the game in a moment where the game was still in question and center Tacko Fall out with an injury, the team looked to its most veteran leader in Davis. He finished with eight points and tied a career-high in rebounds with 15 in 34 minutes. Davis also added three assists and three blocks.
"I thought A.J. had a huge performance for us, both handling the basketball as well as rebounding it," Dawkins said. "I mean, 15 rebounds against that team. He did a great job. And he had the balls in his hand a lot in our fast break, pushing it and making plays. You know, he made a lot of real good decisions with the basketball. And he played like a senior. You know, this is what we expect out of A.J. And you'll see A.J.'s morph role to different type of roles throughout the season.
"He's kinda like—you know, if you're playing chess, I think he would be my queen on the chessboard. He's that player that can kinda go all over the place and do a lot of everything. And just really, he's the kind of a glue guy for us. He makes it all work because I can move him around, and he has a skill set to be able to do that. I mean, he's pretty much like a point forward. He can play 1 through the 4 for us and play 'em all fairly well."
What's next?
UCF will host the Gardner-Webb Bulldogs on Wednesday at 7 p.m. That game will be broadcast on ESPN3.
BJ Taylor Leaves Game with Injury
During UCF's runaway stretch early in the second half, Taylor suffered a foot injury on an and-1 layup he converted. After shooting and missing the ensuing free throw, he was subbed off and departed for the locker room, never to return the rest of the night. Taylor finished the season-opener 3-for-7 from the field, including 2-for-4 from three-point range, and added a team-high four assists.
"The only thing I know is, you know, he hurt his foot, and nothing will be confirmed until tomorrow after, you know, I guess, after the doctors see him and kinda give us, you know, their impressions on what happened," Dawkins said. "So, hopefully, he'll be okay, but we have to wait and see."
Terrell Allen, who was making his UCF debut after sitting out last season for transferring from Drexel University, assumed Taylor's primary point-guard duties and scored four free throws in the final 1:46 to stave off Mercer.
"He makes others better," Dawkins said of Allen. "I mean, he's a pure point guard. Like, I love both. I thought we had a combination of B.J. and Terrell. One's scoring point, which I love, and one's a pure point, which I love. You know, Terrell's a throwback. He's trying to find guys, trying to make guys better. He's connecting. He's more of a servant. He's serving everybody ,which is a good thing."
Allen finished his Knights debut with no shot attempts, shooting 6-for-6 from the free-throw line. He added three rebounds, an assist and three steals with no turnovers in 21 minutes.
Highlights
n/a
NDR Notes
Davis tied his career-high in rebounds with 15.
Taylor left the game in the second half with a leg injury.
Fall did not dress for the opener because of an injury.
DeJesus and Griffin led the Knights in scoring with 16 points each in their UCF debuts.
Scoring
| | | | |
| --- | --- | --- | --- |
| | 1st Half | 2nd Half | Final |
| UCF Knights | 46 | 42 | 88 |
| Mercer Bears | 47 | 32 | 79 |
Statistics and Starting Lineups
Team Leaders
| | | |
| --- | --- | --- |
| | UCF Knights | Mercer Bears |
| Points | Ceasar DeJesus, Dayon Griffin (16) | Ria'n Holland (31) |
| Rebounds | A.J. Davis (15) | Jordan Strawberry (6) |
| Assists | B.J. Taylor (4) | Jordan Strawberry, Marcus Cohen (4) |
| Blocks | A.J. Davis, Chad Brown (3) | Desmond Ringer (1) |
| Steals | Ceasar DeJesus, Terrell Allen (3) | Jordan Strawberry (2) |
| Turnovers | Ceasar DeJesus, Dayon Griffin (3) | Ria'n Holland, Marcus Cohen (3) |
| Minutes | A.J. Davis (34) | Ria'n Holland (32 |
Team Statistics
| | | | | | |
| --- | --- | --- | --- | --- | --- |
| | Rebounds | Assists | Blocks | Steals | Turnovers |
| UCF Knights | 39 | 12 | 6 | 7 | 14 |
| Mercer Bears | 28 | 14 | 1 | 5 | 14 |
Shooting Percentages
| | | |
| --- | --- | --- |
| | UCF Knights | Mercer Bears |
| FG% | 53.6% | 41.1% |
| 3FG% | 29.4% | 41.4% |
| FT% | 62.2% | 75.0% |
UCF Knights starting lineup: B.J. Taylor (G), Dayon Griffin (G), Ceasar DeJesus (G), A.J. Davis (F), Rokas Ulvydas (F)
Mercer Bears starting lineup: Demetre Rivers (G), Ria'n Holland (G), Jordan Strawberry (G), Stephon Jelks (F), Desmond Ringer (F)
---
For more on the Knights, as they prepare for the Gardner-Webb Bulldogs for a Wednesday game, follow Victor Tan on Twitter at @NDR_VictorTan.