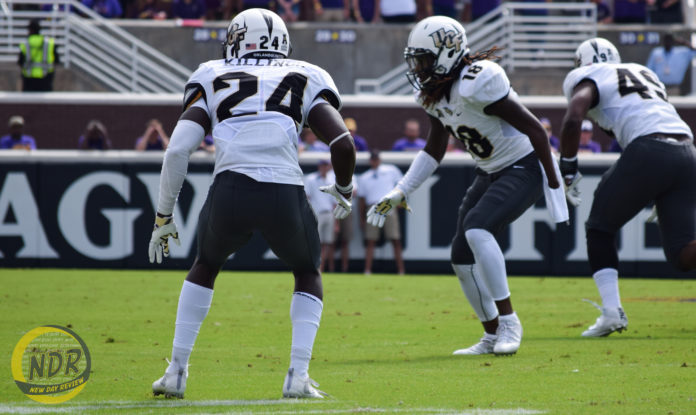 Much of the University of Central Florida's success this season has been largely attributed to the elevation of play from its seniors.
UCF head coach Scott Frost made note of that following the Knights' (6-4, 4-2 in American Athletic Conference) bowl-clinching win over Tulane University on Saturday, calling the group the catalyst that sparked a turnaround from a winless season to a level of national prominence.
"That group of guys went through a really tough season last year, and that group of guys responded and did everything we asked them to do," Frost said. "I've told them this. I think those guys will, at least in my mind, be the guys that I remember as the guys that helped turn this thing around."
Their remarkable production and veteran leadership, especially on the defensive side, is what has kept UCF close in so many games this year. Most recently, the unit is holding opponents to six points or less and has forced eight turnovers over their last two games.
However, with bowl eligibility secured, there's still more to fight for with a mathematical shot at claiming the American Athletic Conference East Division title still in reach.
On Saturday, 24 seniors will be honored during senior day. They face the University of Tulsa (7-3, 4-2 in AAC), putting to test the team's strength against one of the premier offenses in college football. And it's only fitting that the battle-tested seniors will have their opportunity to avenge some of last year's wrongs, after the Knights fell to Tulsa 45-30 last year.
"I don't think we really know exactly how it feels yet up until that night, up until that moment where we realize that this is the last one in the Bounce House," senior cornerback D.J. Killings said. "It's the last time you're gonna be able to play. I just think everybody is gonna go balls out cus senior night is the last one in the Bounce House. So, it's going to be exciting."
Tulsa's high-powered offense is second in the American in scoring and No. 8 nationally in total offense, averaging 42.2 points and 518.5 total yards per game. In last week's 42-40 loss to Navy, the Golden Hurricane surpassed their season average, combining for 576 total yards.
UCF defensive coordinator Erik Chinander knows the challenge that awaits but believes it will provide the ultimate matchup.
"They go really fast," Chinander said. "They're fifth in the country in most plays per game. They do a nice job. You have to keep your defense sound, and we'll be on the field a lot, so overall it's the ultimate matchup, I guess you could say."
Tulsa's success has been mostly due to the emergence of its offensive line this season. Tied for seventh in adjusted pass blocking—led by sophomore left tackle Evan Plagg, who ranks third among tackles in pass protection, has carved out a path for two 1,000-yard rushers, according to Pro Football Focus.
Sophomore running back D'Angelo Brewer and junior running back James Flanders have combined for over 2,600 yards rushing. Their one-two punch on the ground adds a dynamic to Tulsa's offense for senior quarterback Dane Evans to flourish, who recently became the school's all-time passing leader (10,945 yards) with another 3,000 passing yards season.
"I feel like every week as a team, we've been hit with a little bit of adversity and somehow, someway we still found a way to push through it," senior linebacker Errol Clarke said. "Coach Frost always puts us through the test every week, and we always respond."
But for the Knights to prevail, keeping up with the Golden Hurricane's tempo on offense will be an even more difficult task to match, though, it's one Frost would like to see develop under his own fast-paced scheme. It could mean the difference between allowing the defense to regain their stamina and maintaining their effectiveness.
"We've been a little more selective with our tempo this year depending on how we're doing on offense and how much the defense has been on the field," Frost said. "If we get it rolling on offense, we're going to put the hammer down. If the defense has been out there a while, we might try to give them a little rest… Right now, we have to do what's in the best interest of the offense to help them move the ball."
The young Knights offense has consistently been overshadowed by the achievements of a veteran-led defense, which has seven seniors starting. Frost is hoping that some of the underclassmen will make their breakthrough and carry the torch.
"There's been a lot of guys that are playing at a higher level than I even thought they could," Frost said. "That's an example for young guys… If you work hard and stick to it, good things are going to happen."
Tulsa leads the all-time series 6-3 and have had the best on UCF in recent years, winning four of its last five meetings. The Knights are 3-1 at home against the Golden Hurricane.
"I feel like we came this far, we can't let up," Killings said. "With [Tulsa] producing…a lot of points and [gaining] a lot of yards, I feel like this is the exclamation point on our season."