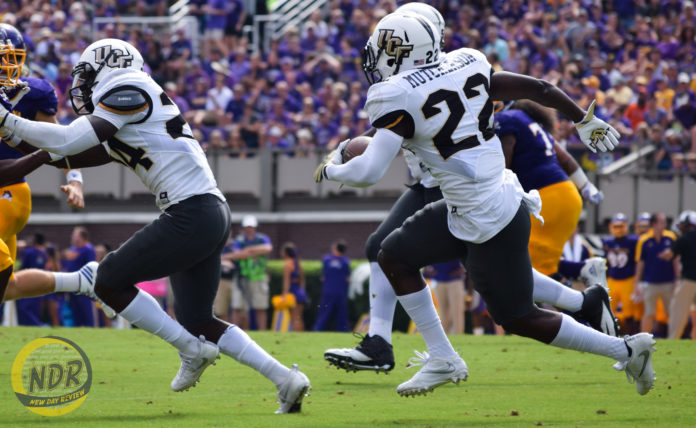 (Photo by Victor Tan / New Day Review)
Corner back Shaquill Griffin may have been the only University of Central Florida player to have been drafted in the 2017 NFL Draft, but he isn't the only former Knight to make it to the pros. On Friday, UCF announced three more defensive backs will join National Football League teams after signing free-agent contracts.
Drico Johnson will join the Arizona Cardinals, D.J. Killings will join the New England Patriots, and T.J. Mutcherson will join the Houston Texans.
With the additions of Johnson, Killings and Mutcherson, UCF now has 21 former players active in the NFL. Their free-agent signings also puts all of UCF's 2016 secondary on NFL rosters.
In 2016, Johnson set a school record with two defensive touchdowns in a 37-6 win over Tulane University, returning an interception 86 yards for a touchdown and recovering a fumble for a 30-yard score. He finished his career with 151 tackles, two interceptions, eight pass deflections and two forced fumbles.
Killings started all 13 games of his senior season in 2016, finishing with 42 tackles, a sack, three interceptions and 11 passes defended. His two interceptions in a 31-24 loss to the University of Houston tied a UCF single-game record.
As for Mutcherson, who transferred from Iowa State University after two seasons there, started all 13 games in 2016. He tallied 73 tackles, a sack, two interceptions and two passes defensed in his final season.
UCF will start its 2017 campaign with a home game against Florida International university on Sept. 2.
---
Follow Victor Tan on Twitter at @NDR_VictorTan.