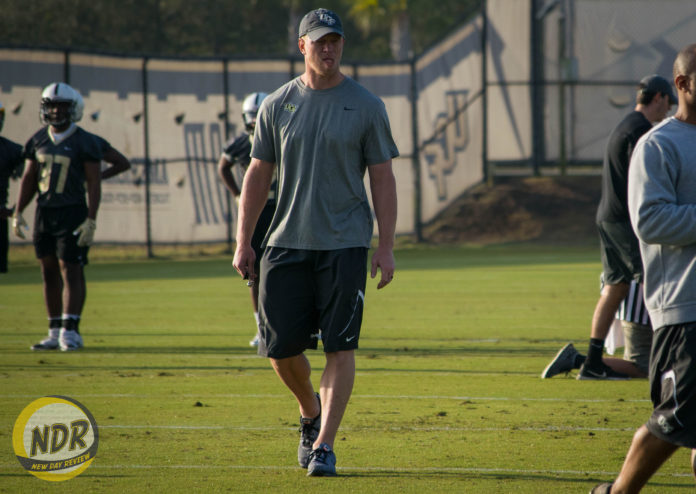 (Photo by Victor Tan / New Day Review)
The University of Central Florida sees its football program's future with second-year head coach Scott Frost. That became official when the Knights signed Frost to a contract extension that will see him through the 2021 season, according to a school press release.
"I am thrilled to have the opportunity to continue building a winning culture and a winning football program at UCF," Frost said, per the release. "Ashley and I feel like we have found a home in Orlando and with the UCF community. I look forward toa n extended tenure of creating a football program that matches the vision of university leadership, including President [John] Hitt and Danny White. I thank them for their confidence and bold vision."
Per UCFSports.com's Brandon Helwig, the contract extension is a one-year extension that gives Frost a $300,000 raise from $1.7 million to $2 million. Included in the new deal is a $50,000 assistant salary-pool increase.
More details: Frost's contract is extended one year (through 2021). Raise from $1.7M to $2M. Plus $50K assistant salary pool increase.

— Brandon Helwig (@UCFSports) May 4, 2017
In his first season at the helm in 2016, Frost took an 0-12 2015 team to a bowl game and a final record of 6-7. The turnaround from 2015 to 2016 was the fourth-largest turnaround by a winless program in the last 20 years, per UCF Athletics. Frost's 2016 squad is the eighth team in college-football history to go winless and appear in a bowl game the next season.
"I couldn't be more proud to work with Scott Frost as we build a nationally competitive program, representing UCF and our community across the country," White said, per the release. "In my view, the turnaround he led has been nothing short of phenomenal. To that end, we remain incredibly excited about the direction of our football program under Coach Frost's leadership. Successful programs are built around consistency and continuity. As such, I am absolutely thrilled that Scott sees the vast potential of UCF and is committed to our bright future."
UCF will open its 2017 campaign on Sept. 2 against Florida International University.
---
For more on the Knights, follow Victor Tan on Twitter at @NDR_VictorTan.