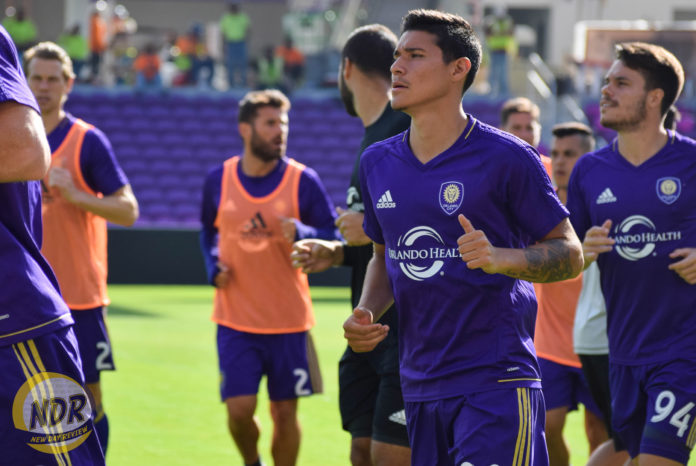 (Photo by Victor Tan / New Day Review)
ORLANDO, Fla. – For Pierre da Silva, there are a lot of naturally high expectations. As the first player in Orlando City SC's history to progress all the way from its academy to its United Soccer League team, to its Major League Soccer side, da Silva is one of the Lions' best young prospects. Now, in his second season with Orlando City B, this time as a season-long loanee, da Silva has found comfort both on and off the pitch.
"Last year, I felt that—it was my first year as a pro, so I was getting into it, like, little by little," da Silva said after training Wednesday. "But now I'm really comfortable with, like, the playing style, the intensity and everything. So, I think I grew as a player, and I'm gonna [keep on] growing more and more and just building up from there."
Second-year OCB head coach Anthony Pulis sees da Silva's second year with the USL Lions as a necessity. That difference in the Port Chester, New York, native playing regularly has made an impression on Pulis just eight matches into the 2017 season.
"Well I think Pierre's probably got better as it's gone on," Pulis said after training Wednesday. "I think he's obviously still very young, and he's at an age that he needs to be playing regularly… I think the biggest thing from last year with Pierre was sort of managing his inconsistency levels and trying to be a more consistent performer this year 'cus I think that's the one thing with younger players is you'll see their performances go up and down and up and down.
"And for him to now really kind of establish himself and try and break into the MLS 18 is to be consistently performing well for OCB… Now the next layer for him, I think, is to try and see if he can get on the score sheet a little bit more often."
That's exactly where da Silva's focus has been, too: on OCB. In the early going, da Silva is looking to build on his two-goal, five-assist performance in 23 matches last season for OCB.
"To get to that goal, I have to play well with the USL team and prove them every game that I deserve a spot on the MLS team," da Silva said. "So, every game is a very important [one] for me for the USL team, OCB. Trying to get three points, maybe an assist every game… So just keep working hard and hopefully just get up there."
And while da Silva has yet to open his 2017 scoring account in seven starts and 608 minutes, he has contributed mightily in another fashion. da Silva is currently tied for most assists in the league with the Charleston Battery's Justin Portillo with four.
da Silva isn't just assisting on the field, though; he's also helping integrate a host of new OCB players. As one of just a handful of players who are returning from last year's roster, da Silva knows the importance of off-the-field comfort.
"There's a couple new guys, and, last year, I was the new guy," da Silva said. "So, I know how they feel, so I always make them comfortable 'cus we're all family. So, in the locker room, you're just having a laugh, everything. We're just bringing them."
Said Pulis on da Silva's off-the-field leadership: "I think the role that he plays—he's a really good kid. He understands the game, but he's also good in and around the locker room and with the guys, and I think having him, having [Lewis Neal] and Zach [Ellis-Hayden] and a few of the other guys that were here with us last year, those guys kind of understand the way that I work and the way we want things to be done… So I think he's done a good job in that respect."
OCB returns to action with an away trip to face FC Cincinnati on May 13.
---
Follow Victor Tan on Twitter at @NDR_VictorTan.