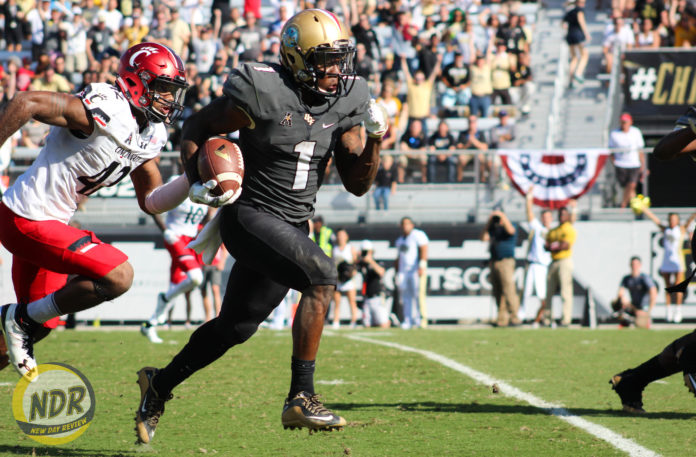 Game Recap
ORLANDO, Fla. – The University of Central Florida is bowl bound for the seventh time in 10 years after playing its most efficient game all season.
A year after finishing 0-12, the Knights (6-4, 4-2 in the American Athletic Conference) took advantage of three turnovers and a special-teams score, pummeling the University of Cincinnati (4-6, 1-5 in AAC) in a 24-3 victory at Bright House Networks Stadium on Saturday afternoon.
"I think the key to the turnaround was the players, the players' attitude," UCF head coach Scott Frost said after the game. "They were hungry to have somebody lead them and show them a new way…and it's their work ethic and their character that's gotten us here."
After recording three defensive touchdowns last week versus Tulane University, UCF continued to rack up points in other ways besides their offense while limiting their own mistakes (zero turnovers).
With a slim 10-3 lead in the third quarter, redshirt sophomore defensive back Tre Neal rushed through UC's line to block a punt, giving senior linebacker Justin McDonald a lane to scoop and score down the left sideline that effectively put the game away for the Knights.
"That hyped us up a lot," redshirt junior linebacker Shaquem Griffin said. "We don't change. You know, when it's a tight score, it can make you nervous not knowing where it's gonna go. But for our team…to make plays or score on the defensive side, that creates momentum and then leaves the other team clueless [not] knowing what to do."
UCF jumped ahead 24-3 on a 25-yard rushing touchdown by true freshman running back Jawon Hamilton to open the fourth quarter.
The score was set up after a third-and-six situation for the Bearcats ended in an interception thrown by Hayden Moore and caught by Seyvon Lowry. The redshirt junior defensive lineman ran the turnover back 32 yards for a score, but it was called back after a live-ball celebration penalty was called.
 "We say meet me there or beat me there," said senior linebacker Errol Clarke, who finished with a forced fumble and a team-high three sacks. "It's just a race to the quarterback who will get back there first. [Defensive coordinator Erik Chinander] always harps on it…that the ball is everything… The prize is the ball."
UCF opened the game's scoring on a 21-yard screen pass to senior running back Dontravious Wilson that pushed the Knights into field goal range. The Knights' opening drive was capped off by a 22-yard field goal by redshirt sophomore kicker Matthew Wright.
On its ensuing possession, UCF extended its lead to 10-0 on true freshman quarterback McKenzie Milton's sideline throw to true freshman wide receiver Dredrick Snelson, who found separation in the left side of the end zone for a one-yard touchdown.
"I thought he played more like a veteran today," Frost said. "He knew when to throw it away. He knew when to pill it. He made the right decisions today… As an 18-year old, he's amazing. There's not many guys [who] can do that."
On defense, the Knights forced the Bearcats to seven three-and-outs, extending their touchdown drought to 10 quarters.
Griffin added to his AAC-leading sack total (10.5) with two sacks. Senior cornerback D.J. Killings notched a team-high 11 tackles and two pass breakups, including one in the end zone that forced UC into a failed 47-yard field goal in the second quarter.
"Our defense has gone from being really good to being so disruptive that they're winning games for us," Frost said. "When you see a defense elevate to that level, it makes it really easy for an offense and for the rest of the team to succeed."
Cincinnati's lone score came in the middle of the second quarter on a 38-yard field goal by senior kicker Josh Pasley.
The Knights topped 100 yards rushing for the second consecutive week with 155 yards on 43 carries. Hamilton led the way with a season-high 83 yards on the ground.
"[The locker room] was ecstatic," Griffin said. "Coming from 0-12 to a bowl game, that's proven doubters wrong. They said we couldn't do it, and we just did."
Player of the Game: McKenzie Milton
The true freshman finished with 117 yards and a touchdown on an efficient 22-for-34, distributing the ball to nine different receivers. Milton opened the game with two incompletions before completing 13 straight attempts, the second-most ever in school history. Former Knight Daunte Culpepper holds the record with 15 consecutive completions.
What's Next?
UCF hosts University of Tulsa (7-3, 4-2 in AAC) on Saturday for its home finale. The Golden Hurricanes were defeated by Navy 42-40 on Saturday afternoon.
Going Bowling
 With UCF's sixth win of the season on Saturday, the Knights join a group of six bowl-eligible AAC schools. They are Navy, University of Tulsa, University of South Florida, Temple University, University of Houston and the University of Memphis.
Frost, whose players showered him in ice water as the last few seconds ticked off the clock, became the second coach in UCF history to lead his team to a bowl game.
"Just to see that, that was an amazing experience because when is the last time we've seen a coach get dumped with water? It's been a long time," Griffin said. "Just to see that in action, it kind of hyped me up."
The last time and only times have been with former head coach George O'Leary, who resigned last season after spending 12 years with the program. Now, a new face for the university has returned some of the prominence lost, as Frost's picture covered the stadium's 114-foot jumbotron with the words "Bowl Bound" on it.
For Frost, he maintained that becoming bowl eligible was all about the players.
"Those things make it special," he said while still carrying ice in his shirt. "Our players are really happy and excited right now, and I'm thrilled for us… The level that those guys have elevated their game to has made a lot of this possible."
For the players, Clarke said there was a 20-minute party in the locker room immediately after the game.
"It was crazy," Griffin added. "I came in the locker room last just to see everybody turning up."
In his locker room speech, Frost told his players, "Everything you get in this life, you earn," and that he would've been upset if he only got to coach his team two more times.
"With all the work that they've put in and with believing in what we were asking them to do and taking care of one another…it's a big time accomplishment for them," Frost said. "I look forward to coaching them three more times now."
Scoring
| | | | | |
| --- | --- | --- | --- | --- |
| Time | Team | Play | PAT | Score |
| Q1, 8:12 | University of Central Florida | Matthew Wright, 22-yard FG | n/a | 3-0, UCF |
| Q1, 3:20 | University of Central Florida | McKenzie Milton to Dredrick Snelson, 1-yard pass | GOOD | 10-0, UCF |
| Q2, 7:36 | University of Cincinnati | Josh Pasley, 38-yard FG | n/a | 10-3, UCF |
| Q3, 6:53 | University of Central Florida | Tre Neal blocked punt, Justin McDonald 23-yard return | GOOD | 17-3, UCF |
| Q4, 12:23 | University of Central Florida | Jawon Hamilton, 25-yard run | GOOD | 24-3, UCF |
Statistics
Passing
| | | | | | | |
| --- | --- | --- | --- | --- | --- | --- |
| Player | Team | Completed | Attempts | Yards | TDs | INTs |
| McKenzie Milton | University of Central Florida | 22 | 34 | 150 | 1 | 0 |
| Hayden Moore | University of Cincinnati | 13 | 25 | 129 | 0 | 1 |
| Gunner Kiel | University of Cincinnati | 6 | 17 | 91 | 0 | 1 |
 Rushing
| | | | | | | |
| --- | --- | --- | --- | --- | --- | --- |
| Player | Team | Carries | Yards | Average | TDs | Long |
| Jawon Hamilton | University of Central Florida | 17 | 81 | 4.8 | 1 | 25 |
| Tion Green | University of Cincinnati | 15 | 76 | 5.1 | 0 | 19 |
Receiving
| | | | | | | |
| --- | --- | --- | --- | --- | --- | --- |
| Player | Team | Receptions | Yards | Average | TDs | Long |
| Tre'Quan Smith | University of Central Florida | 4 | 38 | 9.5 | 0 | 15 |
| Dredrick Snelson | University of Central Florida | 3 | 7 | 2.3 | 1 | 8 |
| Kahlil Lewis | University of Cincinnati | 6 | 84 | 14.0 | 0 | 30 |
| Tshumbu Johnson | University of Cincinnati | 3 | 68 | 22.7 | 0 | 52 |