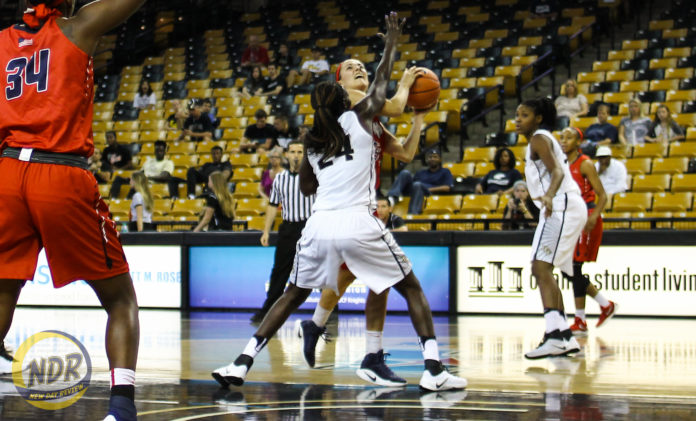 Game Recap
ORLANDO, Fla. – Fifi Ndour got into foul trouble early, but that didn't stop her from having a career day. In the University of Central Florida's (2-0) 70-58 win over the University of South Alabama (0-2) at CFE Arena on Sunday, Ndour totaled a career-high 19 points.
"Nineteen points in 19 minutes is pretty [good]," Knights head coach Katie Abrahamson-Henderson said after the game. "So just think if she could play 40. Can you get 40 points?"
With the Knights leading 49-45 with under two minutes in the third quarter, UCF went on its most important run of the game. The 6-0 run put UCF up by double digits for the first time all game, effectively putting the game out reach for the Jaguars.
"I'm a put-the-pedal-to-the-metal and never-let-up kind of coach," Abrahamson-Henderson said. "I've always been that way just because when I was coaching at Missouri State, we were up by 20 and almost lost a game because nowadays just shoot up threes, and they just shoot them and shoot them and shoot them, and the game could be really close.
"So I just never like to let up. But for this team, I gotta teach them never to let up. And I gotta teach them how to play to win all the time instead of playing not to lose. That's a huge difference for this team and changing the culture."
It started with two free throws by sophomore guard Jamesha Paul. Ndour then completed the run with two layups, the second of which came from a no-look pass from sophomore point guard Ashly Polacek.
And while offense gave the Knights the lead, it was their defense that solidified the win. The Knights held the Jaguars to 36 percent from the field, including a 16.7 percent (3-for-18) fourth quarter.
"I really wanted us up and pressuring the ball, and I think that us being in really good shape really helps us," Abrahamson-Henderson said. "So, I thought we did a great job defensively… Obviously, we wanted to press, but we were getting in some foul trouble, so I was trying to back off a little bit. But we did a good job of just not letting them pass the ball and skip it and skip it and pass it all over the place. We did a better job of pressuring the ball on the wings especially."
Saturday's game was also another display of the Knights' rebounding dominance. UCF outrebounded South Alabama 40-28, including 17 offensive rebounds. Redshirt senior Joslyn Massey led the way with seven offensive rebounds and nine total.
"Obviously…this is it for her. This is her last opportunity," Abrahamson-Henderson said. "We're here her senior year. She's 100 percent bought in. She loves the feeling of what we're doing as a coaching staff and as a team, and obviously she loves the board. She had 11 there. Eleven offensive rebounds; that's a lot."
As for how the Knights scored their points, they attempted seven more threes than they did in the season-opening win over Florida International University. But for Abrahamson-Henderson, that's not the type of offense she wants her team running.
"I never wanna shoot threes ever in my life. I'm like old school. I never want to shoot threes," Abrahamson-Henderson said. "But if they're wide open, and they're hitting them, then we can shoot them… I want to get to the foul time, just get people on their heels… I don't really want to shoot threes to be honest. At Albany, we never shot threes. Ten is the most I would ever want to shoot."
Player of the Game: Fifi Ndour
Ndour's performance in the low post was dominating. She was 8-for-14 from the field and converted on three of her five free-throw attempts en route to her career-high points total. Just about every time she found the ball down low, the defense swarmed her but to no avail. Ndour also turned the ball over only once, too, in her 19 minutes of play.
What's next?
UCF travels to play Davidson College on Wednesday, Nov. 16 at 7 p.m.
Aliyah Gregory's Absence Gives Kayla Thigpen Opportunity to Shine
Junior guard Aliyah Gregory did not play in Sunday's game against the Jaguars for a reason the team would not disclose. In her stead, sophomore Kayla Thigpen came off the bench and scored 12 points.
"It's been tough for Kayla Thigpen because Aliyah's in front of her," Abrahamson-Henderson said. "So she is really stepping up. I mean, I think, for her, it's defense. Offensively, clearly, she wants to play offense. I think the whole team wants to play offense, but I think for her, it's just defense… I think Kayla really needs to concentrate defensively. I think she has the ability to do that, but she's just gotta buy in 100 percent because clearly you can see, offensively, she'll do a lot for us."
Thigpen finished 3-for-6 from the field, including 2-for-2 from beyond the arc in 19 minutes.
In the first quarter with little over a minute remaining, Thigpen nailed a three from the left corner to tie the game up at 15-15. She hit her second three with 2:30 left in the second quarter with a three-pointer from the right corner.
Korneila Wright Makes 1st Start
In Sunday's win, true freshman guard Korneila Wright started her first college game. In 24 minutes of playing time, she finished 1-for-4 from the field with three points, two assists, two steals and three rebounds.
On Friday, Wright came off the bench to make her collegiate debut. She recorded nine points and nine rebounds in 32 minutes of play.
Statistics and Starting Lineups
| | | | | | | |
| --- | --- | --- | --- | --- | --- | --- |
| | Points | Rebounds | Assists | Blocks | Steals | Turnovers |
| University of Central Florida | 70 | 40 | 12 | 0 | 12 | 16 |
| University of South Alabama | 58 | 28 | 10 | 5 | 5 | 21 |
UCF starting lineup: Korneila Wright (G), Nyala Shuler (G), Zykira Lewis (G), Tolulope Omokore (F), Fifi Ndour (F)
South Alabama starting lineup: Genesis Perrymond (G), Marquita Daniels (G), Colby Davis (G), Chyna Ellis (F), LaNeetra Guillory (F)