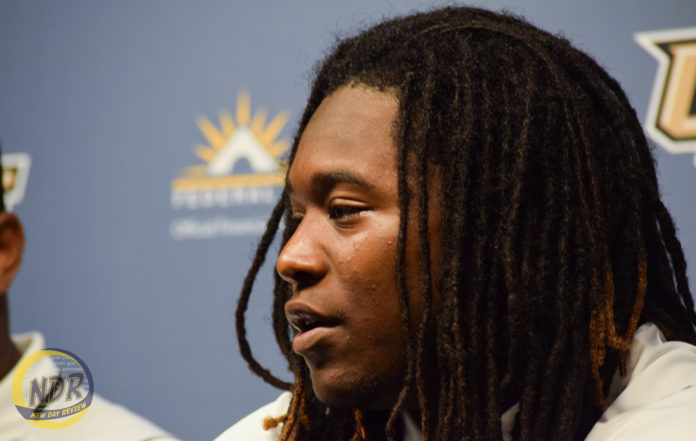 Oct. 31, 2016 at Bright House Networks Stadium
Availability: HC Scott Frost, LB Shaquem Griffin, DB D.J. Killings, WR Tre'Quan Smith
HC Scott Frost
The University of Central Florida (4-4, 2-2 in American Athletic Conference) fell to .500 after suffering a 31-24 loss to the University of Houston on Saturday.
I think it's just get back on the track. We didn't play our best game Saturday. I think kids are getting worn down a little bit. We've got to get them back physically, and we've got to execute and play better. Looking forward to being back in our stadium for a game. I think that will bring us a lot of energy.
UCF returns home to host Tulane University (3-4, 0-3) Saturday at 5 p.m. for their fifth AAC game of the season.
We had intended on keeping a lot of the same things, but they've kind of changed a little bit on defense and added some stuff on offense. There's pieces of the game plan we've already worked on that we'll keep in, and there's other pieces that are going to have to be new.

I think they're good at what they do. Any time you're playing a triple-option offense, you've got to be really good on your keys. You've got to be really sound on your assignments. [Defensive coordinator Erik] Chinander will have those guys ready, but it's always a big challenge.
The Knights held a 21-3 halftime lead over the Cougars Saturday but surrendered 28 unanswered points in the second half. It was the second time in three weeks that UCF has surrendered a sizable halftime lead before deteriorating in defeat since being stunned on a last-second touchdown against the University of Temple.
Going back and watching the tape a couple times, I don't think we played our best, and it wasn't really just the second half. We made mistakes in the first half and kind of got some breaks in the first half with some penalties and some of their mistakes. When you get in that situation, the last thing you want to do is make mistakes and give them the exact same thing right back. We did that in the second half. Those are mistakes we can't make. In general, we lost a lot of one-on-one battles out there on Saturday, particularly in the second half. I'm not sure our effort on offense was quite as good as it has been. So we've got to fix those things.

We've got to block people better. We've got to run better routes. We've got to be more detailed on offense. Defensively, we've got to find a way to play with as much effort in the second effort as we did in the first. I think those guys really tried but got worn down. Things that weren't working in the first half started working in the second [for Houston]. We're going to try to get our health back and get a little energy back with the team, but our execution needs to pick up, as well.
When asked about any techniques he's using to rejuvenate his players, Frost said he doesn't have anything under the wraps.
Ponce de León was in Florida for a long time and never found the Fountain of Youth, so we don't have any secrets other than at this point in the season, if guys aren't ready to block and tackle, they're never going to be ready to block and tackle. As much as we can do to take some pounding off their bodies and just get them ready mentally, we will. You still have to do some to make sure you're sharp and ready for the game, but we're going to pull back and hope our guys respond to that.
Tyler Hudanick is out the remainder of the season with an injured knee suffered against Temple.
Losing Tyler, we knew that was going to be a big deal. He's one of our best players up front and one of the best players on our team. One of our toughest kids. We miss him. We need other guys to step up. We've had some guys fill in and do a good job at times. Tyler was a very consistent player. We've got improving to do. We've been improving, but sometimes in that process things rear their ugly head. It's not quite as good as you want it to be, and you've got to go back to work and fix those things. Like I said, I think our effort needs to be better this week. Hopefully, we're a little healthier and rested this week so our guys can play all four quarters.
When asked about how the freshmen have responded to the grind of their first college football season, Frost said it's been a tougher task for them to adjust from a typical high-school football season.
That's a big difference to me on our team right now. Our defense is a veteran group. When you're 21, 22, sometimes older than that, 23—when you're a kid that's been in a weight program and college football for a long time—the grind of the season doesn't get to you as bad. A lot of these freshmen playing on our team—at this time last year some of them were done with their high school football seasons. Now, they're trying to find a way to grind through four or five more games. It's just tougher when you're young. We're going to do everything to continue to develop our team while we do everything we can to make sure they're as ready to play as they can.
The Knights held walk-on tryouts on Oct. 18 inside the Nicholson Fieldhouse.
I think for the first couple years here it's going to be a revolving door a little bit. We need more depth. I think that showed up more in the Houston [game] than it has. Some of the guys we've been leaning heavily on got tired. We need more guys that can help us practice. We're not going to take anybody out there. They have to earn things the way everybody else does, but we're always looking for more people that can help us… We might have had one [addition] off that last try-out. I'm sure that won't be the last try-out.
When asked if he would consider using JUCO transfers to add depth, Frost said he prefers to have high-school players he can develop.
There's a lot of really good football players in junior college. I think if you're building your program the right way, you don't need guys at every position from junior college. I'd prefer to have high-school players in this program that we can develop. But if the right guy shows up from the right place and at a position that we need help, we'll definitely take a look at them. But more than anything, we're going to keep recruiting character kids that are going to love being on this team and play for each other and be good teammates.
The Knights turned over the ball four times on Saturday (two interceptions, two lost fumbles).
We talked about that after the Temple game and after this game. It's not really in our nature just to start grinding out and preserving a win with 12 minutes left in the third quarter. That's not what got us in the position that we were in. We definitely want to be smart. I don't think our offense is mature enough yet to think we're going to score 50 points against a team like Houston, so we need to balance out being smart with what we do and also doing what has worked to get us into those situations.

Really watching that second half, we just didn't execute very well. I think they played harder than us in the second half, particularly our offensive side versus their defensive side. And the little mistakes we made put us in terrible situations. It seems a lot of the mistakes we made were on first down. We turned a couple balls over on first down. We had three or four other negative plays on first down where we either gave them the ball or had second and 15-plus. Those are hard things to come back from. Those are mistakes that we have made at times on offense that we have to avoid.
Houston's defense totaled 12 tackles for loss, three sacks and nine quarterback hurries on Saturday.
That's what I mean with one-on-one matchups. We've got to win more of those, whether it's up front blocking somebody or getting open as a wide receiver and detailing your route, blocking on the perimeter, taking care of the football at running back. They kind of won a lot of the one-on-one matchups, particularly in the second half. We need to take more pride on offense in doing our job, each of us, coaches and players alike, and try to finish a game like that.
UCF enters Week 10 on a three-game homestand.
This three-game stretch is important. I'm excited for our guys for this opportunity. Tulane is a good team. I've said this all along. I think there's a lot of good teams in our league. I think this is a really good football league, and I think any team can beat any other team in any week. I think it's a very balanced league. We need to be ready to come with our best on Saturday. I'm sure they're going to come in upset about the way they lost last week, just like us, so I expect it to be a battle. Being at home three weeks in a row should help us as a football team. Playing in front of our home crowd and also should help us take a little wear and tear off our team not having to travel.
Tulane's defense ranks 37th in the country in yards allowed per game (368.6 yards per game).
We've got to continue to be creative on offense to move the ball. We'll do that again this week. But at the end of the day, sooner or later, you're going to have to block people. Sooner or later, you're going to have to get open. A lot of the detail and effort that was missing at times on Saturday, we need to find that again to make sure we can be more consistent on offense.
When asked when he realized Shaquem Griffin could be a factor on defense, Frost said he knew shortly during his arrival at winter workouts.
I remember seeing Shaquem and Shaquill [Griffin] in winter workouts soon after I got here and recognized that they were really good athletes. He had an unbelievable game on Saturday. I'm thrilled for him and look forward to seeing a lot more of those around here.

Shaquem and Shaquill are very hard workers. They were doing a lot of extra things in the offseason to try to prepare for this season. I think that extra work is paying off for them. I want to make sure that as people are willing to put in that extra work, they're not just doing it for themselves, they're bringing others along with them, and that's when a team can rise up and accomplish more. I think both of the Griffins have learned that and become real leaders on our football team. I'm thrilled that they're reaping the rewards of their hard work.
There are three sets of twins on the Knights roster, the most of any school in the country. They are the Griffin brothers, Jeremy Boykins and Jerod Boykins and Boman Swanson and Wyatt Swanson.
I guess I haven't thought about that. I can't relate to the bond between twins. I'm sure it's stronger than maybe even regular siblings. I want all our players to feel like brothers. You're not going to be as close to certain people, but I want this team to be a family. Hopefully, Shaquem and Shaquill, as close as they are, they feel they have other brothers on this football team, as well.
Since Week 1's game-week press conference on Monday, Aug. 29, Frost has continued to emphasize the importance of having good practices early in the week to prepare for game day.
Energy was good [on Monday]. I think enthusiasm was good. We're not going to let this thing fracture over one loss. We've come too far and put too much effort into this. Our guys were upbeat. We took a little pounding off them today, which helped the energy. They did a good job focusing and getting as much as they could out of the format from practice today. Look forward to having them fresh and ready to go.

I don't know if we'll have an off day, but we'll take it a lot easier on them from a pounding perspective this week and try to get them ready to go physically.
When asked his thoughts on the officiating over the last couple games, Frost said he had no complaints.
It doesn't serve me well at all to complain about officiating. I think they have a really hard job. Their job is difficult just like ours is difficult. They're not going to be perfect. There's going to be calls that go our way and calls that go against us. For the most part, I think that our conference officials are doing a really good job. Like I said, there's always going to be missed calls, but it's a tough job, and you can almost expect that to happen.
LB Shaquem Griffin
Griffin won Conference Defensive Player of the Week honors for the AAC with a career-best performance.
It just means I'm one step closer to becoming better. Each week, just taking it one step at a time. Having players beside me like D.J. Killings and [Mark] Rucker, [they] just give me the opportunity to make plays. I can't take all of the credit because, obviously, Mark made the tip, and I just made a play on it. It's all teamwork for me. Instead of congratulating myself, I'm congratulating my team for helping me get there.

I don't remember [how many interceptions I had in high school]. Whenever the ball came, I'd catch it. But I never thought about how many I have. I know I was really excited to get an interception in my career game. That was exciting for me. I still talk to my brothers about it, saying, "I don't know how I caught that. I just saw the ball in the air, and I just throw my hand out there. I just hope it falls." I just held on. I didn't even try to run. I just fell to the ground… I just remember getting to my phone, and my older brother kept calling me, and was like, "That was amazing. I don't know how you did it." He said, "You blessed, you blessed."
Griffin totaled 14 tackles, three tackles for loss, 2.5 sacks, an interception and a fumble recovery against Houston.
Using my speed from safety to linebacker became my advantage. Everything else came step by step. [Coaches] would tell me, "Work on this spin move. Work on setting the blocker up. If he likes to dive outside, kinda force him inside." Each game and practice, [I'd] take tips from everybody. Obviously, it's a new position, so I don't know everything. I'm always willing to take tips. Anything that will make me better on the field. And then, obviously, each game something new comes up. Each [new] move that's been [used] on me, I practice going against our O-line. They're making us better, and it works in the game.

I always think about last season and the years I've been here opposed to this season. It just gets me more excited and gives me the drive to do better. I always put something on the table, not always in a negative way. I didn't play much in the beginning when I was here. [Now], I'm here with opportunity, and I just want to take full advantage of it. Just being on the field, it excites me. I came so far, so that's why I liked to take advantage of it. I like to make as many plays as possible. Not just for myself, but being out there with my teammates. Coming in 2013 with D.J. and having the opportunity to actually play with him, finally. It just feels really good to be with them boys.
The Knights are 1-2 at home and 3-2 on the road through eight games.
I feel like it's gonna be a good advantage for us to actually be home and playing in front of your home crowd. I feel that coming off this loss against Houston and coming back home, we get that family from UCF. It's not only us out there having the fans behind us bringing us up. It's gonna push us better on the field. That's kinda good to have game after game at home to have the chance that we're not only playing by ourselves, but we have the whole UCF behind us.
When asked if the preparation for Tulane this week has been easier since the team practiced for three days before learning of the postponement, Shaquem said his teammates have been able to retain the original game plan.
I felt the energy was good today. After [we had] already been preparing for this team, having the hurricane come in and [making Week 6] be our bye week. We still [retained] a lot of information that we kept stored in the back of our heads… Everybody felt that sense that when you see or play or an action, it kinda triggers back to, "Yeah, I remember this." That's pretty good going throughout the week. We get to the film room and the little tendencies that we learned, we just put it all on the field. The energy is creating itself after having background knowledge on a team we already prepared for.
Shaquem has gotten national attention since his feature story aired on ESPN College GameDay in Week 8.
It's a good thing. For me, I just take it as being blessed. Just to have people actually looking into and actually respecting what you're doing—because it could go either way. You can still have doubters. That's never going to change. But just to have people who are behind me to keep pushing me, that gives me drive too. Having someone supporting you that are not only family but people around the nation who are supporting [my story], that's only fuel for me.

For me, just to be doing what I'm doing and make somebody's else day even better, it just makes me want to go even harder. One person can change many lives. Hopefully, I can keep that going. That's really big for me. If I can just change a hundred people's lives or even a thousand, that'll be really great for me. It's more than football for me. If I can make someone else's day even better, that makes me really happy too.
A man in a wheelchair waited for three hours outside TDECU Stadium to meet Shaquem before kickoff on Saturday.
He was sitting there for three hours just waiting for us to come off the bus. He was so excited to meet us. He'd seen our story and he said, "For you to overcome so many obstacles, what gives me the reason to complain? What gives me a reason to say I shouldn't do this today? I should stay in for the day and not be productive?" For him to go out there and tell me that, it really shows that what I'm doing is really paying off. If I keep playing hard, if I stay focused and keep the drive I always have, then great things will come out of it. For us to meet him, that was the emotional part for me. I'm not only setting an example for younger kids, I'm setting an example for older men and women.
DB D.J. Killings
Killings recorded a career-high two interceptions on Saturday. It was the most since former Knight Terrance Plummer had two takeaways at Memphis on Oct. 5, 2013.
I was very eager because other chances to catch interceptions in some of these last games. Ther first [interception] felt good, and the second one was almost like a blur. I couldn't believe I caught two picks in a game. After that, it just kept me driving to keep on pushing to stop [Houston] and try to get the win. [I've] never [caught two interceptions in a game]. That was my first time.
When asked about some of the challenges Tulane's triple-option offense presents, Killings said it will take synchronization from the entire defense to limit the Green Wave's offense, which is averaging 355.6 yards per game.
It's gonna be about being disciplined. The linebackers doing what they're supposed to do and trusting the D-line is doing what they're supposed to do. Then, the safeties trusting what the linebackers are doing. And the corners are staying on top of all the routes and are not biting up on run fakes. That's all this game is gonna be about. It's gonna come down to defense.
UCF is two wins away from meeting the minimum requirement for bowl eligibility (six wins).
Every team wants to have a winning season. I guess six games to get into a bowl is basically saying, "You had a winning season." But we're still taking it game by game. We don't really think about, "Oh, if we win these two, if we go 2-of-4 our last four games, we'll make it into a bowl." We don't really think about it like that. It's still gonna be on the back of your head because everyone wants to make it into a bowl game.
When asked if Shaquem's story has been an inspiration for others on the team, Killings it was all about Shaquem's persistence.
Being with him these past four years, it's just been crazy how God works. Shaquem has kept his faith, and that's what he's showed a lot of people who have let up on the team or left or quit. He just kept his faith, stayed in there and kept working hard. He's always been a hard worker. At practice, he's always been making plays. It's just nobody really gave him a chance. These coaches did, and now everyone is seeing him shine. It's great to see because a lot of us already knew what was going to happen. A lot of us were like, "Shaquem about to have a crazy season."
WR Tre'Quan Smith
The Knights have faltered in finishing close games—losing to the University of Maryland, Temple and Houston in three of their four losses.
I won't really say coach made an emphasis on the message, but our biggest is just being able to finish. Not being able to settle for what we did in the first half, but to come out and keep our foot on the gas. Even with teams that we probably know that we're better than—and teams that know are better than us—if we keep our foot on the gas, it can be a different outcome.
When asked if Shaquem's story has drawn inspiration with others on the team, Smith said he treats him just as if he was any other player.
Honestly, I don't see him differently from anyone else on the field. I see him as an average teammate. [He's] very competitive. I love what he produces on the field. On the team, he's a very outspoken leader. I'm around him every day, but if I could be around him on the weekends, I would. I love him.
In Week 9's game-week press conference, Frost mentioned McKenzie Milton's growth as a leader has been a progression as a true freshman. But he said the quarterback position as a whole has warranted a lot of credit for their continued leadership.
McKenzie's leadership is really [good] because you wouldn't expect a freshman to lead your team, but he's doing just the opposite of what people think of him. As a receiving corps, we have to work with not just McKenzie [but also] the other quarterbacks because you never know what can happen. We do whatever we can. We listen to them and give them feedback on the field, and they give us feedback. We just have to be able to communicate with each other. That'll help us be successful.