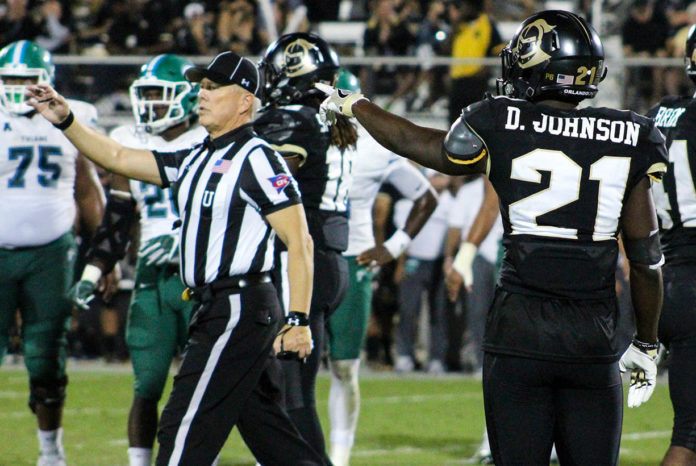 1. Fast & Furious Fanatic
Growing up, senior defensive back Drico Johnson has always been enamored by the full throttle action film series The Fast and the Furious since it first released in 2001. He's seen all seven movies from the Universal franchise numerous times and started his own DVD collection.
"I have all of them," Johnson said. "I love watching action movies. I love collecting movies like Fast & Furious."
He's been to every sequel's theater release, including the latest follow-up, Furious 7, in 2015. With at least another three sequels lined up until 2021, the longest-running film franchise will keep Johnson's entertainment. But for the time being, he'll pop in one of his DVDs to ease the wait.
"I watch them almost every day," Johnson said laughingly. "I go jump around [from]
2. Secret Dancer
A hidden talent of Johnson's is his dancing ability. As a kid, it was something he started to get a hang of while attending family reunions.
"That's something nobody knows about," he said. "My teammates know, but people out of football don't really know."
Nowadays, the Orlando native performs his own little dance on the sideline whenever a teammate scores a touchdown. He even busted the chicken dance inside the locker room after the University of Central Florida's 37-6 win over Tulane University.
"It's a dance here in Orlando," Johnson said. "That's my go-to dance move. I don't do the other dance moves."
3. Ball Is Life
On the field, Johnson has earned himself American Athletic Conference Defensive Player of the Week honors and was named to the Bronko Nagurski Watch List. But off the field, he's earning MVP awards and endorsement deals with Nike via his favorite video game series, NBA 2K.
"If I have a chance to play a game all day, that'd be it," Johnson said.
The fourth-year starter constantly challenges redshirt senior linebacker Errol Clarke, redshirt junior linebacker Shaquem Griffin, senior quarterback Justin Holman and senior cornerbacks Shaquill Griffin and D.J. Killings to matches.
In years past, Johnson's favorite team of choice on both online and in quick play used to be the Miami Heat. Currently, it's the Cleveland Cavaliers because he's a huge fan of LeBron James.
"They've got him cheating, man," Johnson said of how good James is when he plays as him in NBA 2K. "I mean, that's all I use. I think he's the greatest player to play in a basketball game."
You can surely bet Johnson has created himself on MyPlayer, taking the virtual journey to make the pros in a new sport. His created character plays point guard because he likes to distribute the ball and take over the game. And he's climbed his overall rating from 67 to 90—good enough to take his team on its first NBA Finals appearance.
"I lost in the championship [series]," Johnson said. "[Stephen] Curry of Golden State, man. They cheating. They got all of the players on there. You can't beat them."
4. Shielding Strength
Johnson has a pregame ritual he goes over the night before every game. He takes off his cross necklace after reading a scripture and places it inside a page of his Bible. The next morning, he'll pray again before putting his necklace back on.
Additionally, Johnson's added something new to his routine since the season-opener against South Carolina State University. Johnson likes to take a knee at the 21-yard line and pray. His jersey number is No. 21.
"I ain't ever see anyone do that," Johnson said. "I just started doing it myself. When I first got here, I used to go to the end zone. But I started making my own thing."
5. Four Years of Memories
As a Knight for the past four seasons, the redshirt senior has been around to experience some of UCF's greatest and lowest moments.
Entering Senior Day against Tulsa University on Saturday, Johnson's favorite UCF memory is a battle between winning the Fiesta Bowl in 2013, recording his first collegiate touchdown against the University of Memphis and notching two defensive touchdowns against Tulane.
Johnson hopes to keep the memories building through the Knights' final three games this season.
"As a group [and] as a team, that was one of the greatest teams I've ever been around," Johnson said about the 2013 UCF football team. "I never pictured that, but God works in a lot of ways. He's got plans for me to keep me going…[and] that keeps me motivated that I can really do it."