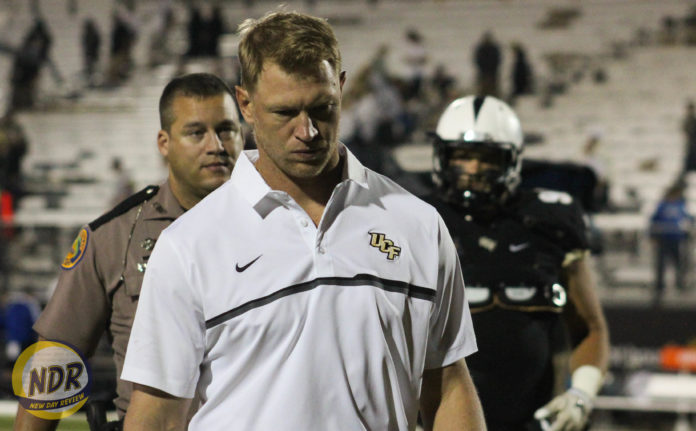 Game Recap
ORLANDO, Fla. – It was an even half, a runaway chase in the third quarter and a steep deficit for the University of Central Florida to overcome on senior night.
The Knights (6-5, 4-3 in American Athletic Conference) couldn't catch up with the University of Tulsa's (8-3, 5-2 in AAC) high-powered offense, who outpaced UCF to a 35-20 victory at Bright House Networks Stadium on Saturday.
"Tulsa is one of the better teams in our league, and we're consistently competing with the best teams," UCF head coach Scott Frost said after the game. "[It] won't be long before there's a day around here where we'll get over the hump and win those games. We just made a few too many mistakes tonight and sputtered too much on offense."
After UCF chipped its way back to a 14-14 tie at halftime, the Golden Hurricane responded by posting 21 unanswered points in the third quarter to pull away from the Knights.
The running back tandem of sophomore D'Angelo Brewer (167 yards and two touchdowns) and junior James Flanders (163 yards and a touchdown) spearheaded the effort on a combined 330 rushing yards. It was the seventh time Tulsa topped 300 rushing yards this season, which set a school record.
"I feel like Tulsa did a good job scheming," redshirt senior linebacker Mark Rucker said. "They hit little gaps that we really couldn't see… We made some mistakes that could have been corrected. Some of the yardage could have been stopped. It is what it is."
The go-ahead touchdown came midway through the third quarter when redshirt senior receiver Josh Atkinson hauled in a 15-yard lob from senior quarterback Dane Evans in the left corner of the end zone.
The score was set up after redshirt junior punt returner Chris Johnson had the ball ricochet off his helmet into the hands of a Tulsa defender at the 25-yard line.
"That was a turning point," Frost said. "We gave them the ball right back at the [25], and they scored. Our offense sputtered and they scored again. That was the difference in the game. You never know if we put a drive together and go up seven, if it might be a different game."
With the score at 21-14, Evans faked a handoff to Brewer and launched a 45-yard touchdown pass to senior receiver Keevan Lucas with five minutes left in the third quarter.
Tulsa effectively sealed the game in the final 35 seconds of the third quarter on Brewer's eight-yard rush up the middle for a 35-14 score.
"Our defense was great in the first half," Frost said. "We're not deep enough to have to go out there that often…and against a team like that, sooner or later, they're gonna hit something on you."
On Tulsa's opening possession, the Knights jumped out to an 8-0 lead on senior cornerback D.J. Killings' 28-yard pick-six, following a two-point conversion.
However, UCF struggled to get its offense to extend drives, failing to convert on eight of its 23 third-down attempts. The team's lone offensive touchdown came early in the fourth quarter on a three-yard rush from true freshman running back Adrian Killins.
"I know I fell for Coach Frost to take the blame for everything, but at the same time I feel like this is my fault too," senior cornerback Shaquill Griffin said after the game. "I feel I owe UCF more as senior, and I promise I'll step my game up in the next game and the follow-up."
Player of the Game: D'Angelo Brewer
The sophomore running back led all rushers in Saturday's game with 167 yards and two touchdowns on 25 carries. So far this season, Brewer has scored five rushing touchdowns and one receiving on 1,054 yards rushing. As a tandem, Brewer and and Flanders each topped 100 yards rushing for the fifth time this season.
What's Next?
UCF will close the regular season by traveling 100 short miles down Interstate 4 to visit the University of South Florida (8-2, 5-1 in AAC) on Saturday for its first official "War on I-4" showdown. The Bulls defeated Southern Methodist University 35-27 on Saturday afternoon.
Sticking with McKenzie
 After completing 64 percent of his throws last week, including 13 consecutive passes, true freshman quarterback McKenzie Milton mustered only 223 yards on 25-for-51 passing. The Hawaiian native struggled with his accuracy, and senior quarterback Justin Holman almost came in for relief before a last-second change of heart.
"There was discussion if we should go with Justin, but I'm not going to quit on our guys," Frost said. "I think McKenzie has earned the right to be out there. I believe in him. I'll never abandon our guys. I think Justin deserves to play too, but McKenzie is our guy, and we're going to stick with him."
When asked if the decision had anything to do with damaging Milton's confidence, Frost said "not necessarily."
"I'm thinking about taking an 0-12 football team and making them 6-4 with a freshman quarterback," he said. "I think he deserves to be out there."
After Holman injured his hamstring in a scramble-turned-run in a 51-14 loss to the University of Michigan in Week 2, Milton took over as the starter on a young Knights offense. Over the course of the season, the growing pains have been apparent, as Frost made note about the unit's lack of execution following an exceptional week of practice.
"I thought we were primed to have a really good game offensively, but it didn't happen," Frost said. "I'm grateful that we have those [young] guys. I believe in them so much. I know they're gonna keep improving and keep getting better. They've already given us so much that I know the future's bright."
For Holman, Rucker said he's done everything to help support the team's transition under center in his expanded role as the team's leader.
"I feel like he's a great motivator," Rucker said. "What he's going through this season to keep the morale of the team up, that's characteristics of a great man."
Following a tough loss, Holman gave the team a message to lift their spirits: "We've gotta come together even stronger."
Scoring
| | | | | |
| --- | --- | --- | --- | --- |
| Time | Team | Play | PAT | Score |
| Q1, 12:59 | University of Central Florida | D.J. Killings, 24-yard INT return | 2-point GOOD | 8-0, UCF |
| Q1, 3:10 | Tulsa University | James Flanders, 1-yard run | GOOD | 8-7, UCF |
| Q2, 14:42 | Tulsa University | D'Angelo Brewer, 2-yard run | GOOD | 14-8, TLSA |
| Q2, 1:23 | University of Central Florida | Matthew Wright, 48-yard FG | n/a | 14-11, TLSA |
| Q2, 0:00 | University of Central Florida | Matthew Wright, 47-yard FG | n/a | 14-14, T |
| Q3, 8:32 | Tulsa University | Dane Evans to Josh Atkinson, 15-yards | GOOD | 21-14, TLSA |
| Q3, 4:56 | Tulsa University | Dane Evans to Keevan Lucas, 45-yards | GOOD | 28-14, TLSA |
| Q3, 0:35 | Tulsa University | D'Angelo Brewer, 8-yard run | GOOD | 35-14, TLSA |
| Q4, 12:04 | University of Central Florida | Adrian Killins, 3-yard run | NO GOOD | 35-20, TLSA |
Statistics
Passing
| | | | | | | |
| --- | --- | --- | --- | --- | --- | --- |
| Player | Team | Completed | Attempts | Yards | TDs | INTs |
| McKenzie Milton | University of Central Florida | 25 | 51 | 233 | 0 | 0 |
| Dane Evans | Tulsa University | 12 | 25 | 126 | 2 | 1 |
 Rushing
| | | | | | | |
| --- | --- | --- | --- | --- | --- | --- |
| Player | Team | Carries | Yards | Average | TDs | Long |
| McKenzie Milton | University of Central Florida | 12 | 37 | 3.1 | 0 | 15 |
| Adrian Killins | University of Central Florida | 2 | 5 | 2.5 | 1 | 3 |
| D'Angelo Brewer | Tulsa University | 25 | 167 | 6.7 | 2 | 41 |
| James Flanders | Tulsa University | 19 | 163 | 8.6 | 1 | 60 |
Receiving
| | | | | | | |
| --- | --- | --- | --- | --- | --- | --- |
| Player | Team | Receptions | Yards | Average | TDs | Long |
| Tre'Quan Smith | University of Central Florida | 5 | 71 | 14.2 | 0 | 48 |
| Tristan Payton | University of Central Florida | 4 | 57 | 14.3 | 0 | 22 |
| Keevan Lucas | Tulsa University | 4 | 68 | 17.0 | 1 | 45 |
| Josh Atkinson | Tulsa University | 1 | 15 | 15.0 | 1 | 15 |