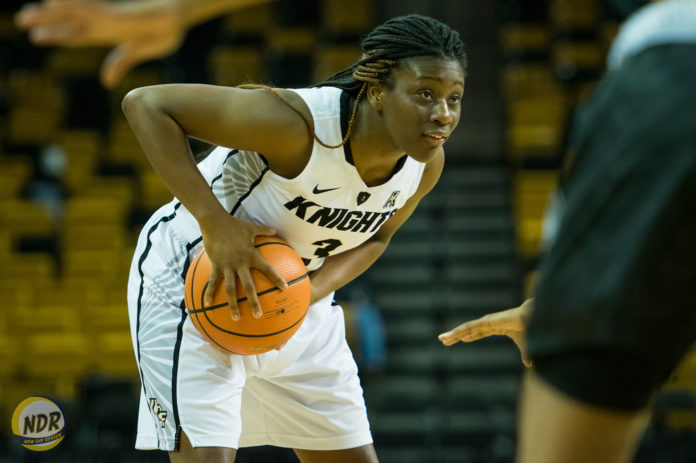 (Photo by Victor Tan / New Day Review)
Game Recap
Starting lineups
The squad is ready for Wichita State! #ChargeOn

💻 @American_DN: https://t.co/7qAyXlq87k
📊: https://t.co/tYQTzZw42L pic.twitter.com/zXoHGsz2Cn

— UCF Women's Hoops (@UCF_WBB) January 6, 2018
Today's Starters vs. @UCF_WBB

💻: @American_DN | 📻: @kfhradio #watchus pic.twitter.com/HyYnRyi9qZ

— Wichita State WBB (@GoShockersWBB) January 6, 2018
ORLANDO, Fla. – The UCF Knights accomplished a small milestone on Saturday: For the first time in school history, the Knights started conference play 3-0 in the American Athletic Conference. UCF (11-5, 3-0 in AAC) beat Wichita State University (5-12, 0-3 in AAC) 59-53 at CFE Arena in front of an announced attendance of 3,385.
"Obviously the schedule's a little different," Knights head coach Katie Abrahamson-Henderson said after the game. "But I think it's the scheduling up we did for our preseason and the games we played. We played really tough competition in the preseason, and that's kinda what we wanted to do. We didn't want to wait 'til February to, you know, get it going again… Sometimes it wasn't fun losing those five games in the preseason, but it's gonna help us in the long run."
FIRST QUARTER
UCF started the game limiting Wichita State's best player. Despite leading the Shockers with 18.8 points per game, so far, this season, forward Rangie Bessard was held to zero points on 0-for-5 shooting in the first quarter against the Knights.
Wichita State still managed to claim a narrow, two-point lead to start the game, as the Shockers utilized midrange jumpers and two 3s to get their lead. Guards Keke Thompson and Diamond Lockhart had 4 and 5 points, respectively, as Lockhart hit a 3. Off the bench, Jeliah Preston made her only shot attempt of the first, a 3.
Offensively, the Knights faltered, shooting just 30.8 percent from the field. Korneila Wright took and missed UCF's only 3 of the first, as Aliyah Gregory and Lawriell Wilson both had the only field goals of the opening period for UCF. The Knights also lost the turnover battle, losing possession five times.
"One person that was really key in this was [Zakiya Saunders]," Abrahamson-Henderson said. "She kept saying, 'We're fine, we're fine. We got it, we got it.' Just trying to calm everyone down a little bit. We were just turning the ball over a little too much there in those times that we were down 'cause we were really anxious, but I think a lot has to do with the fact that we've…gone through every scenario, so far this season."
Q1: Wichita State 12, UCF 10
SECOND QUARTER
The Knights turned the tide in the second quarter, as they staved off an early Shockers run. Less than a minute into the second quarter, Wichita State went on a quick, 5-0 run that extended its lead to 17-10. UCF quickly responded with a 6-0 run of its own, as Wright, Saunders and Masseny Kaba each scored.
That distribution by the Knights epitomized the team's efforts throughout the second, as seven of the eight UCF players that played in the first half scored; Jamesha Paul recorded just one minute of action in the second and didn't score.
In the second, UCF shot 8-for-15 from the field (53.3 percent) and took no 3s. The Knights closed the first half with a would-be 7-0 run, but the Shockers forward Sabrina Lozada-Cabbage drained a wildly contested, buzzer-beating 3 to make UCF's lead just one, 27-26, heading into the locker rooms.
"We just regrouped as a team," Kaba said after the win. "We was like, 'We need to focus up; we need to get this.' So we just came out with more energy. Had more energy on the defensive end so we could create offense for our team."
Halftime: UCF 27, Wichita State 26
THIRD QUARTER
Wichita State started the third quarter firing, taking a three-point lead by way of a 6-2 run. That was the last lead the Shockers had, though, as UCF reclaimed its lead off back-to-back free throws by Wilson.
The Knights, once again, stayed true to their offensive identity, shooting just one 3 in the third and going 5-for-10 from the field. Despite efficient third-quarter shooting, UCF managed just a two-point lead at the end of the period, as Wilson sunk a falling layup with 10 seconds to go.
Both the Knights and Shockers went scoreless for almost three-and-a-half minutes after Saunders' jumper cut the Shockers' lead to one and before Wilson hit game-tying and lead-taking free throws.
Q3: UCF 39, Wichita State 37
FOURTH QUARTER
With a small lead in hand, UCF tried to put the game away early in the fourth. The Knights started the concluding period with an and-1 jumper by Wright, who started a 7-2 run that gave UCF a 46-37 lead.
The Shockers, however, didn't go quietly, cutting the Knights' lead to three with a 6-0 run of their own. Bessard, first, scored a layup off the feed by Angiee Tompkins. Lockhart, then, scored a layup of her own before Bessard hit a Lockhart-assisted jumper to make it a 46-43 game.
With 57 seconds to go, back-to-back buckets by Bessard and Preston made it a four-point game, as UCF lead just 55-51. Kaba and Saunders each hit two free throws to keep UCF's lead safe the rest of the way.
FINAL: UCF 59, Wichita State 53
Who's Next?
The Knights take to the road for a two-game road trip that includes the No. 1 UConn Huskies and the USF Bulls. USF is ranked 22nd in the USA TODAY Coaches Poll.
NDR Player of the Game: F Masseny Kaba
Kaba was Abrahamson-Henderson's work horse, again, as she posted another career-high in minutes (39) for the second-straight game. She also led the Knights in scoring for the third time this season, scoring 13 points. The freshman also recorded a game-high 5 offensive rebounds and had the only block of the game for UCF. She finished the game shooting 4-for-10 from the field, including 5-for-6 from the free-throw line, and added 2 assists.
"So, I think it's a team effort 'cause, in order for me to be able to score and to do what I need to do, I need to play defense, and my teammates need to facilitate; they need assists" Kaba said. "So, we, just, all really work together, so that really helps me, and it makes me, like, focused in order for me to get where I am."
NDR Notes
UCF and Wichita State met for the first time ever at CFE Arena on Saturday.
The Knights are riding a three-game winning streak, including two double-digit wins over AAC opponents.
For the first time in school history, the Knights are 3-0 to start AAC play.
Kaba led the Knights in scoring for the third time this season with 13 points on 4-for-10 shooting.
For the second-straight game, Kaba recorded a career-high in minutes. She posted 38 minutes in the last game, and, against Wichita State, she recorded a game-high 39.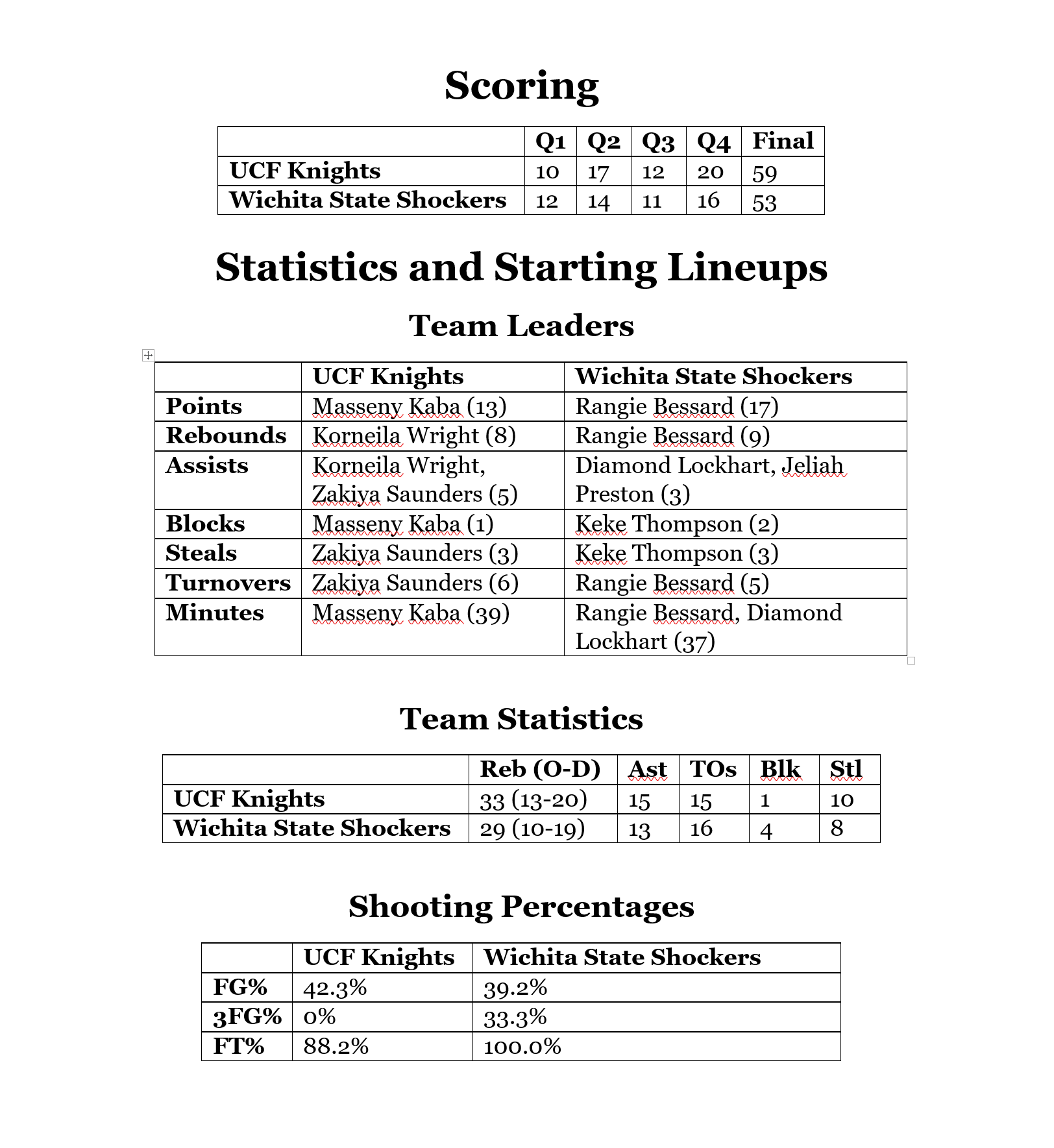 ---
For more on the Knights, as they look to continue their winning streak, follow Victor Tan on Twitter at @NDR_VictorTan.