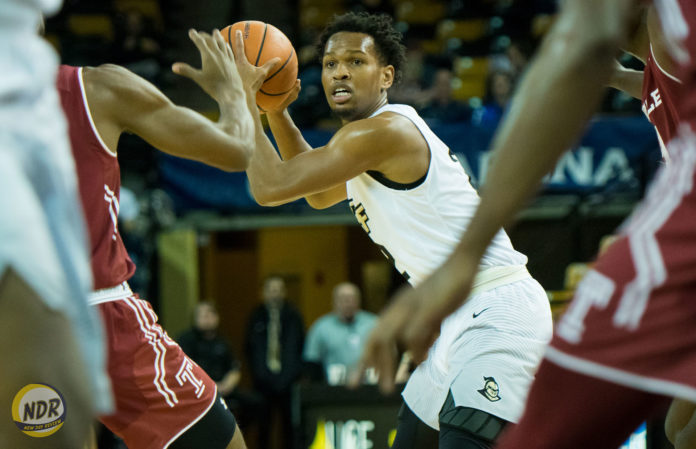 (Photo by Victor Tan / New Day Review)
Game Recap
Starting Lineups
Same #Squad

Let's do this! #ChargeOn pic.twitter.com/5j1dPy8f7x

— UCF Men's Basketball (@UCF_MBB) January 7, 2018
Starting 5! pic.twitter.com/TYKhVwwwhM

— Temple Men's BBall (@TUMBBHoops) January 7, 2018
ORLANDO, Fla. – If the UCF Knights' start to American Athletic Conference play looks familiar, that's alright. At 3-1 in the AAC, UCF is off to the same start it had in head coach Johnny Dawkins' first year last season. That came by way of a Knights 60-39 win over the Temple Owls (7-8, 0-4 in AAC) Sunday afternoon at CFE Arena in front of 4,010 fans.
UCF's offense stuttered early in the first half, but, as usual, it was the Knights' defense that kept the game in hand. Temple's 39 points is tied for a season-low in points allowed for UCF; it's also the Owls' season-low in points, as they average 71 points per game.
"I thought we were locked in tonight as good defensively as we've been all year. And we've had some good defensive moments," Dawkins said after the win. "They have some players I have a great deal of respect for—Obi [Enechionyia], [Levan Shawn Alston], the other young player, [Quinton Rose]—those guys are accomplished scorers and three of the best players in our league.
"So, I was really happy with our guys' overall effort. They were really locked in defensively. They knew the game plan; they followed the scouting report really well."
FIRST HALF
Offense was difficult to come by for both the Knights and Owls. Nearly five minutes into the game, both teams were tied at 2-2. UCF, then, escaped to a narrow, 8-2 lead before relinquishing it to the Owls. Temple went on a 15-3 run that ended around the six-minute mark when Dayon Griffin started his hot 3-point shooting.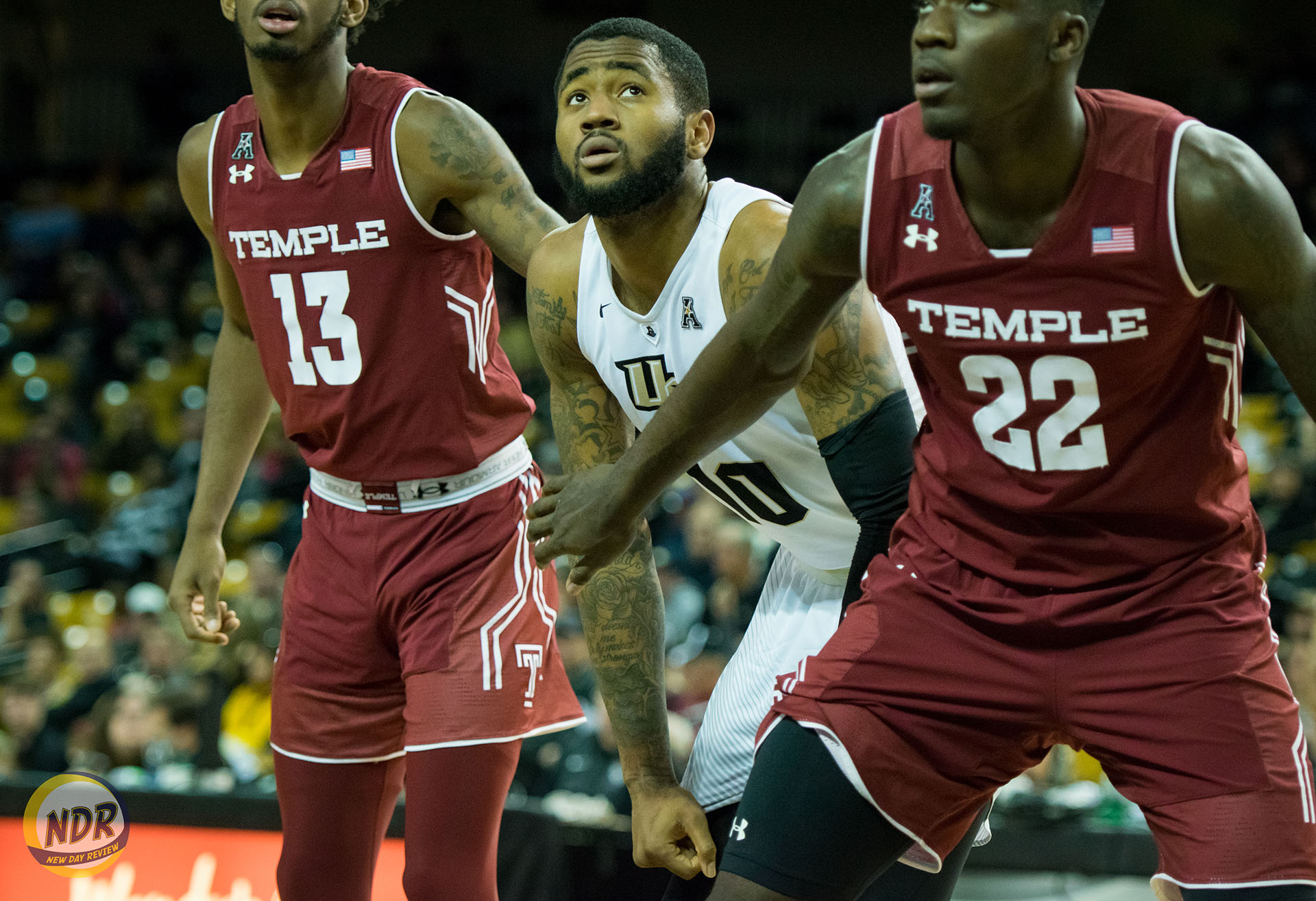 Trailing 17-11, point guard Terrell Allen drove into the paint, drawing the defense enough to swing the ball to Griffin on the left wing for an open shot. Griffin's 3, the Knights' first of the game, started UCF's lead-taking run, as the Knights scored 3s on four of their next five buckets. Ceasar DeJesus banked a 3 after Griffin's initial shot; that was followed by another Griffin 3, a DeJesus layup and a stand-up, Myles Douglas 3.
"When I come in the game, I just think, you know, 'How can I get us going?' If we're not going offensively. I mean, yeah, I hit a big shot, but so did Myles; so did Ceasar when he hit that shot. So it's just like we know we gonna hit shots; shots are gonna start falling for us. So we just try to turn up on defense…
"But when shots are going in, it does make you feel good out there."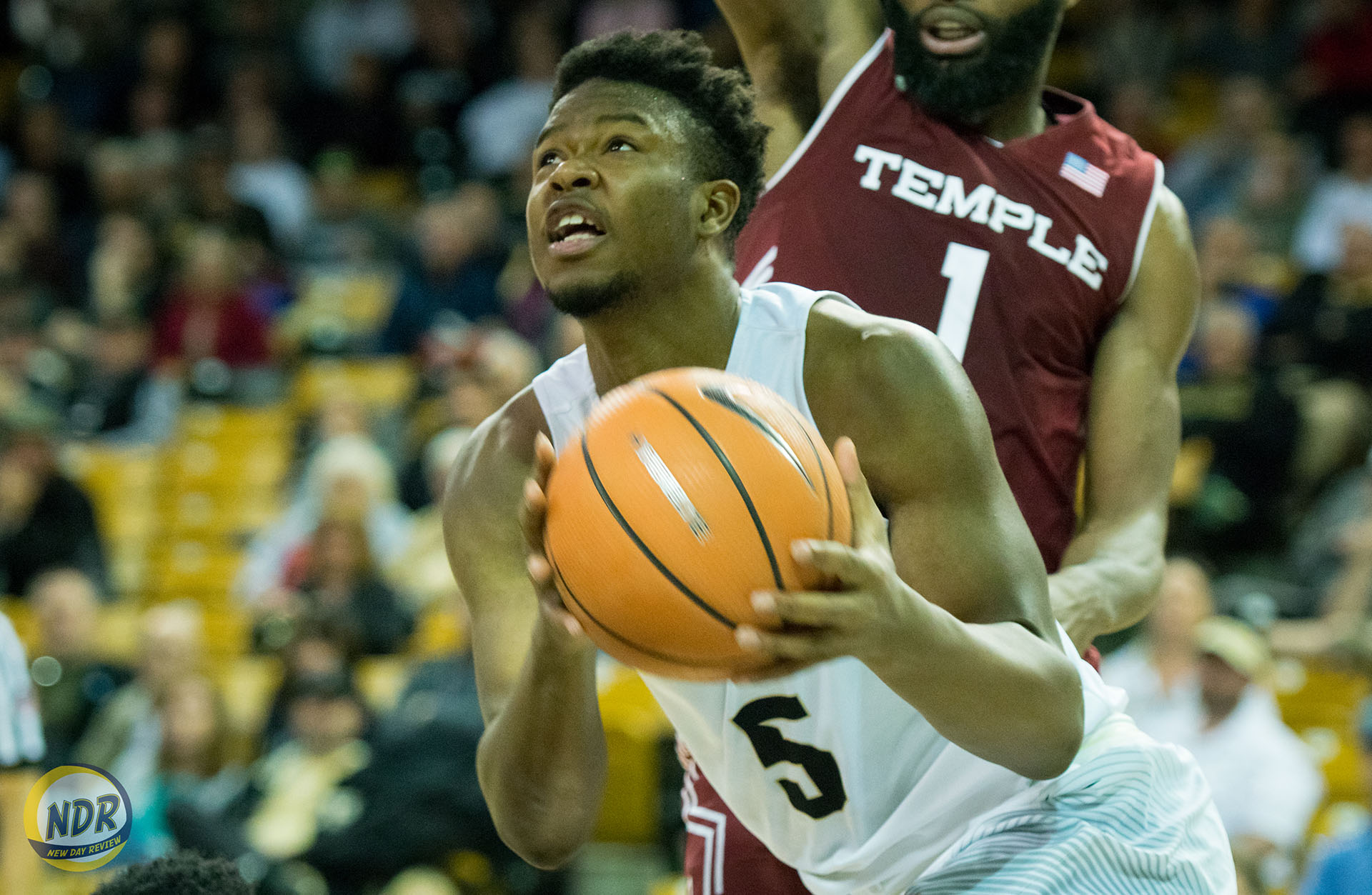 UCF ended the first quarter with a seven-point lead, as Temple managed five points in the final two minutes of the first. Nate Pierre-Louis stole the ball and was fed an assist for an and-1 layup. Alston hit a jumper with five seconds left in the half.
Griffin led UCF in first-half scoring with 8 points on 3-for-4 shooting, including 2-for-2 shooting from 3-point range, off the bench.
The Knights shot 57.1 percent as a team and held Temple to 36 percent.
DeJesus had 7 points on 3-for-4 shooting, 1-for-2 from 3-point range.
HALFTIME: UCF 29, Temple 22
SECOND HALF
Riding the momentum from their half-closing run, UCF pushed its lead to an insurmountable amount by the midway point of the second half. After Temple came as close as five points off a Pierre-Louis 3 at the 13:54 mark, the Knights' defense took over and held the Owls to eight points for the rest of the game; those eight points were scored in the final 3:40 of the game when UCF's substitutes were already in.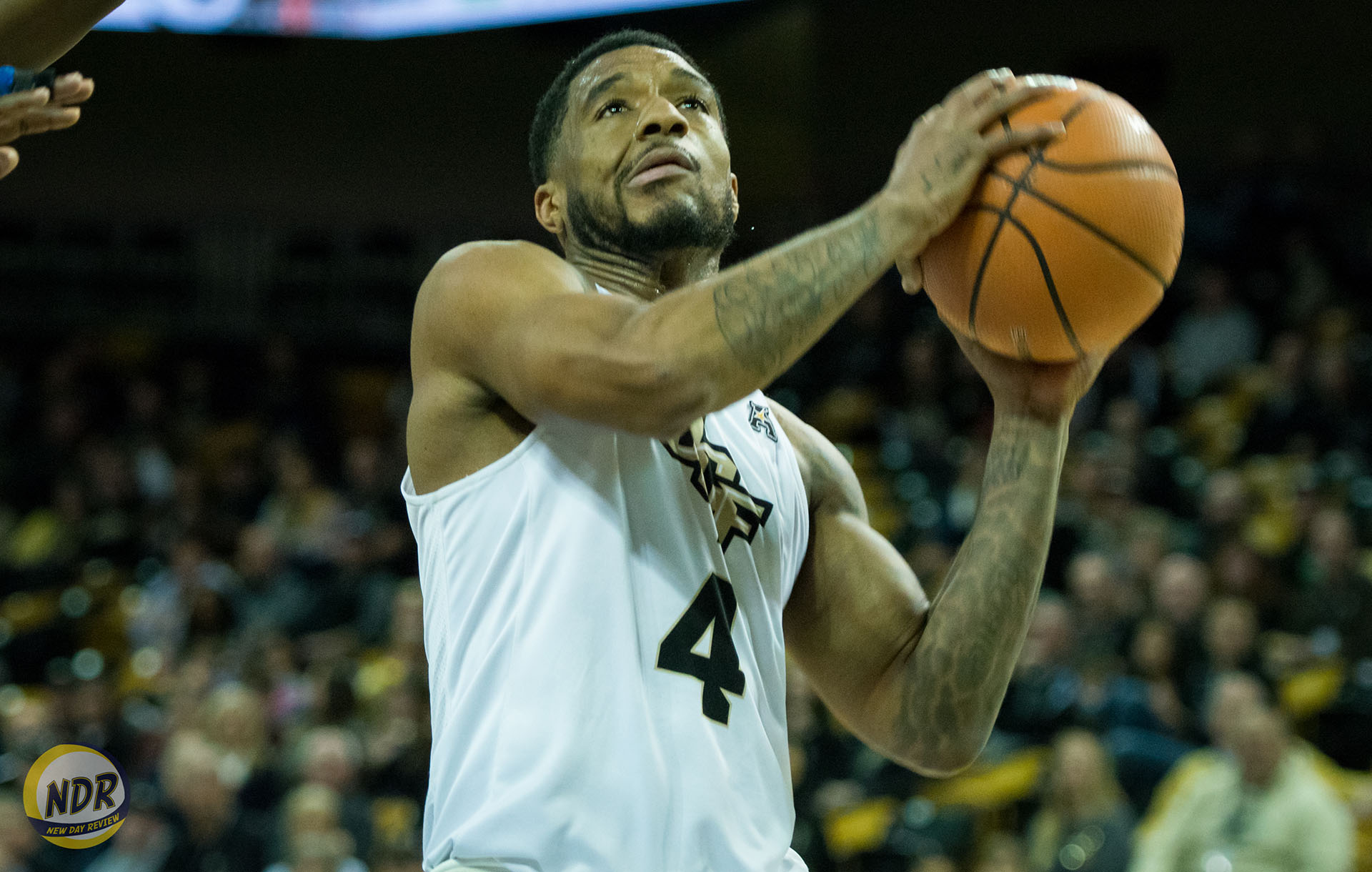 Griffin made back-to-back layups with less than 12 minutes to play to push UCF's lead to 12. Of UCF's final 17 points, 10 were free throws. In total, the Knights shot 13-for-18 (72.2 percent) from the free-throw line, including going 12-for-16 in the second half.
UCF improved on its defense from the first and held Temple to 28.6 percent shooting in the second half.
After shooting 3-for-9 from 3-point range in the first, the Owls shot 1-for-13 in the second.
The Knights had 9 turnovers in the first half but limited themselves to 6 in the second.
Temple's 39 points is both a season-low for the Owls in points and tied for a season-low in points allowed for the Knights.
The Owls' leading scorer, Rose, averages 15.4 points per game; he was held to 2 points by UCF.
FINAL: UCF 60, Temple 39
Who's Next?
The Knights take to the road for one game to take on the UConn Huskies on Wednesday at 7 p.m.
NDR Player of the Game: G Dayon Griffin
Griffin shot 32.1 percent (18-for-56) from the field over the past six games. In the win over Temple, he shot 6-for-9, including 3-for-5 from 3-point range, for a game-high 15 points. He also tallied 6 rebounds, an assist and a block in 33 minutes.
"I'm just putting extra work," Griffin said. "I think I'm just not letting the past games get to me. I'm just moving forward, just focused on what I can do in the future and not what I did in the past. It's been helping me out. Honestly, not thinking too much on the court has definitely helped me out out there."
NDR Notes
UCF trailed the overall series with Temple 4-5 entering Sunday's matchup.
Before Sunday's UCF win, the Knights have won the last two meetings against Temple.
The Knights won the last meeting against Temple 71-69 on Feb. 22, 2017.
Like last season, the Knights are 3-1 to start AAC play after a win over Temple on Sunday.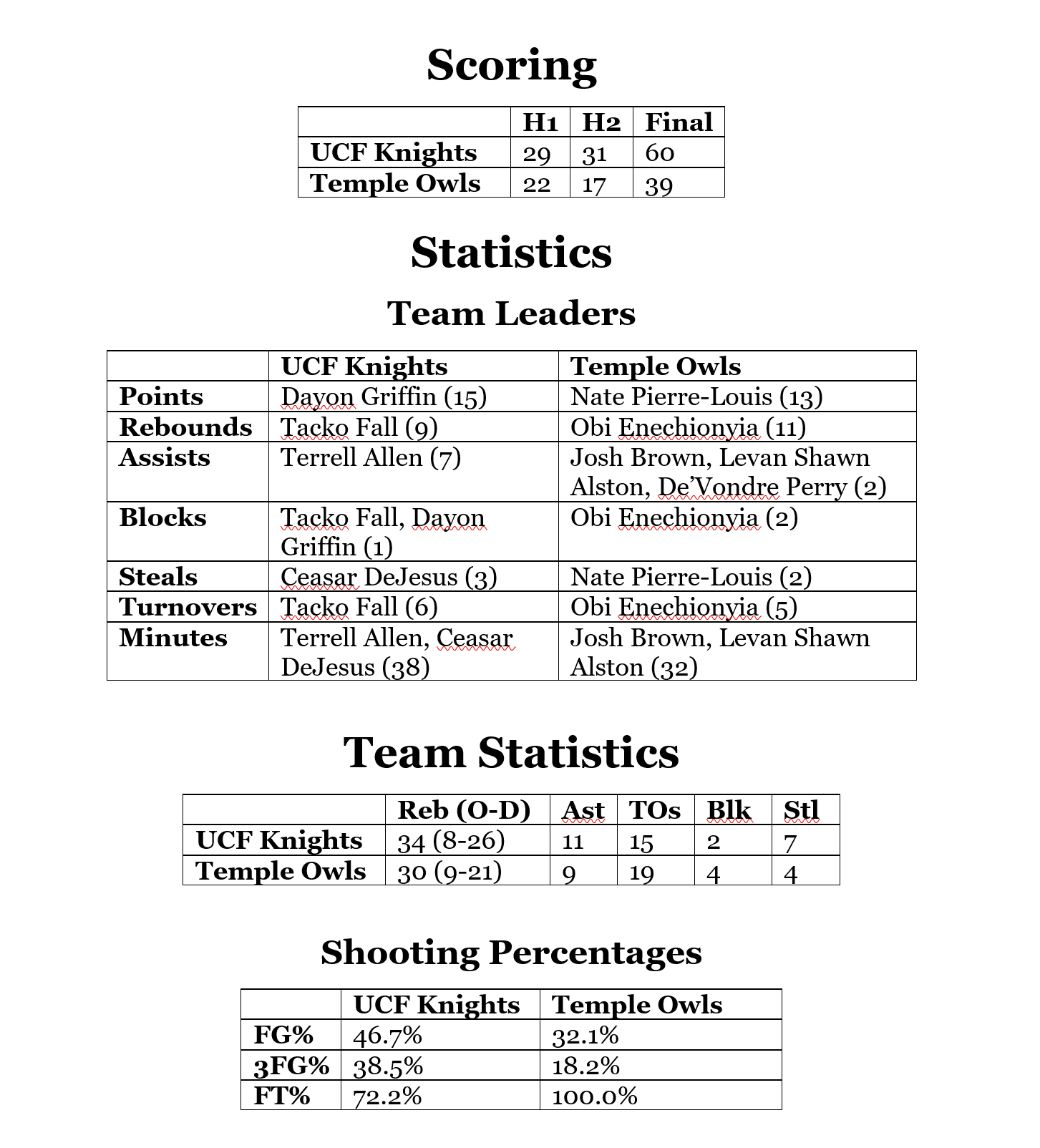 ---
For more on the Knights, as they take to the road for one American Athletic Conference game, follow Victor Tan on Twitter at @NDR_VictorTan.