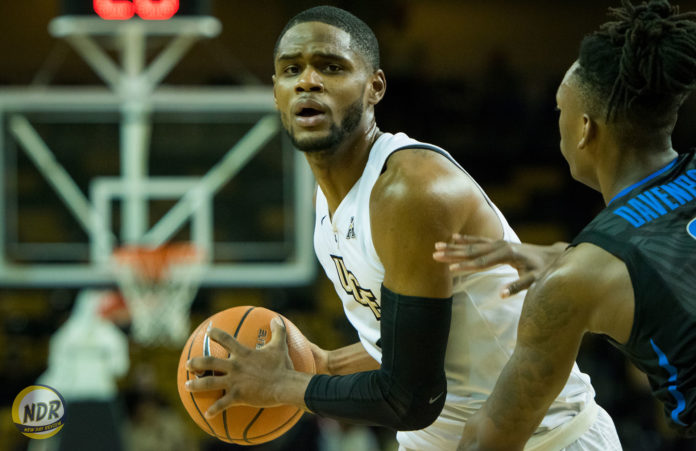 (Photo by Victor Tan / New Day Review)
ORLANDO, Fla. – Against the Temple Owls, the UCF Knights will face one of the worst teams in the American Athletic Conference, so far, this season. Three games into their conference schedule, the Owls (7-7, 0-3 in AAC) are the second-worst team in the American. Only the USF Bulls (7-9, 0-3 in AAC) rank behind Temple.
Despite their overall shortcomings, the Owls have a consistent squad of lengthy, athletic players ready to pose a threat to a Knights defense that ranks 10th in opposition field-goal percentage.
UCF trails Temple in the overall series 4-5, but the Knights have won the last two meetings. Before that, Temple won four in a row. On March 4, 2014, UCF lost 86-78 in overtime but exacted its revenge with a 94-90, double-overtime win eight days later.
Here's what to expect when Temple visits CFE Arena for the fourth time in the series on Sunday at noon. The game will be broadcast on CBS Sports Network.
–
Temple Has Kept Same Starting Lineup All Season
On paper, it appears the Owls are relatively top-heavy. Through 14 games, Temple has maintained one starting lineup all season long. Of those five starters, four play at least 31 minutes per game; of those four, three combine for 55.5 percent of the team's field-goal attempts per game.
As a starting unit, the five combine for a 47.6 percent field-goal percentage, including 38.1 percent from 3-point range, scoring a combined 55.9 points per game. The Owls' starting five are also good at taking care of the ball, as no Owl exceeds 2.0 turnovers per game except sophomore Quinton Rose, who averages 2.9 turnovers per game.
"Well they had a great preseason, and they're a very good team," head coach Johnny Dawkins said before practice on Saturday. "Of course, they're experienced. They've done a good job, and they're a really team we're really gonna have to be focused against."
Owls' Offense, Defense Carried by 3 Players
The Owls' offense is carried by three of their starters: Rose, junior Levan Shawn Alston and senior Obi Enechionyia. Combined, they score 42 points per game on 43.3 percent shooting. Rose, the youngest of the trio, leads the team in minutes per game (34.7) and averages the most shot attempts per game (12.5), too. From deep, Alston and Enechionyia are the Owls' go-to options, as each have attempted 74 and 70 3s, respectively; Rose has also attempted 58.
Defensively, Temple's best players reside in Rose and Enechionyia. Rose leads the team in steals with 2.1 steals per game; that productivity is 0.6 steals per game more than the next-highest for the Owls. At 6-foot-8, 220 pounds, Enechionyia is Temple's primary inside defender. He averages 1.7 blocks per game, 1.1 blocks per game more than the next-highest Owl.
"With any team that has three guys shooting that much of the shots, you definitely just gotta pay attention to those guys 'cause that's the guys that's doing a bulk of their scoring load," forward A.J. Davis said before practice Saturday. "So, like I said, we'll just try to take that away and contain 'em, and, you know, hopefully we can contain 'em enough to win the game at the end."
Quinton Rose Presents A.J. Davis-like Challenge
Rose and Davis share many similar qualities. In addition to their similar builds—Davis is listed at 6-foot-9, 215 pounds, and Rose is listed at 6-foot-8, 185 pounds—both players are do-it-all types.
Davis has started all 15 games for the Knights, scoring the second-most points per game of active UCF players (11.6). He also leads the team in rebounds per game (9.6) and is second of active players in assists per game (2.6).
Rose has also started all of the Owls' games this season, leading the team in scoring with 15.4 points per game. He's second in assists per game (3.0) and second in rebounds per game (5.4).
Both Davis and Rose lead their team in minutes per game, averaging 33.2 and 34.7 minutes per game, respectively.
"[Rose] is a great player," Davis said. "Especially for such a young guy; he's only a sophomore. And for him to grow so much from his freshman and sophomore year, you know, I look at him as the best player on their team just because he does so many different things. You know, he can shoot the ball, he can dribble, he's super athletic, he's great on defense, he rebounds–he does a lot of things on the court.
"With me doing the same kind of stuff, hopefully I can take away some of that stuff that he does, and, you know, I think it'll be a great matchup."
Said Dawkins on the potential Rose-Davis matchup: "They have a lot of similarities because of their versatility and their length. A.J.'s been great for us. He's guarded everyone from 1 through the 5, and we'll continue to try to utilize his skill set in that way."
---
For more on the Knights, as they prepare for a one-game road trip against the UConn Huskies, follow Victor Tan on Twitter at @NDR_VictorTan.