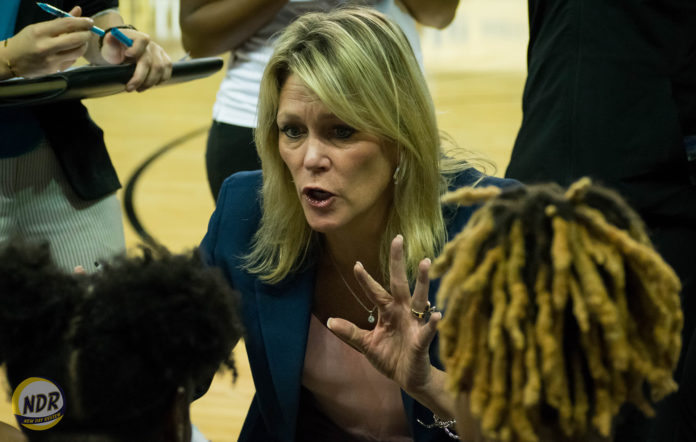 (Photo by Victor Tan / New Day Review)
ORLANDO, Fla. – The UCF Knights are just two games into their American Athletic Conference schedule but are perfect anyway. And their games haven't been flukes: So far, UCF (10-5, 2-0 in AAC) have beaten Temple University 76-46 and the SMU Mustangs 60-42.
Against the bottom-dwelling Wichita State Shockers (5-11, 0-2 in AAC), UCF should be celebrating a 3-0 conference record by Saturday evening. That said, the Shockers have playmakers that are sure to at least pose a threat to UCF.
Here's what to expect when UCF hosts the Shockers on Saturday at 2 p.m.
–
Rangie Bessard Presents Strong, Inside Presence
Shockers redshirt senior Rangie Bessard is undoubtedly the visiting team's best player—statistically, at least. She's averaging 18.8 points per game—8.7 points per game more than the second-highest scorer—7.6 rebounds per game and is shooting 49.5 percent inside the 3-point arc.
Bessard has five double-doubles, so far, this season. In her last two games, she's recorded two double-doubles of at least 20 points and 10 rebounds. The 6-foot-1 forward also shot a combined 18-for-34 in the losses to the Houston Cougars and the University of Tulsa. At 29.9 minutes per game, Bessard also averages the second-most minutes for the Shockers.
On UCF's end, 6-foot-3 Masseny Kaba will likely be Bessard's biggest challenge. As a freshman, Kaba has integrated into head coach Katie Abrahamson-Henderson's starting rapidly; that ascension was aided by an injury to forward Fifi Ndour that has kept her out since Nov. 26.
Kaba is averaging 7.9 points per game and 5.8 rebounds per game, starting the Knights' last 10 games. In those 10 games, she's averaged 27.8 minutes per game. Kaba has also led the team in scoring on two occasions: an 18-point performance on 9-for-11 shooting against the UC Davis Aggies and 16-point outing on 6-for-14 shooting against the Mustangs.
Shockers Shoot 3s… Unsuccessfully
Wichita State isn't shy of the money ball, but maybe it should be. In the last three games—losses to Houston, Tulsa and South Dakota State University—the Shockers took 32 3s; they made two. That contributed to losses an 18-point loss to Houston and a 32-point loss to the Jackrabbits.
Of their 3-point shooters, Jeliah Preston is Wichita State's go-to option. She's taken the most 3s for the Shockers, 49, and is the only player to make double-digit 3s, so far, this season (14). As a team for the season, Wichita State shoots 23.8 percent.
Wichita State Enduring 3rd Losing Streak
The significant part of the 2017-18 schedule just started, but the Shockers are already in a hole. They've won just five games and haven't found much consistency, with regard to winning.
After starting 0-6, Wichita State won by double digits in back-to-back games. Then a two-game losing streak ensued before the Shockers won three more. In that stretch, two games were decided by nine and three points, and the other was a 41-point victory.
A loss to UCF would extend the Shockers' losing streak to four.
---
For more on the Knights, as they prepare for their last opponent before facing the UConn Huskies, follow Victor Tan on Twitter at @NDR_VictorTan.