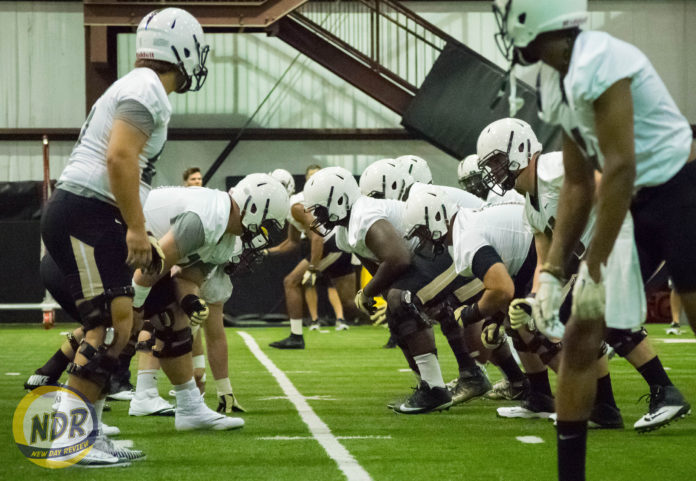 (Photo by Adrian J. Hernandez / New Day Review)
July 27, 2017 at Nicholson Fieldhouse
HC Scott Frost
The University of Central Florida opened fall training camp on Thursday.
First day was great. I thought the guys came out with a bunch of energy. I gotta give a ton of credit to Zach Duval and our strength staff, 'cause walking out here we look like a different team. The guys obviously worked hard in the summer and had good coaching in the summer, in the offseason, took advantage of offseason program. If we play as good as we look, we're gonna be a lot better team.
Frost credits Duval and the training staff for players' physical improvement.
I see bigger, faster, stronger guys. Just the muscle mass we put on, the size that we've gained through recruiting and through working out and the speed. We looked like a lot faster team today. It was a great start and we gotta build on it.
Compared to last year, the Knights are much more comfortable with their playbooks after another year in the system.
It's just so much of a different experience than last year. We came out last year, and a lot of the team didn't know what the plays were or what their assignments were. And, this year, everybody's so much more familiar with what we're trying to do, what their jobs are. And it just ran a lot cleaner. So, on top of us looking like a better football team, practice ran a lot smoother."
Expectations coming off a 6-7 year are much higher than last year coming off an 0-12 season. Frost, however, doesn't want to get complacent with 6-7.
We have high hopes for this year, too. But nothing is going to be given to us. Everything's gotta be earned. I told the team yesterday, I'm frankly tired of people coming up and telling me great season. Way to go 6-7. I don't want anybody in our program to be satisfied with that. But I think the conference is gonna be good this year. I think we're gonna be in a lot of close games with a lot of good teams in a balanced league. And we gotta find the little things that are gonna get us over the hump in some of these games.
Last season, the Knights' offense ranked 66th in the nation, scoring 28.8 points per game.
My expectation is always just gonna be improvement. We're constantly setting new standards for how well we can pay and how well we can do things. And then we try to reach those standards and surpass them. I thought we set a new standard with practice today. Gotta keep improving. I know our offense is gonna be a lot better this year. I think we're gonna be a lot better in a lot of areas on defense, too. Hopefully that can all come together and gel as a football team.
For Frost, he saw "really good things" from quarterbacks Pete DiNovo and Milton in the team's first day of fall camp.
Those guys both got a lot of reps. Pete and McKenzie both did some really good things today. I think McKenzie's a little more comfortable 'cause he's had more reps than Pete has. Thought some of the young guys did well too. Noah [Vedral] has done a great job learning this summer and is up to speed on everything we're doing. Darriel Mack had some great plays today. I felt good about the first day for the quarterbacks.
Even with Milton staring 10 games last season, Frost made no promises he will be the starting quarterback for the season-opener against Florida International University.
Honestly, we go into fall camp with every position up for grabs. I want competition at every position. Quarterback's no different. Right tackle, defensive end, corner—none of that's any different. I want the guys coming out here and knowing something is on the line. We're a team, but I want these guys to embrace competition and to love it. It'll clear itself up who the best players are.
Of the all the questions facing the team coming into training camp, Frost believes team chemistry is what needs to answered.
There's been a lot of talk on our team about coming together and becoming a tighter knit group. For all the talk about it, we need to do it. We need to be taking care of each other. Old guys need to be helping young guys even if they're competing against 'em. Young guys need to be going to old guys and asking for help. We need to take care of each other on and off the field. Teams that are tight and playing for each other, they get over the hump in close games. And that could be the difference. I saw a lot of it today and hopefully we can build on that.
Offensive lineman Tyler Hudanick suffered a season-ending injury last year and is being eased into camp this fall.
Tyler was out here. Took some reps. I think we're gonna limit him a little bit to begin with, just as he gets his sea legs back under him. But we except him to be ready to go when we're ready to play.
Knights kicker Donald De Le Haye gained national notoriety this offseason when he made news for possibly having to quit football because of his YouTube channel. As of now, De Le Haye is still a member of the team.
Donald is a member of our team. I think he's working through with the issues with the NCAA right now. He's a valuable member of our team, and I hope it all works out for him. We're gonna do everything we can to try to make it work as long as he can come to an agreement with NCAA.
New NCAA rules have provided Frost and his team with challenges regarding practice times.
There's some challenges with the new legislation. Everybody is starting earlier. And we have to start even earlier because we play the first game on a Thursday. So we're gonna kinda get a feel for where our team is as we go on through camp here. They allow us to have 29 practices. I'm not sure we'll use all of them or not. Probably not. We're gonna give the guys a little more time off than usual because of how early we're starting. We still gotta get our work in. So it's gonna be a different camp. It's also different because we're still in summer school right now, so we have to give the guys a window of time in the middle of the day to make sure they're taking care of their academics, which should come first. So this is new for everybody, but we think we have a good plan for it.
Just as there was some confusion for the players last year, the same goes for coaches in Frost's eyes after a year of experience.
I think the coaching staff is no different than the players. Everybody knows their role better; everybody understands our schemes better. I think everyone is more capable of doing the job they're doing, including myself.
Fall camp may have opened, but the whole team isn't here yet, as some players have some loose ends that need to be tied up.
We have a couple guys who aren't here yet. They gotta get a little more work done, and we're waiting on them to get that work done and to join our team. But we'll see how that progresses.
LB Shaquem Griffin
Griffin, who earned American Athletic Conference Defensive Player of the Year honors last season, is entering his last season in college and, therefore, his last camp. He's going to make it one to remember.
Well it hasn't hit me yet, but, you know, each step and each day I'm gonna do this, take advantage of it. I know I'm gonna start something new. First time, actually, I'm staying the night in the Wayne Densch for the rest of the camp, so that's kinda cool. I went to go buy me a blow-up mattress and a little comforter, and I was like, "You know what? I'm gonna get the full experience of camp." This my last one. So I'm the only one who be staying in the Wayne Densch and watching film and going to the weight room and do certain stuff and, you know, just get the full experience. Instead of going back and forth from home, I'm actually staying here for the entire camp.
For Griffin, the idea derived from his desire to "take everything in."
The whole thing was just to take everything in, you know? Once it's gone, it's over. I'm not getting this day back. So my whole thing was I'll go back and watch film and actually get ahead. And when we watch film again tomorrow, I already know what to expect. I already know my mistakes. And it's good for me 'cause I can lift weights more. You know, I'm by myself; I'm able to think about just what I'm doing wrong and write my notes down and be able to talk to our coach about everything. And, you know, I think it kinda is a head start for me. I don't have to just watch practice film. I can watch game film on our opponents and just get the whole feel… 'Cause I know Coach Frost was saying how you should take the whole team, and you go somewhere else, and you just with your team the entire time. You not at school; you can't go home. And that's kinda my feel just to stay inside strictly football. I know [tight ends coach Sean Beckton] was just dialed in, and main focus was on football, and don't worry about the outside world, and that's what I'm trying to do.
However, Griffin does not have keys to opening the Wayne Densch Center.
I'm actually already staying in so you know, they can't kick me out. I don't have to worry about going out and coming back… I'm already inside, so if you lock the door…I'm already in here.
If Griffin gets hungry, he won't go starving. He made sure to go grocery shopping beforehand.
I went to Publix. Got snacks, got water, Powerade, Pedialyte—everything I need just to be prepared for everything. Even got chips and sandwiches. I'm fine in there. When I get hungry, I just go make me a sandwich and drink some water, and I'm fine.
When told that a Green Bay Packers player was doing the same thing at Lambeau Field, Griffin said his experience will be a head start.
Well I guess that's just a head start for me. Go ahead and get to practice now. At first when I freaked out like, "Yo, it's kinda scary. I'm by myself inside this big building." But once I turned everything off and went to sleep and woke up, I was here. I could get some extra sleep. I'm walking around, coasting, talking to the janitor. It's kinda cool. I'm wide awake by the time everybody gets here. You know, I'm getting extra sleep. It just feels good just to be here.
Being a leader is something that is important to Griffin, but he knows he is not alone and has teammates to help.
My whole thing is to not feel like I'm alone. Try to give back to the younger guys. Take what I learn and what I'm learning from my brother and guys ahead of me and just to give back to them. I think that's the whole thing. It's not to feel like everything is put on my shoulders and on my back. I can be able to spread everything out. If there's something wrong, I can talk about it, but I can ask guys like Pat [Jasinski] or Richie Grant or Tre Neal or Kyle Gibson. Like, "Hey I got this problem. We gotta work on the sideline. How 'bout you guys go to the sideline? Tell me to back up, then I can worry about this." Or just when we did warm-ups today. It was the first time that we did the practice warm-up with everybody, with the new guys. Coach allowed me to come out and talk and communicate with everybody. And I was able to echo between everybody and talk to young guys, and we got it right the first time. I think that's the whole thing—when you be able to have guys around you and can help you also. And not just everything is on my shoulders. And I feel good. I can turn to my left or right and have somebody help me.
Even though his brother and former UCF cornerback, Shaquill Griffin, is in the National Football League, Shaquem still regularly communicates with him.
Every day [we talk]. It's kind annoying but, you know, it's fine. He always calling me, and he always in the house and talking 'bout when you coming home, and I'm like, "I'm not coming home. I'm staying here." And my parents just came up today. They wondered, "Where you at?" "No, I'm staying at the Wayne Densch. I'm not coming home." Having my brother there and already at that next level, I'm able to take tips from him and apply here. He told me different ways to jump; he told me ways to move my feet and be patient and when the ball comes and able to read routs and see what's coming. And, you know, that's kinda an advantage. A lot of college players don't get a chance to have that one-on-one hang time with an NFL player… I have the book already before I even get there.
Griffin was surprised how good the team looked.
Today I feel like we went really fast. I felt that we had a level that I didn't expect of us to be at on the first day. Communication-wise, we talking, and even the young guys [are, too]. We see the new guys out here talking, communicating, giving out signals, and it makes our job easy. When you have young guys tuning in and paying attention. Even from the sideline standpoint, you got guys whose back is to the sideline and dialed in. You ain't see nobody playing around, jumping—just talking the whole time. I think that's a point we wasn't at last year. We trying to get adjusted to everything. Everybody wasn't sure what was going on. And having everybody now who knows what's going on, listening to us and being able to just clock in immediately. And I think that the point that we at now, we moving fast, and I feel like each day we gonna get better.
University of Alabama transfer Shawn Burgess-Becker has impressed Griffin as he makes the move from defensive back to linebacker.
Shawn Burgess [has stood out to me]. Especially with the position change. That's a guy we can look out for. That's a guy who I think is gonna come up and step up a lot for the team. Being able to switch there—and he actually come in at night and ask for help and do different pass rush and go over plays and stuff. That shows a lot when you can have a position change and not think about the negative part of it at all. Why they left me? Why they took me from DB and move me to linebacker? Instead, he just hopped in like, 'Hey, what can I learn and how can I get on the field as fast as possible?' That's a guy that's really stepping up, and I'm proud of him for that.
QB McKenzie Milton
Like his teammates, Milton shared a positive sentiment about the first day of camp.
It was good. The energy was real good. Young guys stepped up. Veterans were leading pretty well too, so it was a good day.
Instead of picking up where the team left off in spring, Milton believes the team got even better.
I think we took a couple steps past spring. I was pretty impressed with a lot of the young guys with the absorption of the playbook so far. So it's pretty good.
For Milton, the weight room is where a lot of his teammates made significant strides.
Summer was awesome. A lot of guys put in work in the weight room. I know Trysten Hill upped his PR on the squat. Titus Davis pushing a lot of weight. Our guys look bigger, faster stronger, so it was a lot of fun.
Milton said he was able to add some bulk to his frame this summer as well.
It was good. It was good. Coach Duval does a great job of getting us right. Put on a few pounds this spring, so it was good.
One aspect of his game Milton worked on this summer was his footwork.
Put in some more work in the film room, worked on my feet a lot. Just staying kinda calm in the pocket, making sure my feetwork is down so I can stay in rhythm with the plays that we have.
A more explosive offensive is something Milton hopes to achieve this season going into his second year.
Definitely we have to take the next step. Hopefully we'll score a lot more points.
As last year's starter for most of the season, Milton has a depth-chart advantage. Though, he still welcomes in-house competition.
I think competition is awesome. I think every year, every day you have to come in with the mindset to compete with whoever comes in and whoever leaves. That's how you gotta approach every day.
As far as improvements in his game, Milton feels he has gotten better with his eyes.
I think just being better with my eyes. That comes with a year of playing, a year of film study and a year of just being in the playbook.
Milton is excited by teammates like Cam Stewart and Case Harrison.
It's definitely a blessing. Cam Stewart has been stepping up. There's a lot of good freshmen, too, that look solid and a lot of good vets. So it's exciting. Case Harrison from [the University of Florida]—he's gonna be a guy this year.
Personally, the biggest difference for Milton from his freshman to sophomore camp was his comfort level.
I think just being more comfortable, for sure. Well, obviously, we come in the summer and do summer workouts, but it's the first time all the coaches are out here, so might be little butterflies and stuff like that. But it's definitely a lot more just being comfortable."
The best play during the first day of camp in Milton's opinion came from Gabriel Davis and Darriel Mack.
I think Gabe Davis made a heck of a grab, and Darriel Mack made a pretty good throw. I think it was during three-on-twos. Like, over two defenders. Gabe made a heck of a grab, and Darriel made a heck of a throw.
WR Tre'Quan Smith
Smith said the first day of camp was "overall good."
Today's first practice was overall good. I felt like everybody competed well, and everybody actually wanted to be out here. You could see the enthusiasm in everybody. Everybody was competing. And like Coach Frost said, if we practice like this throughout the day, we're gonna have a pretty overall good camp.
Even on the first day, Smith has already seen better team chemistry.
Most definitely everybody coming along. We see more brotherhood and more communication, and, by far, I believe that was the biggest part for us—communication. And that we communicate and we able to go fast and play how we really wanna play and compete with each other.
Team chemistry was a focus point for the Knights this offseason.
It was basically team chemistry. Building a bond with each other. We was close, but, like, you know, we just came even closer together. Like, when everybody is close, you wanna be around somebody. You know, you don't have a hard time constructive criticism someone. So, you know, you think about it. You like, "Oh, he's just trying get me better. That's my brother. I can't look at it in a bad way. I gotta look at it in a positive way." And when you look at things like that, you make the team better. You make everyone better.
Smith likes that the team has high expectations for this year, as it just gives him a reason to play harder.
I embrace it because I look at the past season, and I know, by far, we could have done way better. We left a lot of plays on the field. I want the expectations to be high 'cause I want to be able to live up to them and pass the expectations. Because I know, for one, like I said, our last season wasn't our best season. It's yet to come.
In Frost's second year, Smith is expecting the offense to get better now that players are more familiar.
I expect us to live up to Coach Frost's offense. Being able to play fast, and we can do that now that we're communicating and everybody know what they're doing—unlike last year, we was just getting into the groove of things. But now we able to communicate and know the offense, so we able to move faster.
Before camp started, Frost wanted to make sure his players knew what he wanted from them.
Just coming out here, having fun and competing. Giving an effort, giving 100 percent no matter if you mess up or not. If you going 100 percent, and you mess up, [the coaches] not gonna yell at you. That's what he want. He just wanna see 100 percent effort.
One player that jumped out to Smith during practice was freshman wide receiver Marlon Williams.
On offense, I like my receiver Marlon. Marlon Williams. Because he's a pretty stocky kid, and he made a couple great catches and a couple bursts after the catch. So I'm really looking forward to see how he develop.
TE Jordan Franks
Franks noticed a difference in how he felt on the field during practice compared to last year's camp.
It felt good. Everything is fast and fluent. Big upgrade from last year's camp. Today was fun but physical. Obviously we have no pads but helmets. But everyone came out going full speed, going hard, and it was just fun overall."
Starting training camp in July is something that is different for Franks. Camp usually starts in August.
The only real difference is that some people still have Summer B classes, myself included, at night. So you have to have the mindset of football, but also school's on the line, too. So we have to finish school strong and focus on football at the same time.
Franks has noticed more comfort in the team in Frost's second season.
It's a big jump. Obviously we had a really good spring. We carried that over into summer and now over to fall. So everybody knows their assignments. It's more like just getting back. The rust of things and getting back into the play of action.
Franks said the offense looked good.
We looked good. We ran our routes pretty good. Kinda gonna need to work on the blocking, but that comes with pads. Just everybody really understands the playing scheme right now.
When asked who stood out, Franks couldn't single one out.
The whole team. Everbody. Thanks to Coach Duval and the weightlifting staff. Everybody, big numbers in the weight room. We gained weight, especially on the tight-end squad and offensive line and linebackers for our defense. So, we look bigger stronger and faster.
A big focus for UCF is the offense's improvement. For Franks, that starts up front.
We're expecting big things. More push at the line of scrimmage. Coming from the weight room. More understanding of the offense and how we can run schemes for specific plays, and we're older. We were really young last year, so we're a lot older on the offense side.
Franks has noticed more comfort with the quarterbacks.
They look way more comfortable. They understand the playbook more. They grinded over the summer. They got in the weight room. They look stronger, look faster, bigger. They look really comfortable out here.
---
For more on the Knights as they prepare for the upcoming season, follow Ryan Weiss on Twitter at @NDR_RyanWeiss.