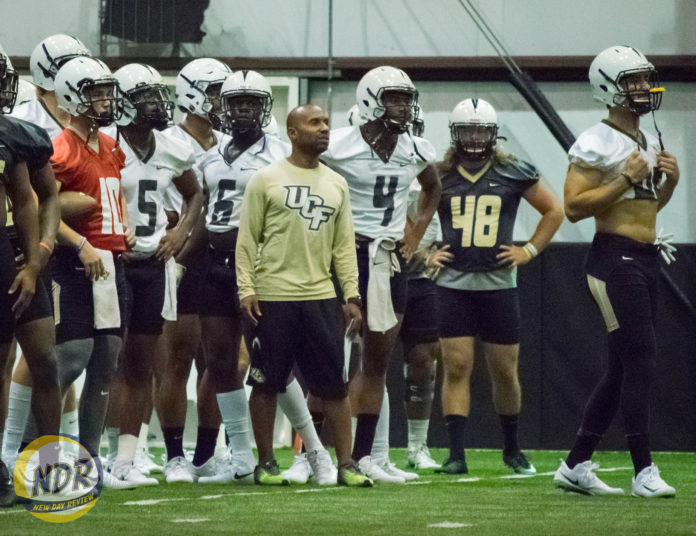 (Photo by Adrian J. Hernandez / New Day Review)
July 28, 2017 at Wayne Densch Center
OC/WR coach Troy Walters
After the University of Central Florida's second practice of fall camp, it was evident to coaches that last year's early-season confusion wasn't there.
Lot easier. A lot easier. Everybody knows what's going on—players, coaches—so we can function better. We know exactly the expectations are set; the standards are set. So we don't have to start from ground zero. We just keep building upon what we've learned last year, what we learned in the spring, and we're light years ahead of where we were this time last year. So it's exciting.
Walters has noticed how much work the players and strength-and-conditioning coach Zach Duval and his staff put in during the summer.
They did a great job this summer. Coach Duval and his staff did an excellent job of getting the guys in shape, getting them stronger, getting them faster. I mean, across the board, we're better. And it's evident yesterday—last night at practice, even today. The guys are running, flying around. We're big, we're strong. So it's exciting. Scheme-wise, the guys put in their work this summer. They were working on their own in the meeting rooms, going over the playbooks and they knew the standards and expectations that we wanted. So we didn't miss a beat last night, even this morning.
After two practices, Walters is excited about how the freshmen on the team have looked so far.
We've gone through two practices. We're excited about the freshman we have in. They're all recruited in to be playmakers, recruited in to be difference-makers, and they've shown that they can grasp the offense. That's always important as a receiver position, as a freshman. They've done that, and their athletic ability will allow them to be successful. So we're excited with all the freshmen that we have.
Walters wants his receivers to know that the message this season is they want to be great.
We wanna be great… We wanna go from good to great. And our standards are high. Expectations are high. We don't wanna win six games. We wanna win and compete for championships. So I tell them every day you're out on that field, "We're competing for a championship." And I think they're getting that mindset that everything we do is to be great, and that's the message.
One luxury that Walters has as wide-receivers coach is the experience and reliability of redshirt junior Tre'Quan Smith.
Tremendous help. Now he's going into really his fourth year here. He knows how to practice, he knows how to be a pro, and he's doing a great job of taking the leadership role—mentoring the young guys, setting the example. That's what I need the most. Not so much talking—set the example. Show the young guys how to do things. How to practice, how to prepare—because you've been successful. Proof is in the pudding. He's done that, and he's been a great addition and a great guy to the room.
Smith isn't the only receiver being a leader. Case Harrison has caught the eye of Walters as well.
I mean, Case Harrison. He's a wily vet. I kid him. Like, he's been around for 10 or 12 years. But he's an experienced guy. He brings that leadership. Cam Stewart is stepping up. Tristan Reaves. Those are veteran guys. They've been through the fire. So those are the guys that we've kinda pushed that leadership role upon, and they're making sure the young guys follow.
Last season, the offensive line's play struggled at times ranking 108th in sacks allowed with 36. This season, Walters feels that won't be an issue this season.
Up front, we look like a good O-line. You know they worked their tails off this summer, and it showed the first two practices. I mean, they're getting after it. Our D-line is special. Our D-line, our outside backers—they're special. So they're gonna make the O-linemen work every day. They're doing what they need. They're holding their own. They're athletic. But the one thing I like about our O-line is they're playing as one. They really come together in the offseason and the summer, and you can tell they're a family. They're a close-knit group. That's what you need. You need all guys on the same page rolling in the same direction.
One thing Walters would like to see from the offense is to get tougher both mentally and physically.
Physically, I want us to go out there and dominate play in and play out. And our defense is gonna give us to present that challenge. But I want the mindset that every day we go out there we wanna be physical. We wanna be the most physical team—physical across the board on the field. And then mentally tough no matter what the situation is. We're not gonna let anybody or anything prevent us from being successful. That's mental toughness. Not letting anything or anybody prevent you from being great. If we can become tougher physically and mentally, the sky's the limit.
Like Frost, Walters sees the team becoming a closer unit as a whole.
Really, I see it amongst the whole team. One of the things I mentioned to Coach Frost yesterday when we were going through stretches is that we got a great group of guys—across the board. Really, no egos. All team-first guys. So I think we're gonna be stronger and better and better just cohesively as a unit than we were last year. And that's gonna win football games. When you love playing for your brother to your right and to your left, and you trust, and you hold each other accountable, that can take you a long ways. So I see that as an entire team, and that's exciting.
No one unit has stood out to Walters yet.
Nah, I can't single out any one unit. I think, as a whole, we've played well. We've done a good job these first two practices. Now it's time to build. Every practice, we've gotta get better. Make the corrections, get better, and we'll be in good shape.
DC Erik Chinander
Chinander gives credits to the players themselves for their self-improvement over the summer.
I think the knowledge by the ones and twos is really—you know, usually you take a take a step back. A quick step back, not huge, but quick step back then you move forward. Really, the ones and twos have kinda continued that accelerated path, and I think that's a credit to the kids. What they did by themselves over the summer. They did a lot of group work and a lot of stuff when the coaches weren't even here. Sometimes we weren't even in town, and they were still working. And the young guys are learning. Cool thing about this group is that the older guys are trying to bring the young guys along, and I think you only get there when the starters say, "I'm gonna show you how to take my job, but you're not gonna take it." And I think we have some of that on this team. Maybe not at every position but at a lot of positions. So we're moving in the right direction.
For Chinander, the team looks stronger and faster.
Our team looks stronger and faster. Of course it's only the first couple days, so we'll see how the endurance builds up. But right now, the guys look like they did a heck of a job in the weight room. Some of the guys that need to gain weight are up. Some of the guys that need to lose weight are down. But the team looks great, and they're running around right now.
Alabama transfer Shawn Burgess-Becker is adapting to a new position after moving from defensive back to linebacker, and Chinander has a reason for that move.
No moves are final. We've moved a couple guys around so far. My job, as you guys know, is to get the best 11, best 22, best 12, 13—whatever that personnel package is—the best guys on the field. And in order for us to do that, he's gonna have to play a couple different roles along with some other guys. He has a lot of tools in his toolbox. But where is the best place to use him? We're gonna find out here in Week 1.
Another improved aspect Chinander has noticed is the overall culture.
What I know is the culture's better. The team is a better team. The guys are doing a better job with the process. What we don't know is we obviously lost a lot on defense. Will we respond? The front is pretty good right now, I think. They gotta prove it again. They did last year, but they gotta prove it again. Shaquem's [Griffin] gotta prove it every day just like he always has his whole life. The back end's gotta step up. So we'll see how we come along. I'm really impressed with the offense right now. They look like a whole new unit. They look fast; they look like they know what they're doing. The offensive line is doing a good job. So I definitely think the offense is gonna improve, and I'm hoping that we could come along with them.
Griffin is a player Chinander counts on to be a leader.
Just like any great player, he needs to execute the details. He needs to find out what other people are doing, just not his own job now. He's past that, and now, "I need to know what everybody is doing so I can do my job better. And that was last year. I don't care about last year. Last year is a long time ago." Shaquem needs to be Shaquem this year. He's got a target on his back now, just as all great players do. So now we gotta go.
Chinander may like what Griffin does on the field, but he has no plans of joining him to sleep inside the Wayne Densch Center.
It's not surprising if you know the kid. I mean, he's in here all the time anyways. I think it's a little crazy. I'd probably go home and lay on my own pillow, but if that's what he wants to do and if he thinks that gives him the edge, I'm all for it as long as he can get his rest and he's ready to go. But he's a phenomenal kid. He watches more film than anybody. He meets with the coaches more than anybody. He helps the young guys. He works as hard as anyone on the team. So it's not surprising.
Team-wide leadership is coming from the defensive front seven.
Shaquem is stepping up and that whole defensive line as a unit. There's not one huge voice there, but the three of those starters and maybe the next couple guys. I mean, they bring the team with 'em. That's just a such a strong group, along with Shaquem, that everybody will follow where they're going. Pat Jasinski's doing a nice job as the Mike linebacker, making calls and getting our defense set.
The Knights have lost seven starters from last year's defense.
The obvious one is who's gonna be starting in place of the seven starters that we lost. I mean, there's been guys that have taken reps. Obviously, Tre [Neal] and Kyle [Gibson] have taken a lot of reps, and Pat and Chequan Burkett have taken a lot of reps. Titus [Davis] and Dedrion Bacote got a little action, and actually Bam Bam was more in the spring. Who's gonna be the starter? That's the biggest question we gotta ask. And are those guys willing to step in there. Sometimes it might be a freshman in there, and we don't know until the lights turn on. It's all fun and games when we're in practice, but when the live bullets are flying, it's a different ball game. So the biggest question won't be answered 'til Game 1 I think.
During the spring, Burkett left the team to deal with family issues. His return is something Chinander is grateful for.
Unbelievable.  He's an unbelievable family guy. That's why he made the decision he did—to be with his family. But having him back, he's a calming force in that room. He's a great teammate; he can lead in his own way and just a guy that knows the system can make the calls, and, obviously, he's a phenomenal athlete, too. So, having him back is tremendous.
While starting camp in July has affected some of the players and coaches, it has had no effect on Chinander.
Not for me really. I mean, maybe a little shorter vacation or a little earlier vacation, and my kids get to see me a little less. But other than that, I mean, it's status quo. We basically get done with our work before we leave for a little vacation in July, and we're really ready to hit the ground running when we walk in the door. So, the adjustment's not big."
Griffin has not only been a lead-by-example leader, but, this preseason, he has embraced a vocal role as well.
A lot of the times I like to call the defense up after practice 'cause I don't have as much group time as I want. You know, the way we practice now, the new NCAA rules, I don't get as much group time as I need to. And usually I call 'em up, and after the first practice, he had 'em called up, and he was talking to them. And I just kinda walked away, said, "Alright, see ya, boys. He got you." I mean, when you got one like that, I don't wanna talk. I would rather not talk. It's not my team—it's theirs. It's not Coach Frost's team—it's theirs. So, I want him to take that ownership. That's him.
---
For more on the Knights as they endure fall camp, follow Ryan Weiss on Twitter at @NDR_RyanWeiss.