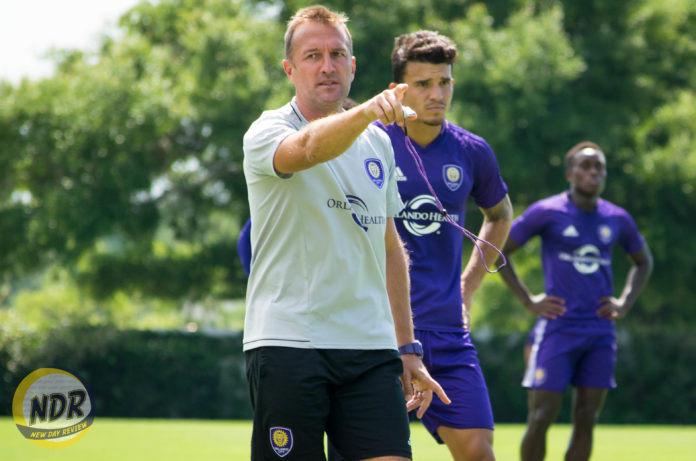 (Photo by Victor Tan / New Day Review)
ORLANDO, Fla. – Orlando City SC's hottest start to a Major League Soccer season could only keep the Lions afloat for so long. After starting the season 6-1-0, City has since compiled an overall record of 8-8-5, losing three of its last four. Additionally, the Lions have also fallen out of a playoff spot, as the New York Red Bulls and the Columbus Crew have each taken the fifth and sixth spots, respectively.
For Orlando City head coach Jason Kreis, this is the point in the season where his team starts to look at the standings.
"Early in the season, probably the first half of the season, I would say they were not even looking," Kreis said after training Tuesday. "But where we're at right now, you see the light at the end of the tunnel. You see the season end here in the next—we've only got 13 games remaining, and it is time to look now and recognize that our backs are against the wall.
"We need a reaction right now."
Though the season is beginning to end, Kreis isn't necessarily concerned about his team's standing in the Eastern Conference table just yet. The second-year boss' main concern is his team's lack of goals. Apart from Columbus, which has a -1 goal differential, City was the only team in the top six in the East with a negative goal differential (-8). The Lions have also scored the third-fewest goals (22) in all of MLS with only last-place D.C. United (18) and the 10th-place Colorado Rapids (20) scoring fewer.
"Concern? I don't know about concern," Kreis said. "What concerns me is just the lack of goal-scoring right now. I still believe that the performances have been mostly good, and I also believe that at some point, something goes right for us, and, when it does, then a lot of things will go right for us, if we continue to work and if we continue to believe."
City has scored just three goals in its past five games with leading goal-scorer Cyle Larin (eight) being held scoreless since a 2-0 win over D.C. United on May 31. The Tuesday afternoon signing of former Sporting Kansas City forward Dom Dwyer is perhaps the answer.
"My experience is that any time you add new pieces and new competition in any position, it livens the group up a little bit," Kreis said. "It freshens the group up a little bit, so we feel like, first and foremost, we need it just from a talent and depth perspective but also a little bit of an emotional push would be nice, right now, as well."
Following a 1-0 loss to Atlanta United FC on July 21, the Lions travel north to face Atlanta on Saturday at 4:30 p.m.
Said Kreis on playing a team back-to-back: "Yeah, it's not my favorite situation 'cause I just think the competitive balance for this season, it's not ideal. But, at the moment right now, after—again, after the performance we had, feeling hard-done by the result. I would say that I think this si the right time for this game. Yeah, I'm happy about it."
---
For more on Orlando City and their remedies for lack of goals, follow Victor Tan on Twitter at @NDR_VictorTan.