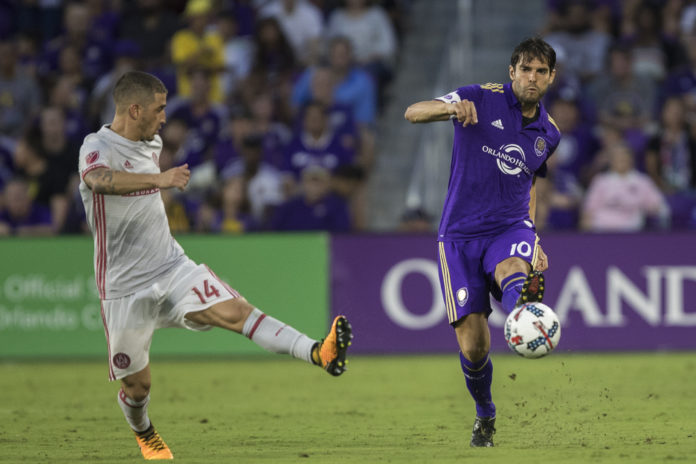 (Photo by Orlando City SC)
Match Recap
ORLANDO, Fla. – From location to the trash talk and the importance of points late in the season, just about every checkbox was fulfilled in Orlando City SC and Atlanta United FC's first-ever matchup. Unfortunately for the home side, Orlando City (8-8-5, 29 points) lost 1-0 to the visiting Atlanta squad (10-7-3, 33 points) at Orlando City Stadium Friday night in front of 25,527 fans.
For Orlando City head coach Jason Kreis, he wasn't disappointed with his team's performance against Atlanta despite the loss.
"Obviously very disappointed with the result, but this is one where I would say I was pleased with the performance," Kreis said after the match. "This is the tough job about being a professional-soccer coach is that nobody remembers the performance except for the coaching staff and the players. When you lose, you lose. So, really disappointed to have lost this one, especially in the way in which we lost it."
Atlanta's Héctor Villalba was the hero for the visiting team. In the 86th minute, he scored a long-range goal from about 15 yards outside the top-left of the box. An Atlanta throw-in into Orlando City traffic found Villalba, who took two touches before posting the lone goal of the match in the top-right corner of City goalkeeper Joe Bendik's net.
"Came off of a throw-in. We fell asleep for just one second," Kreis said. "That one second will hurt you every time when you play against a quality team and quality players like Atlanta."
In the 39th minute, City saw the best scoring chance of the first half for both teams. A foul first set up a set piece for the Lions near the right sideline. Forward Carlos Rivas sent in the ensuing cross that sailed over the Atlanta defense to center-back Jonathan Spector, who headed it to his left. But Atlanta goalkeeper Brad Guzan, who was making his first Major League Soccer appearance since 2008, dropped to his right to make the top-class save.
Spector wasn't done, though. In the 63rd minute, another set piece came for Orlando, and it was team captain Ricardo Kaká's turn to send in the cross. Kaká's cross curled in with a low angle, and the ball found Spector's head. Guzan was there, yet again, for the save, as he dropped to his left to make the save.
"I think he did a very good job because he [saved] the game," Kaká said after the match. "Because the first save that he did in the first half that Specs had—it was very, very good. So, in the second half, he did good again, and, at the least, the keeper was very good and saved the game. So, congratulations to him, first game, and he did a very good job."
With five minutes of stoppage time, midfielder Will Johnson found an open look near the top-right part of Atlanta's box. After bouncing off one defender, Johnson took his chance, but the ball sailed into the supporters' section.
"I was just trying to get close," Johnson said after the match. "You know, the guy was closing me down, and obviously Brad's a top goalkeeper, so you have to try to get it in one of the corners, otherwise he'll save it. You know, tried to go high to the near-post to catch him off-guard. I had him beat. You know, just the excitement got to me a little bit and pushed it a little high into our wonderful supporters' section."
Man of the Match: Brad Guzan
As Kaká put it, Guzan saved the game for Atlanta. Two of his five saves were close-range, set-piece chances off the head of Spector. He also tallied three punches and caught one cross.
What's next?
Orlando City will next travel to face Atlanta in the finale of a back-to-back with the 2017 expansion side on July 29 at 4:30 p.m.
Cyle Larin Plays for Orlando City Less Than 24 Hours After Gold Cup Match
Following the Canadian men's national team's 2-1 loss to Jamaica on Thursday in Arizona, forward Cyle Larin flew back to Orlando to play with his club. Larin played 23 minutes and completed all five of his passes. He had eight touches and no shots.
During training this week, Kreis did not expect Larin to play with his team Friday night.
"You know, I have to review the video, actually, to see how effective I thought Cyle was," the second-year City coach said. "I don't remember any real bright spots. I don't remember him having any chances.
"But I'm very thankful for his efforts. Spoke to him last night after the match and was appreciative that he was desperate to come in and try to give us what he could. So, I appreciate his efforts for sure."
Said Kaká on Larin playing in the loss to Atlanta: "It's very good. It's very good to see what Cyle did to be with us tonight and come here after the game yesterday and played again tonight. So, thank you Cyle for the effort to be here tonight and play with us and try to help us to win this game. So, this is something that we have to be proud that a teammate doing this kind of thing for us."
Orlando City Travels to Atlanta for Next Match
Just eight days after losing to Atlanta at home, Orlando City will travel north to play the same team. For Kreis, it is beneficial to play the same team immediately after playing them.
"Yeah, I suppose [it is beneficial] because I think our locker room, again, feels as if we were maybe a little hard done," Kreis said. "Meaning, maybe our performance warranted better than what we got. And so there's one way to rectify that situation. Just go there and get those three points back."
Said Johnson on playing Atlanta again so quickly: "Yeah. Obviously, it's another Eastern Conference team. It's a good opportunity. We know exactly what they're all about. I thought our game plan was really good… We limited them to, you know, a few individual errors on our half, but, for the most part, we were in control. So I think that's the frustrating part."
Highlights
17′ | Kaká with a class run up the pitch from City's half and feeds a trailing Barnes. His shot curls just wide….

0-0 | #ORLvATL pic.twitter.com/cMpeyXO2Rz

— Orlando City SC (@OrlandoCitySC) July 21, 2017
Bang Master Carlitos. #VamosOrlando pic.twitter.com/B3yCKioU3s

— Orlando City SC (@OrlandoCitySC) July 21, 2017
Best chances of the night from Carlos to Specs… City knocking

0-0 | #ORLvATL pic.twitter.com/iGvSlfGUHe

— Orlando City SC (@OrlandoCitySC) July 21, 2017
Keep it up 🤓 pic.twitter.com/Jp9POHzSuZ

— Orlando City SC (@OrlandoCitySC) July 22, 2017
A Friday night flight for @TitoVillalba15 🚀 #ORLvATL #ATLUTD pic.twitter.com/P1UzcPnlnt

— Major League Soccer (@MLS) July 22, 2017
NDR Notes
Larin played in Canada's 2-1 loss to Jamaica on Thursday and played 20-plus minutes for City in a Friday-night, 1-0 loss to Atlanta.
Bendik and Guzan each finished with five saves.
Scoring
| | | | |
| --- | --- | --- | --- |
| Time | Team | Goal-scorer | Assisted by |
| 86' | Atlanta United FC | Héctor Villalba | Greg Garza |
Statistics and Starting Lineups
| | | | | | |
| --- | --- | --- | --- | --- | --- |
| | Goals | Assists | Shots | Shots on Goal | Possession % |
| Orlando City SC | 0 | 0 | 14 | 5 | 45.1% |
| Atlanta United FC | 1 | 1 | 8 | 6 | 54.9% |
Orlando City SC starting XI (4-4-2): Joe Bendik (GK); Donny Toia, Jonathan Spector, José Aja, Scott Sutter; Ricardo Kaká (C), Antonio Nocerino, Cristian Higuita, Will Johnson; Carlos Rivas, Giles Barnes
Atlanta United FC starting XI (4-2-3-1): Brad Guzan (GK); Greg Garza, Leoandro González Pirez, Michael Parkhurst (C), Anton Walkes; Carlos Carmona, Jeff Larentowicz; Yamil Asad, Miguel Almirón, Julian Gressel; Héctor Villalba
---
For more on Orlando City as they take on Atlanta again, follow Victor Tan on Twitter at @NDR_VictorTan.