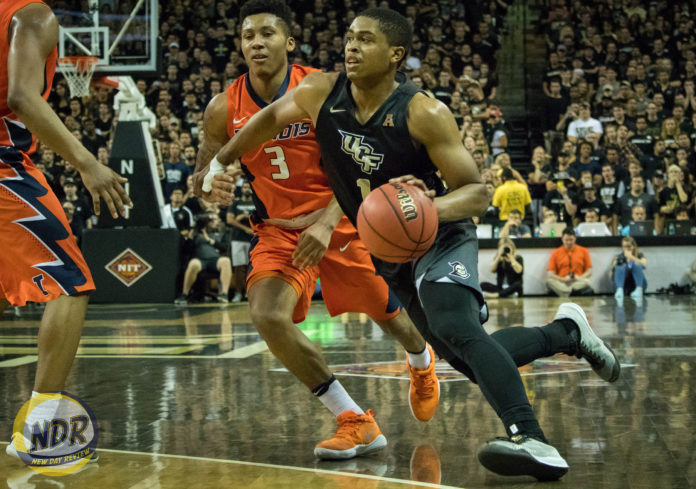 (Photo by Bryce Brimhall / New Day Review)
The University of Central Florida continues to add to fill out its 2017-18 men's basketball schedule. On Monday, the team announced its newest opponent: the University of Alabama Crimson Tide.
UCF will play a home-and-home series with the Crimson Tide, beginning with a matchup at CFE Arena on Dec. 3, 2017. The second matchup has yet to be determined.
Like the Knights, the Southeastern Conference team also made the National Invitation Tournament last season. After entering the tournament as the three seed, Alabama lost to the University of Richmond in the first round.
Alabama is led by former 2006 NBA Coach of the Year Avery Johnson. Last season, Johnson led his team to a 19-15 record. Now, expectations are high for the Crimson Tide, as CBS Sports' preseason poll has Alabama ranked 20th while NBC Sports has Alabama ranked 21st.
The Knights will be able to match their talent with a few players of their own, as center Tacko Fall returns for his junior year after foregoing the 2017 NBA Draft. Point guard B.J. Taylor, who led his team in scoring with 17.4 points per game, also returns.
Both players helped the Knights to a 24-12 record under first-year UCF head coach Johnny Dawkins' leadership. The Knights also made it to the semifinals of the NIT before ultimately losing to first-time winner Texas Christian University.
Alabama and UCF have met only three times in their histories with the most recent meeting coming in 1994. Alabama has won all three games.
---
For more on UCF men's basketball and their journey to the NCAA Tournament, follow Victor Tan on Twitter at @NDR_VictorTan.