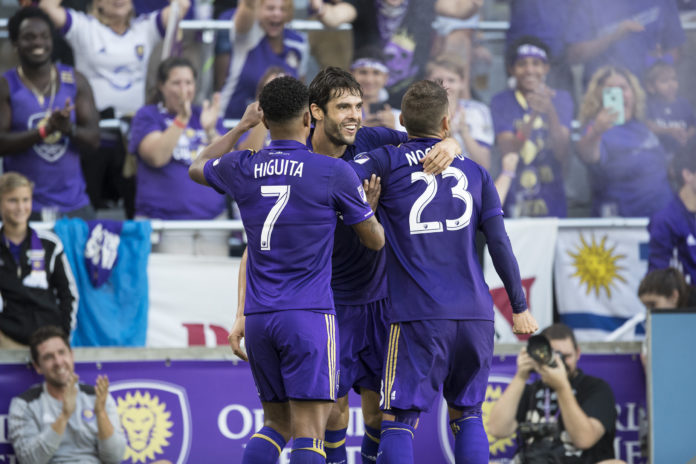 (Photo by Orlando City SC)
Match Recap
ORLANDO, Fla. – The stage was set for Orlando City SC and the Chicago Fire to battle for sole possession of the No. 2 spot in the Eastern Conference. But a duel between two of the East's top teams that would showcase City's Ricardo Kaká and Chicago's Bastian Schweinsteiger took a different turn, as the Lions were issued two red cards in the 26th and 67th minutes.
"When you go down to nine, you're certainly just playing for the draw," City head coach Jason Kreis said after the match. "But when we were at 10, we were, as you saw—I mean, we didn't bring in [right-back Scott Sutter] right away. We wanted to shift Will [Johnson] over to the right-back. We wanted to leave on players like Giles Barnes, [forwards Carlos Rivas and Cyle Larin]. We wanted to keep attacking-minded players out there to see if we could hit them on the break. We weren't throwing in the towel by any means.
"And even as the game wore on, at halftime, I'm talking to the coaching staff about how we're gonna win the game, not about how we were gonna draw the game. And so all of our decisions were bending that way until we get the second ejection, and then it's just like, 'How are going to hold on?'"
The Lions (7-5-3, 24 points) drew 0-0 with the Fire (7-3-4, 25 points) in front of 24,469 people at Orlando City Stadium Sunday night.
Orlando City suffered its first loss when right-back Rafael Ramos, who was making his first start and 2017 debut for the first team, was issued a red card in the 26th minute. A pass was sent over to the left side of City's box where Ramos and Chicago left-back Brandon Vincent collided. Head referee Ted Unkel issued the ejection to a crouching, shocked Ramos.
But Unkel wasn't finished issuing reds. In the 67th minute, midfielder Antonio Nocerino came from behind for a challenge and fouled Fire right-back Matt Polster. Nocerino immediately acknowledged the foul, but Unkel administered the red card anyway.
"I feel for the referees because they're asked to interpret things on a second's notice, and they're asked to interpret so many different things," Johnson said after the match. "You know, does it endanger the safety of one individual? Is it reckless? Is it studs up from behind? You know, they have to make these decisions in a moment's notice, and that's why we're getting a video-assistant replay, so it's hard to say.
"You could poll a bunch of people, and I'm sure would say it's a red, it's not… But I felt we dealt with them well, so that's the, I think, the storyline that we're taking from it."
Said left-back Victor "PC" Giro on both red cards: "First one was, for me, at maximum, it was a foul. If he wanted to give the yellow card, that's okay, but the second one, it was a bit more difficult to see and decide. It was a tackle, and it was a challenge, and the referee decided to give the red card."
Chicago pressed for a goal in the second half, claiming 69.7 percent possession after the break. The Fire also out-shot Orlando City 12-0 (1-0 on goal) in the second half, finishing with 21 shots (six on goal).
The Fire provided a thrilling ending, knocking shots off City goalkeeper Joe Bendik's crossbar twice. After Polster ricocheted a shot off the bottom of the crossbar in the 91st minute, late-game substitute David Arshakyan took his chance. Arshakyan approached the box from the right and unloaded a shot that was deflected off PC and bounce off the crossbar again.
"You never know. Maybe it hits the crossbar, hits you and goes in the back," Bendik said after the match. "Yeah that was—needed a little bit of luck there."
Said Bendik on Chicago's possession in the second half: "I didn't feel like [Chicago] moved the ball very well or quickly enough. They were very patient. I give 'em credit for that, but, ultimately—I mean, we had to park the bus in front of the goal, and that's very hard to break down."
Chicago had perhaps its best chance at a goal before Nocerino was ejected. A cross into the box by midfielder Drew Conner found the head of Fire captain Michael de Leeuw, who sent an attempt to Bendik's left. At full stretch, the 28-year-old put both mitts on the ball to keep the match level.
Man of the Match: Joe Bendik
Bendik finished the match with six saves, coming up with crucial saves before and after City's ejections. In addition to his stop in the 57th minute, Bendik recorded a save in stoppage time of the first half against Fire forward David Accam. In a one-on-one situation, Bendik stayed on his line and forced Accam to miss far post. de Leeuw gathered the errant shot and sent in another strike, but Bendik was there to gather it seconds before halftime.
What's next?
Orlando City will next face Miami FC in the fourth round of the U.S. Open Cup on June 14 at 7:30 p.m. in Orlando City Stadium.
Victor 'PC' Giro, Léo Pereira Vehemently Defend Left Side
In both of their third starts and third appearances this season, PC and center-back Léo Pereira performed admirably against a team that has scored 23 goals this season. Both players have experience playing together, as both started and played 90 minutes in a 1-1 draw against the San Jose Earthquakes on May 17.
"Really, really strong performances from them again, defensively," Kreis said. "PC showed the type of effort and commitment and resolve that he has every time I've seen him play. Big reason why he was brought here was because of that fortitude and that ability to work as hard as he does."
Said PC on his performance and partnership with Pereira: "For me and Léo, it's easier to play together. Obviously, we both speak Portuguese, so it's easier to communicate. We were able to understand what we want from each other, and we're able to understand what Jason asks from us. So, that reflects on the team as well."
For Bendik, their experience in the draw against the Earthquakes helped their performances on Sunday.
"They got a shot at playing a few weeks ago, and they really took it," he said. "So, they had their feet wet, and they were able to come in here and play really solid."
Orlando City Embarks on Unfamiliar 10-day Break
After enduring eight games in one month in the form of three stretches of three games in eight days, Orlando City will have a 10-day break before its next match. That next match will be a fourth-round U.S. Open Cup match against Miami FC.
"[Looking] really, really forward to it," Kreis said. "I just told the guys I think it's critically important that we appreciate the rest and we treat it the right way because, for me, rest is critically important to performance. So we need to get our bodies and our minds back calmed down because it's been a lot of games in a short period of time. And there's a lot of season left."
Bendik, on the other hand, isn't necessarily a fan of having time off. He'll make the most of it, nonetheless.
"I don't really like time off, to be honest," Bendik said. "Yeah, I'll spend some time with family and then get back at it."
Highlights
Carlos breezing on by. 👋

0-0 | #ORLvCHI pic.twitter.com/6ZLIKGq2xe

— Orlando City SC (@OrlandoCitySC) June 5, 2017
Halftime stats (ORL-CHI):

Shots (on goal): 5-9 (2-5)
Corners: 1-2
Fouls: 4-10
Possession: 37%-67%#ORLvCHI #MLS

— New Day Review (@NewDayReview) June 5, 2017
56′ | Joe went full stretch for that one.

0-0 | #ORLvCHI pic.twitter.com/bBb3YW7tx9

— Orlando City SC (@OrlandoCitySC) June 5, 2017
NDR Notes
Sunday's match against Orlando City was Schweinsteiger's first match in Orlando City Stadium.
Orlando City saw its first two red cards of the season on Sunday.
PC and Pereira made their third appearances and third starts of the season.
Ramos made his 2017 MLS debut in Sunday's draw. He only played 26 minutes.
Scoring
| | | | |
| --- | --- | --- | --- |
| Time | Team | Goal-scorer | Assisted by |
| n/a | n/a | n/a | n/a |
Statistics and Starting Lineups
| | | | | | |
| --- | --- | --- | --- | --- | --- |
| | Goals | Assists | Shots | Shots on Goal | Possession % |
| Orlando City SC | 0 | 0 | 5 | 2 | 33.8% |
| Chicago Fire | 0 | 0 | 21 | 6 | 66.2% |
Orlando City SC starting XI (4-2-3-1): Joe Bendik (GK); Victor "PC" Giro, Léo Pereira, Jonathan Spector, Rafael Ramos; Cristian Higuita, Antonio Nocerino; Carlos Rivas, Will Johnson (C), Giles Barnes; Cyle Larin
Chicago Fire starting XI (4-2-3-1): Matt Lampson (GK); Brandon Vincent, Joao Meira, Johan Kappelhof, Matt Polster; Drew Conner, Bastian Schweinsteiger; David Accam, Michael de Leeuw (C), Luis Solignac; Nemanja Nikolic