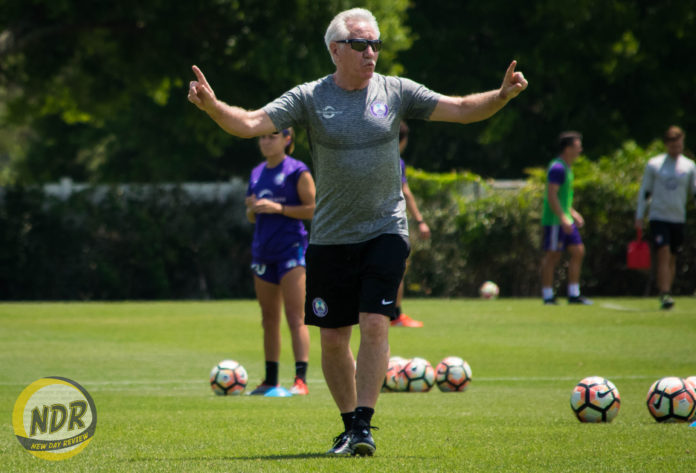 April 27, 2017 at Sylvan Lake Park
Availability: HC Tom Sermanni
HC Tom Sermanni
The Orlando Pride travel for their second road match of the season, facing the North Carolina Courage on Saturday at 4 p.m.
Very tough game again. Obviously, North Carolina won the first two games. They won the grand final last year. So they're a team that's full of confidence and obviously a team that's very difficult to beat. However, in saying that, I think two of our best games last year were against them. And hopefully we can bring that form into this game.
North Carolina currently sits atop the National Women's Soccer League standings with a 2-0-0 record with six points. Both of their wins have been 1-0 victories.
Well I think the key thing against their attackers is not to let them get in behind us. You know, they're quick, and they keep making forward runs, and they play a very direct brand of soccer. So, it's slightly different to how we play. And that makes it difficult. So it's really about two things: Making sure that we put pressure on the ball to stop the service and, secondly, make sure that the defenders are switched on and don't get caught with balls in behind.
The Pride drew their first match of the season 1-1 in their home-opener against the Washington Spirit on April 22.
Just basically the same things as probably from the first weekend, and that is that we got a lot of possession in this game. We got a lot of entries into their final third into some fabulous positions, but we didn't finish things off. It's a bit about refining how we do in possession—doing a little bit better there—and also finishing things off when we get into danger areas.
When asked how his team can improve on finishing, Sermanni said it's about training and building his players' confidence.
Well, I mean, part of it is doing some work on the training field and practicing that and building up, firstly, players' confidence in doing that; making sure players try to get in the right areas. And then it's really just up to the execution of the players, and you hope that they will execute better than I think we've done in the first two games, given a number of opportunities we've had.
Sermanni said Brazilian forward Marta Vieira da Silva will "definitely" be starting against North Carolina. As for the Pride's lone goal-scorer so far this season, Sermanni prefers having rookie Danica Evans come off the bench still.
We're always looking at the starting 11 early, and every week is to put out what we think is the best team on that week to win the game. And we make judgments. And when you look at Danica, the judgment—she's done terrific coming off the bench—is that, at this moment in time, it's better for her and more effective for the team for her to come off the bench for that period, to inject that energy or to start the game. So those are some of the things that we are considering. Obviously Marta has now had 30 minutes and a week under her belt, so she'll definitely be starting.
Evans and defenders Camila Pereira and Alanna Kennedy are all in their first years with Orlando.
Very happy. I mean, it's early in the season, so it takes some time for some players to get into the rhythm and their strides, so those two have come in and obviously started with a bang, which is fantastic. You know, particularly with Camila, we had seen video, and we kinda liked what we'd seen, but at that stage she still hadn't quite broken into the Brazilian team. So it was always a little bit of a risk, but she's come in and shown what a terrific footballer she is and a kind of player who can play virtually anywhere on the soccer field. So, she's been great. And, as I say, Danica's come in and produced, and that's what we need, in reference to the previous question about finishing things off. She's a classic example of someone doing that, and we need more players doing that. So I've been really pleased with them and obviously Alanna Kennedy as well. People tend to forget that Alanna is only 22. So, she's just been an international player since she was 17. So I think when I look at the team and the squad overall at this moment in time, I'm feeling very optimistic about the situation that we're in. The thing that we need to do is then start to turn that optimism and the performances and the talent that we have in the team into results.
Sermanni said on April 7 that his commitment has changed from the players to the club and winning. For the second-year Pride head coach, though, the pressures have always been the same.
The pressures are always the same from a coaching perspective, regardless of where your team is in the league, who you're playing or what your situation is. So I've always felt those pressures are the same. It's really just a difference and an emphasis this year of—we've had a year to get ourselves organized. This is a year that we've now got to start improving in what we did last year, and it's just, as I say, working away in the training field, trying to improve the team and the players and for us to try and take all of that stuff and eventually get results on the pitch.
On April 26, Pereira said Sermanni is different because there's a level of unprecedented trust that she didn't see with previous teams.
Yeah, I think trust is a vital thing in a coach, and the players are going to go out and perform with confidence. They need to feel that you've got the trust in them to do that. And if you've got players—you know, one of the dangers these days is that this coaching myth, in a sense, you've got to be coaching and coaching everything is, for me, necessarily true. So when you've got a player like Camila who has got a natural talent and a natural skill set, it's more about guiding her and trying to develop her and continue to develop her, rather than coach her into a box and give her real specifics. And it's different with different players. So, when you've got a player with Camila's talent, it's building up that trust, and, I think if you do that with her, then you'll start seeing her become even more and more confident and her performances continuing to improve.