(Photo by Adrian Hernandez / Orlando Soccer Journal)
Match Recap
ORLANDO, Fla. – Saturday's match between the Orlando Pride and the Washington Spirit might have been Pride forward Marta Vieira da Silva's debut in purple, but it was Danica Evans who was the star of the match. In the 87th minute, Evans scored the Pride's (0-1-1, 1 point) first-ever goal in Orlando City Stadium to draw 1-1 with the Spirit (0-1-1, 1 point) in front of 14,452 people.
"One of the reasons that we drafted her is when we looked at her, we felt that she had an ability to finish, an ability to finish in a composed way," Pride head coach Tom Sermanni said after the match. "And I think that was highlighted today. All those young players coming into the league need time to adjust. And that's probably at least a year, in most cases. She'll need time to adjust.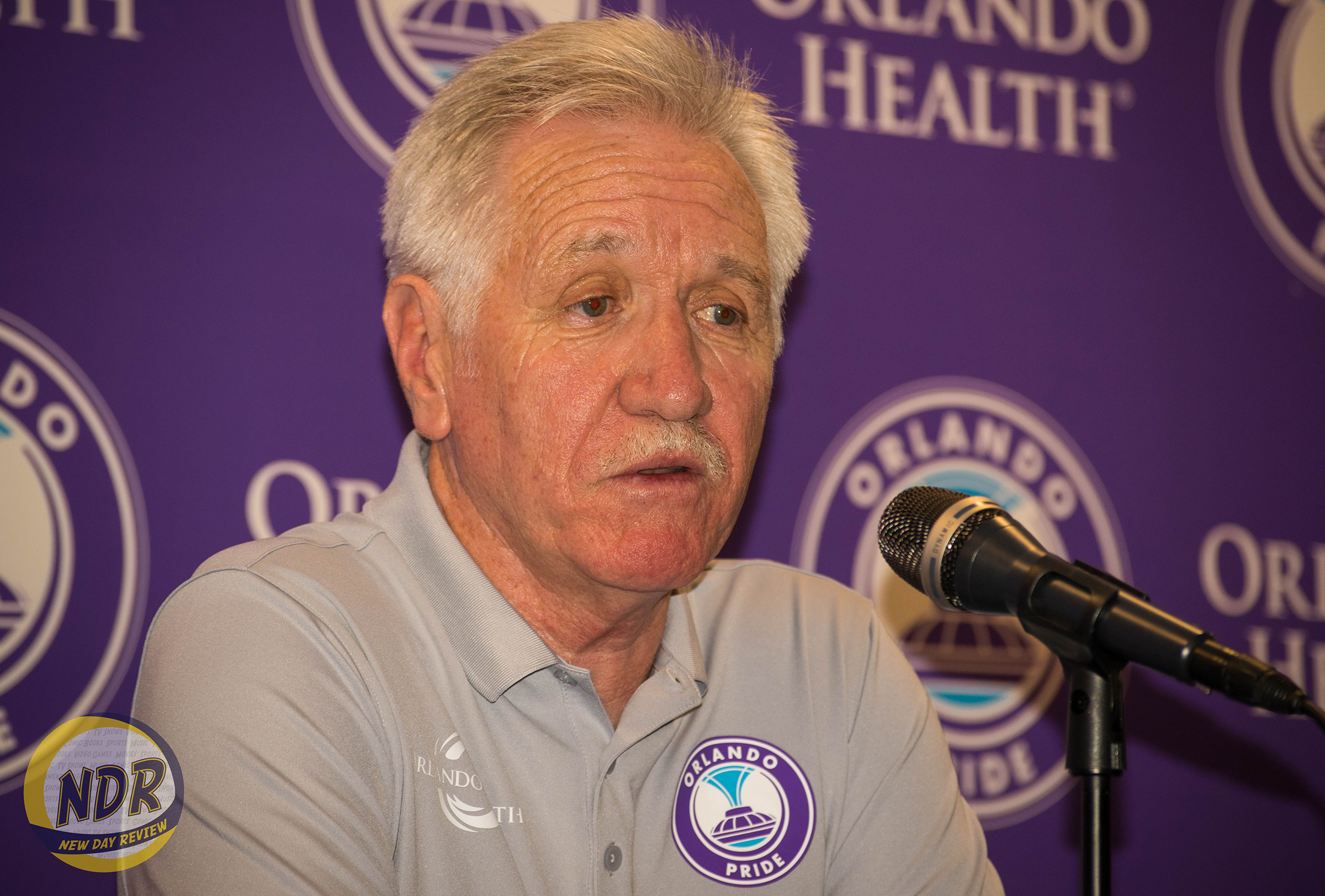 "But I think, for us at the moment, it's really helpful to have a player that can come in and make that impact over that short of period of time."
With the Spirit leading 1-0 late in the match, Evans, who entered the match in the 75th minute, became the Pride's heroine with an 87th-minute equalizer. Fellow forward Chioma Ubogagu held off a defender at the top of Washington's box before dishing it off to a cutting Evans. The rookie then back-heeled the ball between her defender's legs, dribbled around Spirit goalkeeper Stephanie Labbé and finished with the equalizing strike before sliding to her knees in celebration.
"Once the ball got through, I looked up. I saw the goalkeeper, and I debated whether to shoot it first time or to dribble," Evans said after the match. "For me, personally, I'd rather dribble. So, I just took the extra touch, and, next thing I know, the goal is wide open. And the fans were screaming. It was honestly amazing, and I'm so glad I got to score today."
da Silva nearly scored a go-ahead goal in stoppage time. The Brazilian worked her way down the left flank and found an opening, striking the ball with her left foot. Though, her attempt narrowly edged the far post.
"I'm just a little bit disappointed because I had one chance to score my goal, and I missed it for just a little bit, and that's what's in my head right now," da Silva said through a translator after the match. "I can't believe it."
Washington struck first on its first corner of the match in the 61st minute. The initial cross was punched out by Pride goalkeeper and team captain Ashlyn Harris, but the rebound was headed into the back-right corner, out of Harris' reach.
Woman of the Match: Danica Evans
Evans contributed to the Pride's 12 second-half shots with two of her own on-target attempts. The University of Colorado Boulder alumna equalized for the Pride with her first professional goal just 12 minutes after entering the match.
"Like, after I scored, I just, like, ran alone, and then I slid," Evans said. "The next thing I know, everybody on the team was on me, and we were all laying there. They're all yelling at me, 'Awesome job,' and I get up, and I just look around, and I see all the smoke bombs and stuff. I'm like, 'Oh my gosh.'
"I've only watched from the stands. So, it was like so amazing. It was such a dream."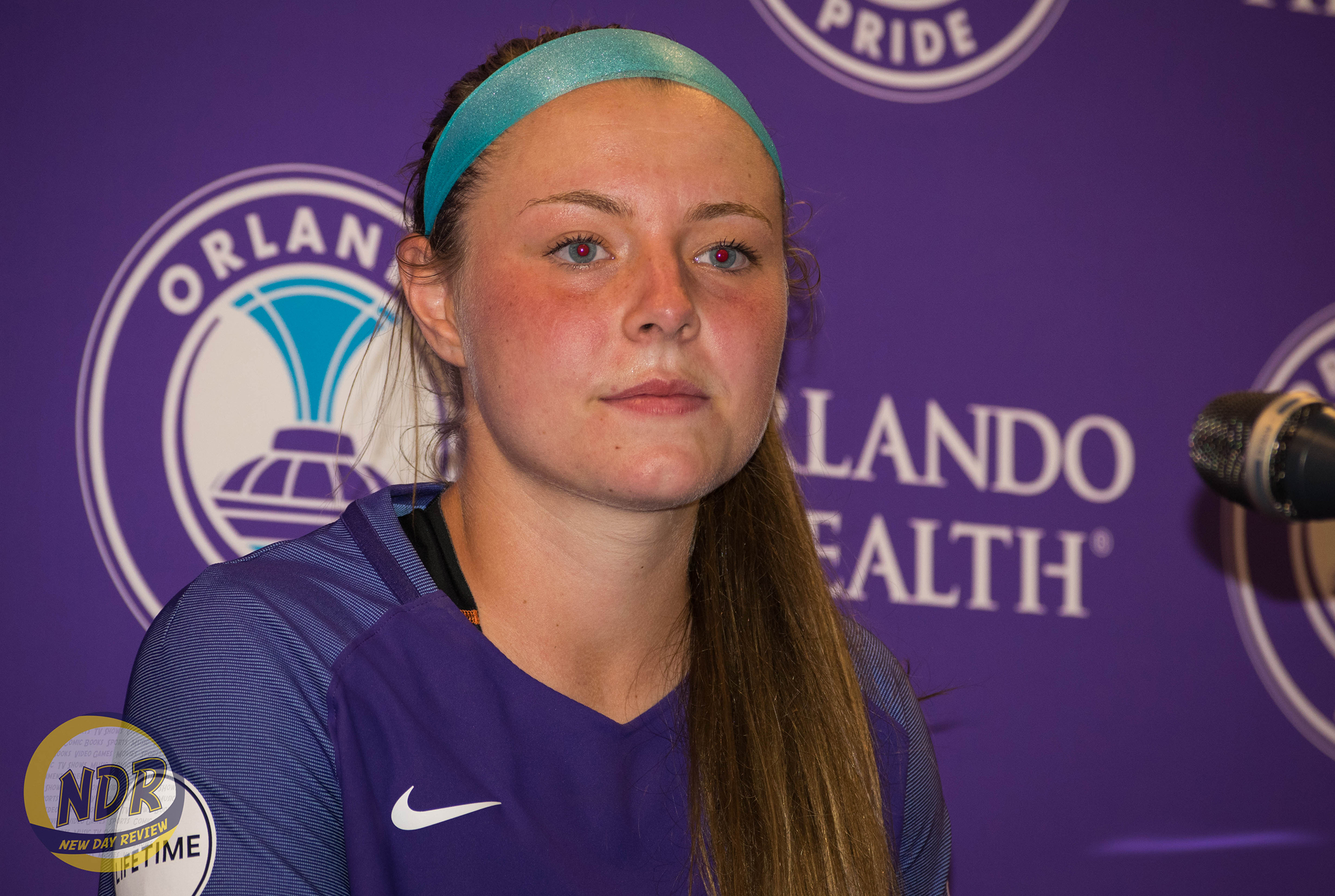 da Silva called Evans' equalizer a "golazo."
"It was a fantastic goal. It was a great effort. An individual one inside the box by our No. 8," da Silva said. "I'm so sorry. I couldn't recall everyone's name. It was a golazo. And I was really happy. It was her instinct in the way she developed the play."
What's next?
The Pride will begin a two-game road trip on April 29 when they travel to face the North Carolina Courage at 4 p.m. That will be followed by a trip to face FC Kansas City on May 7 at 6 p.m.
Marta Vieira da Silva Makes Orlando Pride Debut
She had only joined the Pride just two days before the team's home-opener, but da Silva still made her debut for the Pride against the Spirit. The five-time FIFA World Player of the Year entered the match for fellow Brazilian Monica Hickmann Alves in the 59th minute. She finished with one shot (none on goal) and created two chances.
"The quality's clear on the players. The quality's clear on the team as well," da Silva said through a translator after the match. "We were dominating the game. We consider it a silly goal; it happens. But it was a very intense match… [The] fans are just incredible. Unbelievable. They helped us out during the 90 minutes."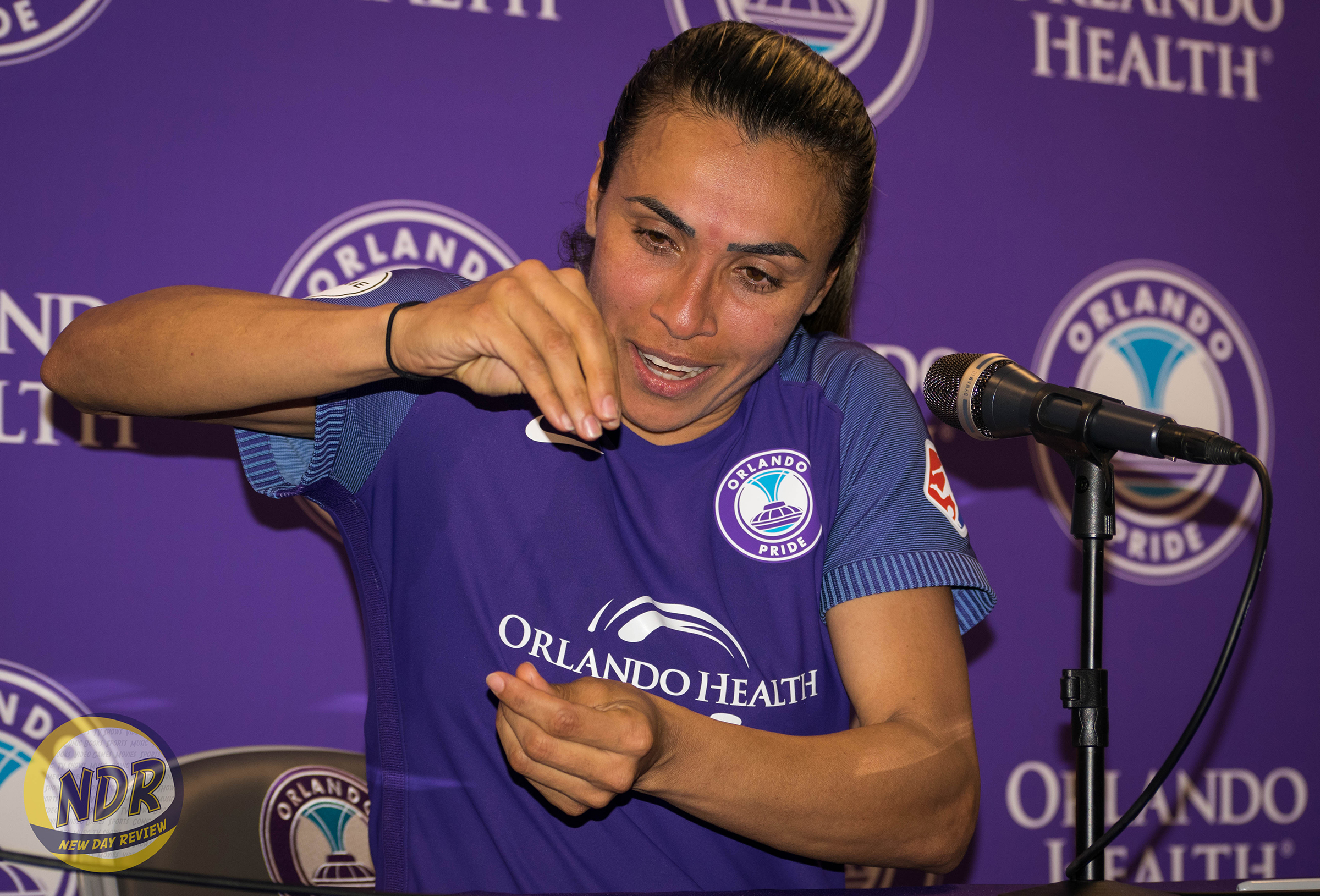 Since she only arrived in Orlando two days earlier, da Silva half-jokingly said she could use a little more time to acclimate herself.
"Sure, I need a couple more hours, maybe days, to adapt," da Silva said. "There's a six-hour difference, too. I was in Europe. I know that all that is out there, but, anyway, I was so happy, I was so excited to meet everyone and just get started that I just forgot about it. And, at some point, I might remember it."
Tom Sermanni Took a Chance with Camila Pereira
When scouting Pride defender Camila Pereira, Sermanni said the Brazilian was "a little bit unknown." Despite that, Sermanni said he and his staff still saw all of the good soccer qualities they were looking for.
"I think we took a little bit of—not a gamble bringing her in, but she was a little bit unknown because we had seen some video, but she hadn't quite broken into the Brazilian team. We felt that when we watched her, she had all those really good soccer qualities. And she's one of those players, apart from maybe center-back, she can play any other position on the field and be effective."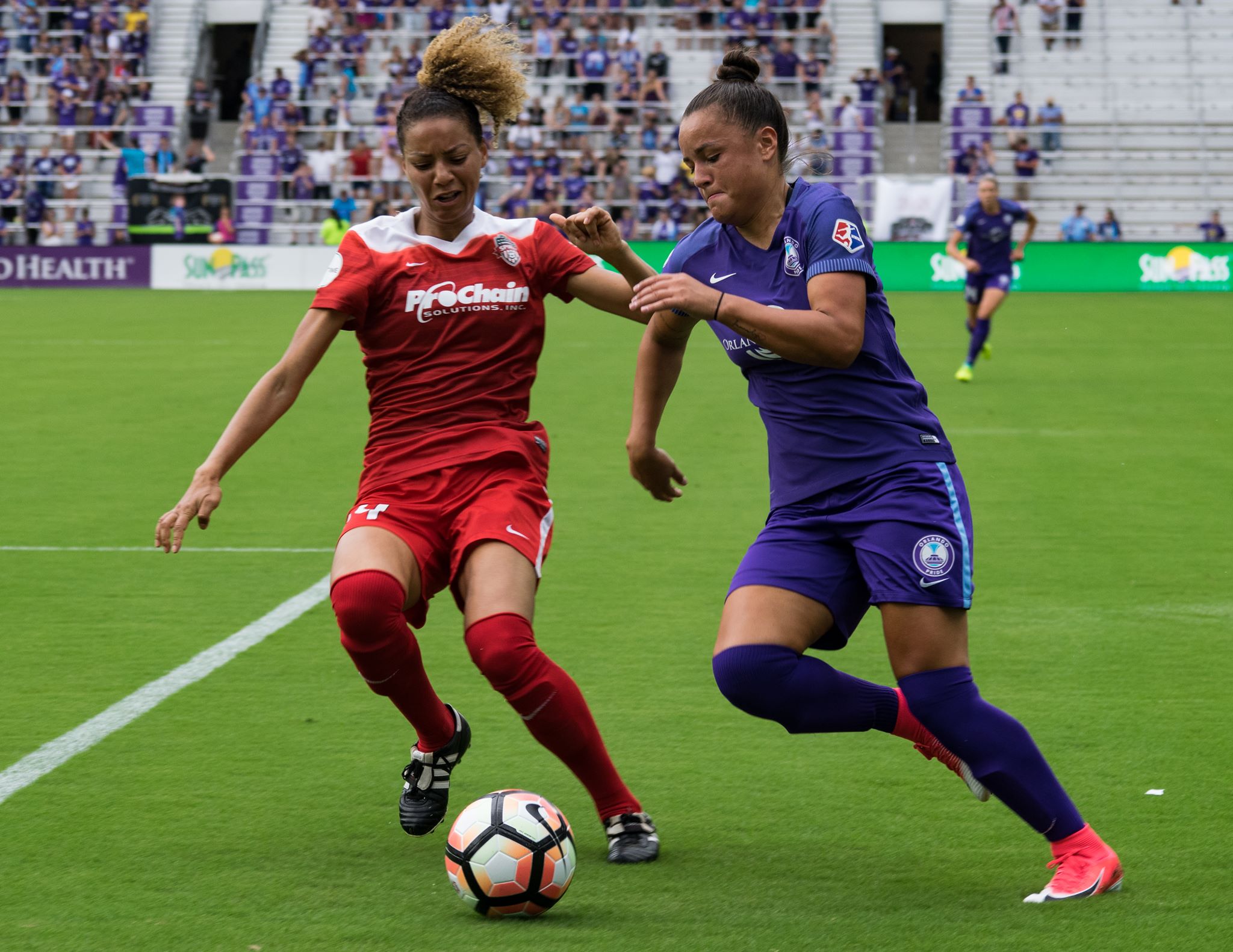 Pereira finished with third-most passes (44), the highest passing accuracy (90.9 percent), four shots (none on goal) and created two chances.
"I think she was outstanding. I think if you looked at her stats last week—and I don't want to keep harping on those stats because they can be a bit false, but she had those same things last week," Sermanni said. "And she's just a terrific footballer. She's the kind of footballer that we want on the team.
"And her stats do highlight her abilities. She doesn't give the ball away very often, she makes good decisions, she's dangerous in and around the box, and she's composed in possession."
Jamia Fields Sustains Hip-flexor Injury
Starting right-back Jamia Fields went down just before halftime with an apparent hip-flexor injury. Before being replaced by defender Laura Alleway, Fields was doing hip-flexor stretches. Sermanni said that her status is uncertain and also doesn't think it's serious.
"Doesn't seem to be too serious at the minute," Sermanni said. "She obviously either strained her hip flexor or her groin. I'm not 100 percent sure just yet. So, you have to be very cautious with it. But I think getting her off quickly, I don't think it's too serious."
Also, Alleway's appearance for the Pride on Saturday was her first of 2017.
Highlights
13′ | She's good fam. Easy for Ash.

0-0 | #ORLvWAS pic.twitter.com/VWaPsVlcTX

— Orlando Pride (@ORLPride) April 22, 2017
20′ | Steph juuuuuuuust wide!

0-0 | #ORLvWAS pic.twitter.com/C93eBfMV7M

— Orlando Pride (@ORLPride) April 22, 2017
29′ | This one had us on the edge of our seats. Quality hustle from Monica to clear.

0-0 | #ORLvWAS pic.twitter.com/EwhvdWXvwT

— Orlando Pride (@ORLPride) April 22, 2017
37′ | Alanna almost getting on the end of a corner. Keeper had to do some emergency work.

0-0 | #ORLvWAS pic.twitter.com/dDkLrUnbxV

— Orlando Pride (@ORLPride) April 22, 2017
80′ | Chi having a go from deep. Not far off.

0-1 | #ORLvWAS pic.twitter.com/8QC8NNVlNF

— Orlando Pride (@ORLPride) April 22, 2017
87′ | GOOOOAAAALLLLL!!! Danica Evans take a bow! Unbelievable work in the box to get in and beat the keeper.

1-1 | #ORLvWAS pic.twitter.com/HBVasw3xxC

— Orlando Pride (@ORLPride) April 22, 2017
NDR Notes
Last season, the Pride lost both matches to the Spirit, losing 2-1 and 2-0.
This is the first draw for the Pride at home. In the Pride's inaugural season in 2016, Orlando finished 5-5-0 at home.
Evans scored her first professional goal in the 87th minute.
da Silva made her Pride debut when she entered the game in the 59th minute.
Scoring
| | | | |
| --- | --- | --- | --- |
| Time | Team | Goal-scorer | Assisted by |
| 61' | Washington Spirit | Line Sigvardsen Jensen | n/a |
| 87' | Orlando Pride | Danica Evans | Chioma Ubogagu |
Statistics and Starting Lineups
| | | | | | |
| --- | --- | --- | --- | --- | --- |
| | Goals | Assists | Shots | Shots on Goal | Possession % |
| Orlando Pride | 1 | 1 | 21 | 5 | 55.8% |
| Washington Spirit | 1 | 0 | 11 | 6 | 44.2% |
Orlando Pride starting lineup (4-2-1-3): Ashlyn Harris (GK/C); Steph Catley, Alanna Kennedy, Ali Krieger, Jamia Fields; Dani Weatherholt, Monica Hickmann Alves; Kristen Edmonds; Camila Pereira, Chioma Ubogagu, Jasmyne Spencer
Washington Spirit starting lineup (3-5-2): Stephanie Labbé (GK); Shelina Zadorksy (C), Whitney Church, Estelle Johnson; Kassey Kallman, Line Sigvardsen, Kristie Mewis, Tori Huster, Alyssa Kleiner; Havana Solaun, Katie Stengel