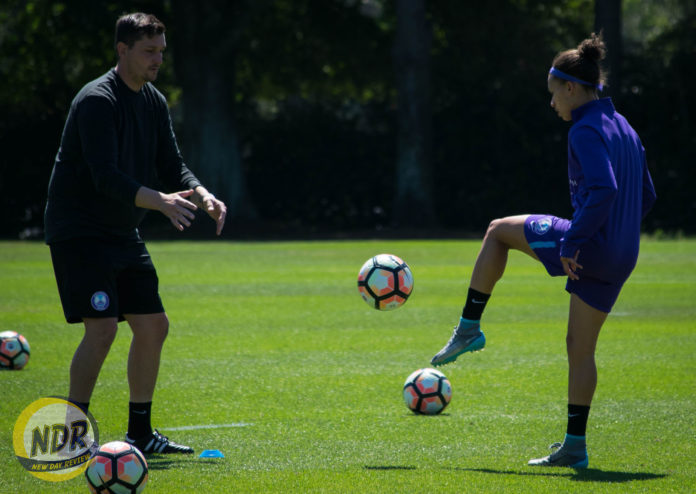 April 7, 2017 at Sylvan Lake Park
Availability: HC Tom Sermanni, MF Kristen Edmonds
HC Tom Sermanni
Throughout the 2017 preseason, the Orlando Pride only allowed one goal. That came in a 2-1 win over the University of South Florida.
It's been a reasonably solid preseason. I think we've gradually improved as we've gotten into the games. Today's game was the toughest game of the preseason. We worked very hard. So I think the result probably flattered us a little bit today in relation to the performance. So, a lot of positive stuff, but we've got a lot of things to work on between now and the first league game next Saturday.
The Pride play the Portland Thorns on Saturday to open their season.
I'm feeling good. Feeling confident. You know, I think the key thing, now, is hopefully everybody will be fit and healthy. That's the No. 1 thing for me now. You know, we've got Camila [Pereira] and Monica [Hickmann Alves] to come back and [Ashlyn Harris] and Ali [Krieger] to come back from their national-team camps. She's got a slight strain that should be okay for early next week. So I think if we've got everybody ready to go, then I think we're in a good spot.
When asked about how he would describe his team entering the 2017 National Women's Soccer League season, Sermanni said it's more flexible.
I would describe 'em as a kind of flexible team and a more mobile, dynamic team than we had in our first year, compared to our first year.
The Pride signed Brazilian superstar Marta Vieira da Silva to a two-year deal with a third-year option on April 7.
I'll just Wikipedia just to find out a little bit more about her. I think, you know, she's a player that's played in a couple of different countries.

Fantastic news. I know the club has pursued this vigorously for some time, and it's great that he deal has been done and that Marta will join us. I think it shows the intent of this club to really invest in Orlando Pride, to take the NWSL very seriously and to be very successful.
For Sermanni, he knows not to get too excited until the deal is actually made.
Well, I think we were out here. I was kind of one of the last to know. We were out here getting prepared for the game. We were hoping it was happening, so you don't—the thing with these is that you never get too excited until it actually happens. So, now that it's happened, we can start sort of putting our head around it and getting ourselves prepared, start the game looking at the team, where she might fit in, how we might play with her and sort of looking forward from there.
When asked what da Silva brings to the team, Sermanni said she'll help the team not just on the pitch but also in general.
Well, I think she'll bring a lot of things to the team, not just in NWSL games. I think just having her in this environment. She's a consummate professional, and she's a winner. She's a phenomenal player, so I think she'll firstly lift the standard, but she'll also help the other players play and understand the game better. Where she plays on the field when she comes here and joins us and plays in the NWSL, I'm not quite sure at this stage. She's the kind of player that can play in lots of different positions. And she's the kind of player that you're probably not going to tie down too much. It'll be a little bit of discussion about where we think she's best and where she thinks she's best.
Sermanni called da Silva's arrival to the NWSL a "game-changer."
Very much. I think it's a game-changer. I think it's a game-changer for the league. I think it's a game-changer for Orlando. I think, as I say, it shows how serious this club is about being successful. And the reason it's a game-changer for the league is that, you know, over the past couple of months, we've had players leave this league, quite significant players. And the marketplace out there is very competitive. So for us to get in and get a player of Marta's caliber is a fantastic statement for the league.
Sermanni has never coached or even met da Silva, but he has played against her in national-team play.
Played against her when we had the Aussie team a few times. And we actually usually did okay against Brazil except we kept on losing. So, I have played against her. I don't know her personally, but I've seen her from close and afar, and I just know, as I say, she's a phenomenal player, and she'll bring many, many different attributes to our squad.
During the shutout win over the United States U-23 women's national team, forward Jamia Fields played at full-back.
The way that we look at different players is we see some players as bringing a utility attributes to the team. And I think Jamia does that. I think Jamia is one of those players who can play in lots of different positions. It's a dilemma in the women's game because players like Jamia who were dominant players in college tend to play in forward roles. And if you look at all the national-team players, most of them started as forwards and have played in many different positions since then. And Jamia, for us, is one of those players that we feel can do multiple roles for us effectively. And that's what we're doing with her this year. So, today you saw her playing at full-back, and then we pushed her further up the field later on, and there could be, at some stages, we'll push her into midfield. So, you know, I think one of the things that we've got in our squad at the moment is several players that fill those utility roles, and they're invaluable when you've only got 18 outfield players.
The shutout preseason win was the first time Sermanni got to see the three Australian back-line players compete in a match in Pride colors.
It was good to get them out. Obviously, Steph's only been in town for about a week, and Alanna's just getting used to the team and things, but they fit in well. I mean, Aussies are easy. They fit in whatever environment. And they're comfortable in this league, comfortable in environment and comfortable in the way that the game's played here.
The Pride waived forward Sarah Hagen on April 7.
Let me say firstly: Salary-cap issues didn't come into the decision at all. There was absolutely no financial reasonings for the decision. It was purely a performance-based decision that we felt—as you said, Sarah's a particular kind of player, and the team needed to play a specific way for Sarah to be effective, and we feel that with the group that we've got and with the way we want to play and with the way the modern game is generally played, it makes it a little bit more difficult for players like Sarah. And saying that, it was an incredibly difficult decision from both a professional and a personal perspective. 'Cus Sarah's been a phenomenal ambassador for our team off the field and a great professional on the field. So, these things are difficult to do, but, ultimately, I spoke to the players right at the start of the season and said, "Last year, I made a commitment to players, and I kept that commitment throughout the year. This year, that dynamic changes. We need to put a team on the field that's going to win. My commitment has to be to the club and to trying to get a winning team on the field." And that changes the decision-making a little bit, and, unfortunately, that resulted in the decision made a couple days ago.
MF Kristen Edmonds
In two matches against Portland last season, the Pride lost both matches 2-1.
It being the first game of the season, and they gave us the same game, obviously, as last year—I thought we went there and actually did really well for our first game in the season. But, I mean, we're ready. We're gonna be prepared. Last year, we didn't get the result we wanted. So, this year, we're gonna look to reverse that.
The national-team players on the Pride's roster will join the team again a couple days before the Pride fly to Portland.
I think the Brazilians and the U.S. internationals will be back maybe like two or three days before we fly, so it'll be nice to be able to get some training sessions in with them. And they've been with us for most of preseason, so we have that gel with them, and they're not kinda just being thrown into the team. So, once they get back, it's kind of like we just pick up where we left off, and then we'll be headed to Portland.
Edmonds led the Pride in scoring with seven goals last season.
I think in the offseason I definitely grew as a player. I learned a lot being in the couple camps that I went to, and I'm just gonna try to bring that into this season, but it's the same mentality. I'm still gonna keep a chip on my shoulder, underdog mentality and just do whatever I can to help the Pride.