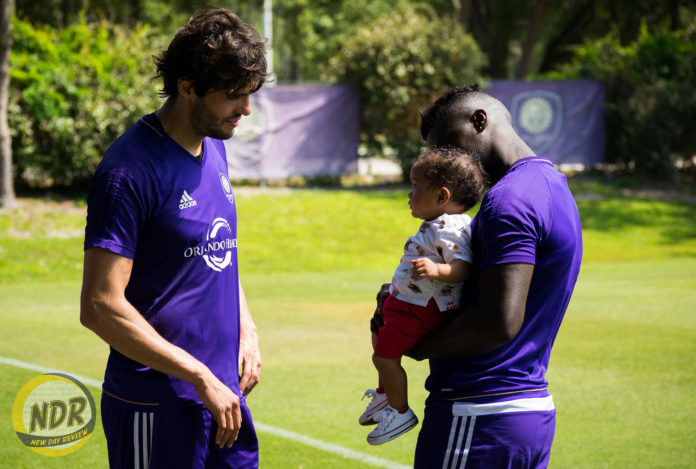 April 27, 2017 at Sylvan Lake Park
Colorado Rapids goalkeeper Tim Howard is currently serving a three-game suspension for an altercation with fans after a 3-1 loss to Sporting Kansas City.
No, I wouldn't have thought so. We all know how good a keeper he is. He's definitely a player they're gonna miss, but we just need to make sure that we play our game. We're playing at home, and I think we should really try and show the confidence level that we have at the moment with the four wins at home. So, it doesn't really matter who's in goal. We just need to play our game, and, obviously, we go out there to win.
When asked about the success the team's been having with set pieces, Sutter said it's a credit to the staff preparing them.
Yeah, we work on them a lot. It's a big part of the game, so I'm not gonna sit there and say it's the only real part of the game that you can prepare for, and the guys in the back staff, too, does a great job of getting us prepared, and we just need to be as concentrated going forward as we are defending, and we conceded one last week against New York. We just need to be a bit more concentrated in that regard, but that's it going forward. It's going well. We had to pick it up.
Starting with the Rapids on Saturday, Orlando City SC will play in a stretch of eight games that will conclude with a match against D.C. United on May 31.
It's gonna be tough. There's, like you said, a lot of games. So, just after the game is already kinda before the game, so you definitely need to take care of your everything, aside from the soccer part, aside from being on the pitch. That means eating right, sleeping right, drinking right 'cus recovery and recuperation is the main part. I've had that for many years back in Europe and playing every three or four days. It is tough. But it's the best part about it. It's the great part about football is when you can play. Some guys really like training. I like training, but I love the games, and that's what we play for. That's what we work hard every day, so it's gonna be definitely tough, but we're gonna enjoy it, and, obviously, we need to try and keep this run going, and I'm confident.
In the 2-1 win over New York City FC on April 23, City possessed the ball less than 40 percent of the time. For Sutter, his team is still finding success even with a lack of possession because of the work rate.
I think the work rate of the whole team—it's just been unbelievable. The way everyone's working hard. Like you said, there's certain areas that we need to improve, and we would like to have more of the ball because when we have the ball, then the other guys are running, so we need to try and have the ball as much as we can; be a bit more careful with the possession. But, just I think the work rate, the basic part of the game is just phenomenal here at the moment, and everyone's doing a great job. I think at some point it will click, and it will get to become better. So we definitely look to improve on that, in that regard. And if we can keep this hard work up, then that will fall into place as well, and then hopefully it'll make things not only easier on ourselves but on the staff and everyone watching the game when it goes to the final minutes and we're trying to hold the result. It's not good for everyone. Couple of more grey hairs for me.
Like head coach Jason Kreis and forward Cyle Larin, Sutter said Colorado is a team that can't be underestimated.
We can't underestimate them. We know that they've been struggling, but I don't think that's really reflective of the way they're playing, reflective of the results. They just haven't been putting away chances they get. They get quite a lot of chances in almost every game, and they just haven't really been finishing that well. So, we definitely can't underestimate them. We need to just bring our A game, and, like I said before, we just need to work hard… We need to definitely show that we're confident at home. This is our stadium, and no one's coming in and getting the three points. So, we will do everything that that won't be the case and that we can get another win.
The Lions are off to their best start in their Major League Soccer history, tallying five wins in six matches. Last season, City didn't earn its fifth win until the end of July.
Absolutely. Definitely can't get complacent, and I think the difference between the teams sometimes are so many more. Here, you know, Colorado last year were doing well, and now they're struggling with not much having changed. We really need to try and get this form going and keep it going—not get it going. We've got it going. We just need to keep it going and keep the momentum and, really, just still work hard to improve. And I think that is drilled in by Jason that we still need to work hard, and there's a lot we need to improve on. And we've obviously worked hard to do that with the wins we have than if it was the other way around. It's a good place to be in at the moment.
In its 2015 and 2016 seasons, City found itself going through slumps during the middle of the season. Sutter sees that as just a part of the game but said his team is working to avoid that.
I've been parts of teams—a lot of teams—where it's just been really streaky, and you can go on a hell of a run, and then at some point there'll be a couple of defeats, and it's a couple more, and it kind of always happens. I don't know. It's really tough to keep it going for a whole season. I think there'll definitely be games where we will lose, unfortunately. We'll try hard not to let that happen or too much, and it's just part of the game, and it's how we react after these negative results that kind of really shows what kind of team we are.
Team captain Will Johnson was one of the first players Sutter bonded with when he joined Orlando City.
(jokingly) I can't stand him as a guy, to be honest. He's a really annoying. Yeah, he keeps on bothering me and just always asks what I'm doing. I'm trying to kind of like make excuses not to do anything with him. But, that aside, he's a really good guy. He's one of the first kind of guys that I've really clicked with here. We got a mutual friend back in Switzerland, so that kind of—I already knew that he was here before I came, so he's a great a guy, and we do a lot off the pitch as well, and I think that also shows on the pitch that we've got this good sort of energy and good relationship together. For me, it's great. I've mentioned it before, and I can't sing his praise enough. I mean, he just works really, really hard, and if you got a guy like that in front, then, for me as a defender, it's great to have. So, hopefully he can keep that going, and I'll do my best as well.
Josh Simpson [is the mutual friend]. [He's] a Canadian national-team player.
MF Cristian Higuita
(translated from Spanish)
Orlando City is currently No. 1 in the Eastern Conference with 15 points.
It feels great. The team is happy. The team is working hard to get these results, and it's working on the field.
The Rapids are currently 1-4-1 with four points this season.
It's a very difficult team. They haven't been getting results lately, but we're still working hard to get this result and make sure that we stay at the top of the Eastern Conference.
When asked about the lengthy schedule ahead, Higuita noted depth was a strength for the Lions.
We have a very complicated month ahead, but we have a very deep squad and a good, quality squad. We're focused on the mentality of the club, but we also have a lot of players that haven't played that have very good qualities, so we're confident that we can continue having good performances.
Higuita popped his shoulder out of his socket in the 2-1 win over NYCFC.
I feel fine. I had an issue with my shoulder, but I'm recovering fine. I hope to continue contributing to the squad this weekend.
I don't wish that to anyone. It did hurt a lot. And I actually wanted to continue. They put it back in, and I wanted to continue playing, but Coach made the decision because I wasn't 100 percent. Coach made the decision of taking me out the game, but I'm fine now.
Kreis has moved his team into a diamond formation.
When Coach arrived, I actually went over the tapes of his past teams, and I noticed that he likes to play with the diamond and someone on the right. So, I knew he was gonna ask for that eventually. And I was happy I was able to fit in that role. Obviously, I like playing better as a No. 8, but I'm happy that I'm playing in that new position for me, and I'm performing well.
When asked about what tactical changes are made with the diamond formation and what he needs to improve on, Higuita mentioned lateral movement.
Most of all, it's the movement. I need to go more to the sides. So that's the main difference. And I need to be 100 percent physically to be able to last 90 minutes.
Higuita proactively began watching film on Kreis' past teams as soon as he heard Kreis was going to be the next head coach.
Well I did it because I noticed that I could be one of the players. I know we have players like Servando [Carrasco] and Antonio [Nocerino] that they play more as a No. 6, that it's a little bit more defensive, and I knew I was capable of going forward and also defending. So I knew that was a possibility for me. So I was preparing myself to be able to take that role, and I'm glad I'm doing it well right now.