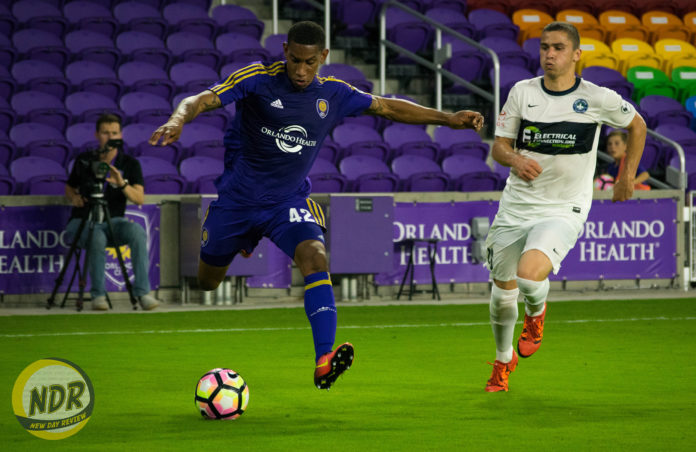 (Photo by Victor Tan / New Day Review)
Match Recap
ORLANDO, Fla. – In the eyes of Orlando City B head coach Anthony Pulis, his team only deserves praise. That came after OCB (2-3-3, 9 points) drew 0-0 with Saint Louis FC (3-2-2, 11 points) at Orlando City Stadium on Thursday in front of a crowd of 1,008.
The effort impressed Pulis because his side had just returned from a three-game road trip where OCB went 1-1-1. OCB's most recent match was a 2-0 win over Bethlehem Steel FC on Sunday.
"First and foremost, I think the player deserve a huge amount of credit and a massive pat on the back for the performance they've put in tonight on the back of what's been a really, really grueling schedule of late for us," Pulis said after the match. "Lots of games in a short space of time, three road games, travel. For them to go and perform like that, I'm really, really proud of 'em."
OCB was not without its chances. In total, the United Soccer League side finished with nine shots, three on target. Midfielder Pierre da Silva gave OCB its greatest goal-scoring chance in the 61st minute when he rifled in a shot from the top-left part of the box. Saint Louis goalkeeper Adam Grinwis dove to his right to make the outstretched save.
In the 30th minute, right-back Zachary Ellis-Hayden bounced a shot off the right post for an early chance. Midfielder Austin Martz maintained the ball at the top-right part of Saint Louis' box before laying it off to Ellis-Hayden for attempt.
"I thought we did everything other than score tonight," Pulis said. "I thought if there was gonna be one team that was gonna win it, it was gonna be us. But we defended well and really restricted them, [apart] from kind of 15-minute spell, second half when they pinned us in. I thought we played some really good football."
Goalkeeper Earl Edwards Jr. and the OCB defense recorded their second-consecutive clean sheet thanks to a stoppage-time save by Edwards Jr. The 25-year-old made his second and final save when a direct shot bounced off his mitts and was eventually gathered by Edwards Jr.
"I think we've been improving every game," Edwards Jr. said after the match. "Obviously, at the start of the season, it's a little difficult when you have different MLS guys coming down every game, but that will be the case throughout the season. And I think we're adapting well, the team's growing, and I think it's starting to show. Building chemistry, stringing together shutouts and getting results."
Man of the Match: Pierre da Silva
da Silva played the full 90 minutes and gave OCB its best goal-scoring chance in the 61st minute. He finished with two shots (one on goal), two tackles and drew five fouls. He also completed 74.1 percent of his 27 passes.
What's next?
OCB will return to action in the middle of May when the team travels to face FC Cincinnati on May 13 at 7 p.m.
Seb Hines Plays for the 1st Time Since Surgery
Center-back Seb Hines played in his first competitive match since undergoing knee surgery on March 13. He finished the match with 45 minutes of play and two tackles, completing a team-high 88.6 percent of his 35 passes.
Pulis said his first real-time action was merely to gauge Hines' fitness.
"It was purely a fitness exercise for Seb," Pulis said. "I mean, he's obviously been out for a good number of weeks now. So, it was important for Seb to get the minutes in, and hopefully he's come through unscathed. But I thought he performed well. When you get all the guys coming across from the MLS team, you want them to take kinda take on a little bit of leadership and communicate with the younger players and almost be another coach on the field, and I thought he did that tonight."
Said Hines on his health: "Feels alright. I mean, it's been a long time since I've been out there and playing again. So, it was nice to get a little run out and hopefully no more setbacks during the season."
This was also Hines' first time playing in Orlando City Stadium. For the Wetherby, England, native, playing on grass was a nice change of pace, to say the least.
"Turf has been terrible for me," he said. "Maybe if I played on grass the last two years, I wouldn't have these injuries. So, for me, I'm just glad to be playing back on grass, and you can see the difference that it makes to everyone. The ball moves a lot quicker, and everyone knows the run of the balls. For me, it's amazing to be back playing on grass."
Highlights
16′ | Saint Louis gets a shot off but Earl there to catch it easily.

0-0 | #ORLvSTL

📺 https://t.co/e0mre0jP7m pic.twitter.com/OP36CksNs7

— Orlando City B (@OrlandoCityB) April 27, 2017
28′ | Pierre finds Martz with decent space in the box but quickly shot down as he rips the shot.

0-0 | #ORLvSTL

📺 https://t.co/e0mre0jP7m pic.twitter.com/3yXawtRFGV

— Orlando City B (@OrlandoCityB) April 28, 2017
30′ | Ellis-Hayden gets on the end of a pass from Martz and unleashes the best chance of the night…but post.

0-0 | #ORLvSTL pic.twitter.com/o8LF9DjMfJ

— Orlando City B (@OrlandoCityB) April 28, 2017
61′ | Collecting the rent like it's nothing.

0-0 | #ORLvSTL

📺 https://t.co/e0mre0jP7m pic.twitter.com/WmJ0VcXVgO

— Orlando City B (@OrlandoCityB) April 28, 2017
61′ | Pierre with the rip from the top but it's swatted away!

0-0 | #ORLvSTL

📺 https://t.co/e0mre0jP7m pic.twitter.com/mARkOt0jGP

— Orlando City B (@OrlandoCityB) April 28, 2017
88′ | Martz with an absolute cannon of a shot but over the bar.

0-0 | #ORLvSTL pic.twitter.com/whEp9ut8D5

— Orlando City B (@OrlandoCityB) April 28, 2017
NDR Notes
Saint Louis is the only opposing team to play multiple times in Orlando City Stadium so far. The USL side played Orlando City's MLS team in a preseason friendly on Feb. 25.
The 0-0 draw on Thursday was OCB's second-consecutive clean sheet. OCB blanked Bethlehem Steel FC 2-0 on Sunday.
Scoring
| | | | |
| --- | --- | --- | --- |
| Time | Team | Goal-scorer | Assisted by |
| n/a | n/a | n/a | n/a |
Statistics and Starting Lineups
| | | | | | |
| --- | --- | --- | --- | --- | --- |
| | Goals | Assists | Shots | Shots on Goal | Possession % |
| Orlando City B | 0 | 0 | 9 | 3 | 51.3% |
| Saint Louis FC | 0 | 0 | 7 | 2 | 48.7% |
Orlando City B starting XI (4-4-2): Earl Edwards Jr. (GK); Scott Thomsen, Seb Hines, Timbó, Zach Ellis-Hayden; Pierre da Silva, Austin Martz, Jordan Schweitzer, Lewis Neal (C); Hadji Barry, Richie Laryea
Saint Louis FC starting XI (4-4-2): Adam Grinwis (GK); Denis Ahmetovic, Cabalceta, Konrad Plewa, Wesley Charpie; Mats Bjurman, Tyler David (C), Octavio Guzman, Tony Walls; Christian Volesky, José Angulo