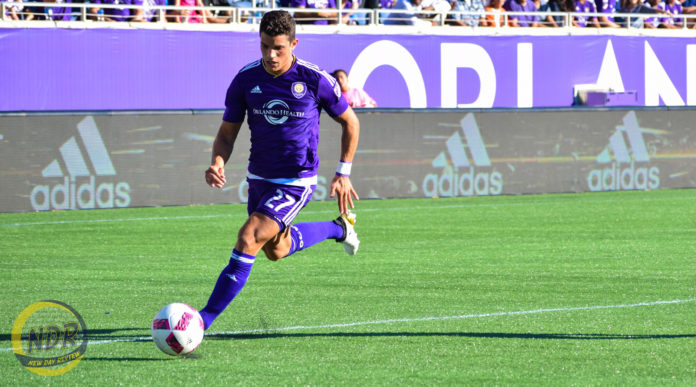 (Photo by Victor Tan / New Day Review)
On Wednesday, Orlando City SC head coach Jason Kreis said right-back Rafael Ramos would join center-back Seb Hines in the Orlando City B lineup against Saint Louis FC. Unfortunately for Ramos, he did not dress at all.
"He was a little bit tight in his hamstring yesterday," Orlando City B head coach Anthony Pulis said after a 0-0 draw with Saint Louis FC Thursday. "So, purely precautionary. We didn't feel like it was worth the risk with the problems that he's had with his hamstring. So it was a simple decision of somebody coming back. Feeling tightness in their hamstring wasn't a risk that we wanted to take. But, in saying that, I thought Zach Ellis-Hayden came in tonight and performed really well."
Ramos suffered injuries to both his hamstrings in a preseason friendly against Toronto FC. Since then, he's been slowly rehabilitating.
Said Kreis on Ramos' and other players' health Wednesday after training: "Everybody's moving in a very positive direction. José [Aja] is training in full and really has been now. This is his second week of full training. Rafa and Seb are full training. And they're gonna get a game tomorrow night with OCB to move their progression forward and show us that that they're ready for consideration for the first team as well."
Orlando City returns to action on Saturday when the Lions host the Colorado Rapids at 4 p.m. OCB will next play in an away against FC Cincinnati on May 13 at 7 p.m.
---
Edits Log:
4/28/2017, 9:57 a.m.: Fixed factual error regarding Rafael Ramos' nationality.