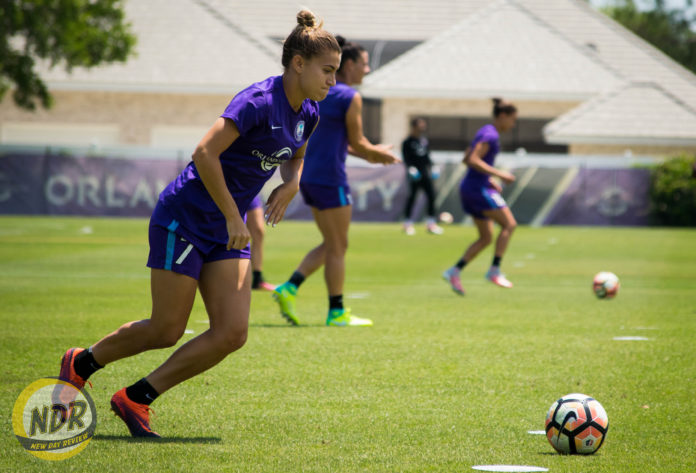 (Photo by Victor Tan / New Day Review)
April 26, 2017 at Sylvan Lake Park
DF Steph Catley
The Orlando Pride battled to a 1-1 draw with the Washington Spirit in their last match. It was the first time in team history that the Pride have drawn at home.
I think that finishing is key was probably the biggest takeaway 'cus I think we played some really, really good football, and we had some really good passages of play and created some incredible chances that we have to be finishing. We had a few lapses in concentration in defense that I think we need to fix up because against some of the best strikers in the world that are in this league, they'll finish some of those chances. So, a lot to work on this week.
When asked about playing in the new stadium, Catley said she "loved it."
Absolutely incredible. I actually loved it. I was talking about it with some of the girls after the game. It just felt like somewhere where we can play some really good football, and I felt comfortable straight away and like it was home. I can't wait to play there again.
You get there, and everything's covered in Pride, so you don't even really remember that the men use it as well. It's just there ready for you. I know it felt like home for all of us as soon as we stepped out onto the field.
When playing with Brazilian forward and new Pride player Marta Vieira da Silva, Catley said you have to think and play faster.
I mean, her coming into a game late is probably strange for her. She usually starts games, but, for me, when she came in, it absolutely changed the game. She makes such smart runs, and, for me, as a left-back playing behind her, it's so easy to find her. I mean, we only got around 20 minutes together, but, hopefully, we can build more chemistry at training, and, from then on, start to dominate a little bit.
She brings so much experience, and I think her runs off the ball mean that you have to move faster and think faster, and I think it brings out the best in everyone.
For Catley, the Pride's back-line is one of the team's strongest assets.
I think we've got a lot of experience in our back-line, and that's one of our strongest assets coming into the season, I think, is the experience in our back-line. So, we'll watch some video of them, and we already have watched them a little bit. They are very, very quick in offense, so we just gotta be concentrating the entire game and working together and moving together as a back-line. So, we'll look to work on that at training this week.
Following the 2-0 loss to the Portland Thorns in the season-opener, team captain and goalkeeper Ashlyn Harris said her team needed to improve finishing. For Catley, that's something that is still improving.
I think it's still missing. I think we're creating a lot of good opportunities that we should be finishing and scoring from. But, I mean, I think with Danica [Evans] coming on off the bench, I think she put a couple of shots that were on frame and obviously finished that one with incredible composure, so, it's something that's an easy fix 'cus we know that our strikers can finish, and I think it's just missing in these first couple of games, but, hopefully, we can turn it around on the weekend.
For Catley, she doesn't feel that the Pride have much pressure to perform.
Honestly, I don't feel any pressure for us as a team. I think we're playing some good football, and the signs are all there. We had a pretty disruptive preseason, so it was always going to take a little while. We still got a semi-result out of a game on the weekend. It wasn't good enough for us. I mean, obviously you wanna win, but I think we're just building and building, and hopefully we can start getting wins now.
Catley said that the way the match against Washington ended has given the team momentum.
Yeah, definitely. I think the second half showed a lot, and I think it showed we are capable of as a team, that we're gonna create chances, and all we gotta do now is finish them, and then we can start winning games.
DF Camila Pereira
This is Pereira's first year in Orlando.
I think it has been awesome, and I really love the reception that I had over here. It was great the way the club welcomed me when I got here. And I feel really happy right now. We had some great games. It was tough that we had a loss, but it's been great for me so far.
Like Catley and Harris, Pereira has identified the team's finishing ability as an early weakness.
I think it was a great game. We had some trouble on our last pass and our finishing. We had a lot of opportunities in that game, so our only problem was getting to the goal, really, to actually score. But we're growing a lot as a team. We're getting there, and we'll get there. And I just hope we will win next time for our next game.
Both da Silva and Monica Hickmann Alves are also Brazilians who have played on the Brazilian women's national team like Pereira.
It's been awesome to have those who are great players. I've played with Moni in the national team as well as Marta. They are great players. And we played in the national team together many times, and Marta is just incredible. Her quality just push everyone up, and it's just incredible to have her. Played with her, as well, in the national team, and it's great to also have her in my club right now. It's great to have her on the field and also her friendship [off] the field. Both of them.
In the past, Pereira said previous teams have given her freedom. What's different about Pride head coach Tom Sermanni is that he trusts her.
In all my clubs, they always gave me a lot of liberty, I would say, freedom. But Tom gives me a lot of trust. He trusts me, and that makes me feel way better. He liked my job, and he gives me that feel of feeling home and being able to do what I can do and what I'm able to do. Also, playing amongst those great athletes every day, every training, every game, I get everything I can out of them. They are great athletes, and I think will help me in my career. And it's great from also on and off the field. It's great for me to grow. I've been growing a lot on the field with those players and also off the field with the English and the culture and everything.