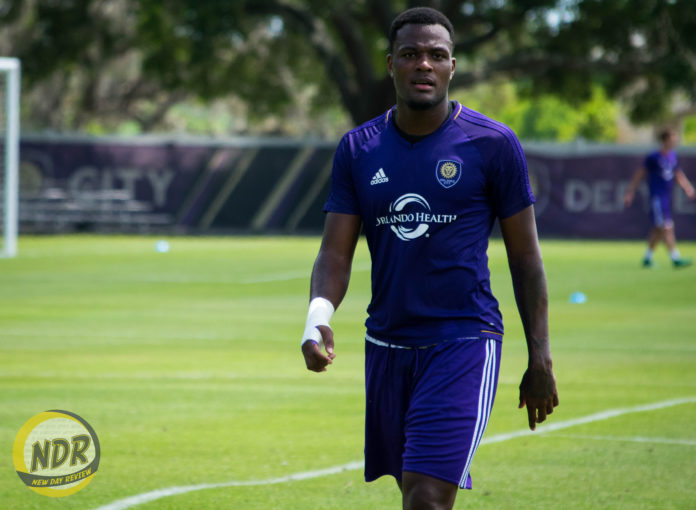 (Photo by Victor Tan / New Day Review)
April 26, 2017 at Sylvan Lake Park
Availability: HC Jason Kreis, F Cyle Larin
HC Jason Kreis
Saturday's match against the Colorado Rapids will begin a stretch an eight-game stretch that will conclude on May 31 with a home match against D.C. United.
Yeah, it's obviously gonna prove a difficult and testing stretch for us for sure. Three games in a week and then a week break and then three more games in a week, so, a lot to prepare for, from a physical standpoint, from a mental standpoint, from a tactical standpoint. So, we do some thinking, I think, as coaches, first and foremost, about how that all's gonna lay out and through the rotation, what our ideal scenarios are, and, as we move through it, we see whether or not our ideal is realistic.
The Rapids are at the bottom of the Western Conference standings with a 1-4-1 record with four points.
I think it's actually a very interesting team because you look at the record of Colorado right now, and it's not very impressive, but if you actually look at the play, it's a dangerous team. They're creating a lot of goal-scoring chances—really, really clear goal-scoring chances. Really think about the results over the last three games and look at the chances that they created, and you walk away and say they could've won those games rather than lost them. So I just think they're going through a difficult stretch right now, an unlucky stretch. Been there many times before and know that it's dangerous because they could break out at any given moment.
When asked if teams tend to get desperate after slow starts, Kreis said the focus should be on the team's play, not its record.
Like I said, if you look at the play, which is what we need to look at as coaches and players and stay focused on—this is a quality team. And we know from last year that it's a high-quality team with the results that they were able to string together last year, with the play, the performance that they've had at the beginning of this year far out-weighs the number of points they have. So we know it's a dangerous opponent, and if we don't prepare for it as if it's any other opponent, then we will not get the result that we're after.
Kreis and his staff are preparing his team differently for the stretch of games coming up.
We look consciously at this week and said to ourselves the players that have played the majority of the minutes over the first six matches need to be very limited in what they do this week. And the players that haven't need to be built up a little bit in preparation for potential minutes next week, potential substantial minutes next week. So you kinda have two groups, which is what you saw today in the session. We had one group that was out of here in about 50 minutes, and we had another group that stayed out here another 20, 25 minutes doing some work.
Kreis said that Brazilian midfielder Ricardo Kaká has been training and will be in a "better position" to maybe play against Colorado.
Ricky looks pretty good so far. He's really been very limited in a number of sessions he's been available for, and that's why the decision was made last week that he wasn't included in the group. He was only included in two full sessions in the two days before the game. There was not enough work to know whether or not he was ready to go into the New York City game and take that kind of risk we weren't willing to do. So, this week, with another—he trained Monday, the day after the match, with the group that trained then, and he trained today fully, and he'll train tomorrow, then Friday, and we believe that that should put him in a better position for this weekend.
Regarding injuries to defenders José Aja, Seb Hines and Rafael Ramos, Kreis said they're moving in a "very positive direction."
Everybody's moving in a very positive direction. José is training full and really has been now. This is second week of full training. Rafa and Seb are full training. And they're gonna get a game tomorrow night with OCB to move their progression forward and show us that they're ready for consideration for the first team as well.
When asked if there was any hesitation about bringing injured players back when his team is having so much success early in the season, Kreis said there's no hesitancy in that matter.
No, there's no hesitancy on our part. I mean, I think the hesitancy comes not about performance or results. A hesitancy comes because you always have to be a little nervous that they could re-injure. And so you need to go through, I think, proper protocols for all the players based on how long they've been out and what type of injury they have to make sure that you're making a wise decision and the smartest decision that you can. It's never gonna be a 100-percent decision that you're gonna be making, but you want to limit the risk as much as possible.
Rapids goalkeeper Tim Howard is serving a three-game suspension because of an altercation with fans following a 3-1 loss to Sporting Kansas City.
It just doesn't affect it too much, right? We don't do a whole lot of talking about the goalkeepers, to be honest. Those are the guys that are just there to stop the very last play. So, we prepare the same exact way.
For Kreis, the culture of the fans hasn't changed from last season.
I'm very, very happy with the stadium; very, very happy with the culture of our fans. But that, to me, hasn't changed. That part has stayed the same. The fans here have been excellent from Day 1. And I was here Day 1 of MLS, albeit with another team. But the crowds here, I think, have been awesome from very, very beginning of this club. And that hasn't changed. I think we've just put them in an atmosphere where you feel more of it with the stadium. Yeah, very, very pleased with the culture of the fans and the culture of the stadium, but, more so than that, I'm pleased with the culture of the team.
When asked if he anticipated and expected this kind of start to the season, Kreis said he didn't.
I mean, anticipate? No. Expect? No. But, you know, in the back of your mind, you're thinking, "This could be a special group." And with the work that we've put in and with the work that the players put in in the offseason in particular and the amount of quality time that we spent together in the preseason, I was very hopeful of it but certainly not expecting.
Major League Soccer salaries were released to the public by the MLS Players Union. Larin is making a little more than $190,000. When asked if Larin's contract reflects his performance, Kreis said that's a question for Larin.
I think that that's probably more of a question for Cyle, honestly, about whether or not he feels that his contract or his salary is low for his production. I would say that Cyle has signed a five-year contract, and he's in Year 3 of it. So, if there's an adjustment that needs to be made, I think it's something that we'll begin to be talking about now. But I think you get yourself into a real dangerous game when you start to think about players' salaries ought to always be a direct reflection of exactly what they're doing at any given moment because that would mean players would have to give some money back sometimes, too.
In the 2-1 win over New York City FC on Sunday, the Lions held 38 percent of possession. Though, for Kreis, possession wasn't an issue in the win.
For me, it wasn't a sore spot. For me, it didn't feel like a game that we were just chasing the ball all over the place. It didn't feel like a game that we didn't have control of things for stretches of the match. So, statistically, they may have come up with a statistic that showed that they possessed the ball more than us, but I didn't feel like this was a game where I walked away disappointed. Just wanted to be clear to say that I was not disappointed in our possession performance this past weekend. And some of that comes down to when you play away, that's the world you're in.
F Cyle Larin
After scoring two goals and leading his team to a win in New York City, Larin said his team is still not "100 percent there yet."
Just keep working, and I think we're not 100 percent there yet. We still have a lot of work to do. Keep care of the ball when we're playing and stop making mistakes. We make some mistakes, but we get away with it. Closer to the end of the season, it's not gonna work. So, we have to make sure we take care of the ball and make sure we limit those mistakes.
When asked about the trust between teammates, Larin said it's just a matter of players doing their respective jobs.
It's very important. I think everyone's just doing their job and make sure they do their job, and once one person sees that person's doing their job, they'll do the same thing, and I think if we keep doing that, the trust will get better in the team.
When asked how his team is still winning even when they're not holding onto the ball as much as the Lions would like, Larin said it's about not giving up on plays.
Just sticking together. Defensively, we're playing very well, and I just think we're not giving up on plays. When we lose the ball, we get back right in the game, and I do think it's hard to play on that field in New York, and I just think we did a great job there, and whoever's in the game can play a lot. We just have to take our chances. The first goal we scored we had a couple passes. So, I think it's getting better.
Kaká has been out with a hamstring injury since the season-opener against NYCFC.
No, I just think the guys in right now are doing their job and working very hard to be in there. And I know when Kaká comes back, he's gonna be fresh, and he's gonna wanna win. He likes to win games, and he works very hard. So, I don't think that's true, but I think when he comes back, we'll be a better team because he's a great player.
When it comes to the differences in leadership style, Larin said midfielder Will Johnson is more outgoing than Kaká.
Will's a little wild. He's more outgoing, very outgoing, and I think we need that from Will. Someone that talks a lot and helps the guys on the field. And I think Kaká's more quiet, but he leads with his actions.
For Larin, he thinks the Rapids have just been unlucky so far this season.
Colorado's a very good team. I just think they're getting unlucky, and I think we can't take that game for granted, and we have to keep working hard and keep going out there and keep pressing teams and keep attacking them and then play well defensively.
In addition to the environment, the heat plays a factor in home-field advantage for Larin and the rest of his Central Florida teammates.
I think when we're at home, it's hard to beat us. It's hot. When teams come here, it's hard for them to play here. The fans are very loud the whole game. It's really hot here, and I know that's hard for teams when the second half comes.
When asked about his team's 5-1-0 start, Larin said it began with his offseason preparation.
I think I put in the work in the offseason and came to the season with the right mentality, and my team's helped me out a lot. They're getting me the ball and getting me the ball in the box, and I just have to make sure I finish my chances, and I'll score goals.
The pressure to keep winning for Larin is both fun and motivational.
It's fun at times, but I think it's motivation for us to keep winning. Just playing at our stadium, it's very exciting every game we play there, and I think everyone just wants to keep working hard and keep winning the home field.