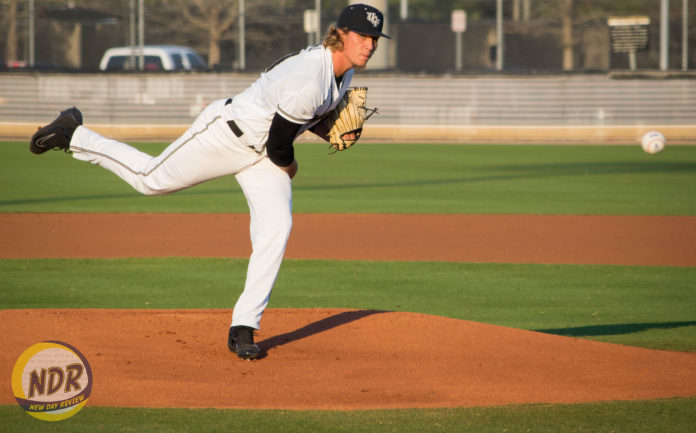 Live Blog: UCF vs. Jacksonville, Game 1
Game Recap
ORLANDO, Fla. – Senior pitcher Robby Howell said he didn't have his best stuff in the bullpen before a game with Jacksonville University. But in the series-opener, Howell pitched his career-first complete game in the Knights' (16-3) 4-0 shutout win over the Dolphins (10-10) at Jay Bergman Field.
"Honestly, in the bullpen, I didn't have my best stuff a little bit," Howell said after the game. "But I kinda just cleared it when I left the pen and kinda just said I was gonna come out here and compete with my team, and, going against another good arm, I've really been looking forward to fighting and going against somebody like that."
Howell (4-0) finished the game with seven strikeouts and allowed three hits on 95 pitches. Jacksonville's Michael Baumann (1-2) got the start and the loss, going 5.1 innings with eight strikeouts, allowing three runs (one earned), five hits and a walk.
For first-year UCF head coach Greg Lovelady, he didn't notice anything from Howell early.
"I mean, I just thought he was keeping the ball down much better. His change-up was working well," Lovelady said after the game. "So, other than that, that first inning, just, you gotta do a better job of getting in the groove and getting down in the zone, and you're facing the top hitters in the lineup. So you can't leave stuff up, especially when you're a sinker guy… I just felt like from the first pitch, he was much better down today, and that showed."
UCF tallied its first two runs on two outs. In the bottom of the third, center fielder Luke Hamblin beat Baumann to first base, allowing right fielder Eli Putnam to sneak home from second.
Then, in the fourth, second baseman Matthew Mika's single to right-center field drove in third baseman Ryan Crile for a 2-0 UCF lead. For Lovelady, it's about finishing the job.
"It's just more mental. Just saying if you got an out or a strike left, the inning's not over," Lovelady said. "And we talk about finishing on the mound. You get two quick outs, the inning's not over. Same thing offensively. We've told the guys, we've shown 'em. I've seen teams score seven runs with two outs and nobody on. We've done it several times this year, and I think when you talk about it a lot, and you show them good things can happen—if you just try to get the next guy up, try to get the next guy up—so we hound on that."
Jacksonville catcher Franco Guardascione committed a throwing error on a pick-off attempt at first that allowed Crile to score the Knights' third run. A wild pitch let left fielder Kyle Marsh score the fourth and final run.
"We grinded. That guy's throwing hard, big kid, and he did some good things," Lovelady said. "That first inning, we get one pitch, one out. And then we grind out 24 pitches the next couple guys and really worked the pitch count, and then we got back at him in the third, fourth and fifth. We really pushed that guy. Made him try to throw a lot of pitches."
Player of the Game: Robby Howell
In Howell's first complete game, he also pitched his first complete-game shutout. This was the first complete game for a Knight at home since Eric Skoglund pitched one in a 3-1 win over Rutgers University. For Howell, good, fast starts helped him pitch well down the stretch.
"Not throwing a lot of pitches early helps you pitch later in the game, and I feel like I did a pretty good job early of getting some soft contact and striking out guys when I needed to strike them out," Howell said. "So I feel like that's very important to throw a lot less pitches early on."
What's next?
UCF travels to Jacksonville to face the Dolphins in two away games. On Saturday, the game will start at 7 p.m. UCF will play Jacksonville at 1 p.m. on Sunday.
"It'd be fun to get on the road," Lovelady said. "Kinda see—get on some different territory, different park. I do like it that we've already played 'em, so now we got a better feel for 'em to go on the road and play at their place. We have an idea of how to pitch to 'em and what their strengths and weaknesses are."
Robby Howell Sees Mental Game as Major Factor in Performance
Preparation is different for the Knights this season. Under Lovelady, the Knights are reading books on the mental approach to at-bats and pitches. First baseman Rylan Thomas first noted it after a 5-4 walk-off win over Central Michigan University on March 11. Howell has noticed a difference in the team's preparation.
"No doubt. I would say, definitely, with our preparation," Howell said. "You can see it, just, from pitchers to position players, our preparation is unbelievable. And the mental game has been a real big part, especially for me, just being able to slow down and separate pitches and everything. It's been a lot of fun and really good for us."
Greg Lovelady Happy with Effort by Knights After Bradley Game
After UCF's bout with Bradley University on Tuesday, Lovelady didn't speak to the media. His team had nearly given up an eight-run lead before ultimately winning 12-9. On Friday, Lovelady said that was the worst he's felt after a game.
"I didn't think we played very well. We talk a lot about process over results, and we're gonna judge ourselves against the standard that we set, not by the result of the game," Lovelady said. "And we won the game, but it's probably the worst I've felt after a game so far. And, so, we had a long meeting. Just told the guys: It's just unacceptable to play like that and have that type of energy… I think they got the message. They practiced real hard the last couple days."
Against Jacksonville, the Knights made an impression on Lovelady with their effort.
"We played really hard tonight," he said. "Luke Hamblin runs that hard 90 on a ground ball to first base and beats the pitcher there. That led to a run. Guys just played really hard. They were taking big turns, stealing bases left and right. Doing exactly the way we've been taught and the way we preach. It was just good to see. The guys played really, really well. Came out with a lot of energy.
Highlights
B3 – We take the lead with some speed and some smart running!

JU 0 UCF 1#ChargeOn pic.twitter.com/kHp73BZ3b2

— UCF Baseball (@UCF_Baseball) March 17, 2017
T4 – WOW!! Kam with a heckuva play!!#UCFierce pic.twitter.com/y6r9tFUDD5

— UCF Baseball (@UCF_Baseball) March 17, 2017
B4 – Mika delivers a 2-out RBI single to extend the lead!

JU 0 UCF 2 pic.twitter.com/vuVWXZkJ8Q

— UCF Baseball (@UCF_Baseball) March 17, 2017
T7: And Robby Howell's no-hitter is broken up w/ a single to right field by Scott Dubrule. #UCF leads 3-0.#ChargeOn

— New Day Review (@NewDayReview) March 18, 2017
B6 – Tack on one more!!

JU 0 UCF 3 pic.twitter.com/drPj7vVChb

— UCF Baseball (@UCF_Baseball) March 18, 2017
T7 – Marsh showing some range in left!!#ChargeOn pic.twitter.com/z8s4B921uE

— UCF Baseball (@UCF_Baseball) March 18, 2017
Howell notches his 7th strikeout to end the top half of the 8th!!#ChargeOn

JU 0 UCF 3 pic.twitter.com/tvmz2qHps3

— UCF Baseball (@UCF_Baseball) March 18, 2017
The final out of @robbyhowell2's 1st complete-game shutout. @UCF_Baseball won 4-0.#UCF #ChargeOn pic.twitter.com/cbAMsFIVAS

— New Day Review (@NewDayReview) March 18, 2017
NDR Notes
Howell's complete game was the first of his career. It was also his first complete-game shutout of his career.
The last time a Knight pitched a complete game was on March 4, 2016, when Cre Finfrock in a 4-3 loss to Rice University.
UCF last posted a shutout in a 3-0 win over Siena College in the second game of the 2017 season on Feb. 18.
On April 18, 2015, Zach Rodgers pitched the last three-hitter for a Knight in an 8-0 win over Tulane University.
Scoring
| | | |
| --- | --- | --- |
| | University of Central Florida | Jacksonville University |
| Runs | 4 | 0 |
| Hits | 7 | 3 |
| Errors | 0 | 1 |
| Left on Base | 5 | 3 |
| | | | |
| --- | --- | --- | --- |
| Inning | Team | Play | Score |
| B3 | University of Central Florida | Luke Hamblin singled to first base, RBI; Eli Putnam scored | 1-0, UCF |
| B4 | University of Central Florida | Matthew Mika singled to right-center field, RBI; Ryan Crile scored, unearned | 2-0, UCF |
| B6 | University of Central Florida | Ryan Crile advanced to second on a throwing error by catcher, scored, unearned | 3-0, UCF |
| B8 | University of Central Florida | Rylan Thomas advanced to second on a wild pitch; Kyle Marsh scored on a wild pitch | 4-0, UCF |
Statistics and Starting Lineup
Pitching
| | | | | | | | |
| --- | --- | --- | --- | --- | --- | --- | --- |
| Player | Team | IP | R | ER | H | BB | SO |
| Robby Howell (4-0) | University of Central Florida | 9.0 | 0 | 0 | 3 | 0 | 7 |
| Michael Baumann (1-2) | Jacksonville University | 5.1 | 3 | 1 | 5 | 3 | 8 |
| Shane Wise | Jacksonville University | 1.2 | 0 | 0 | 0 | 0 | 2 |
Hitting
| | | | | | | | | | |
| --- | --- | --- | --- | --- | --- | --- | --- | --- | --- |
| Player | Team | AB | H | R | HR | RBI | SB | BB | SO |
| Luke Hamblin | University of Central Florida | 4 | 3 | 0 | 0 | 1 | 2 | 0 | 0 |
| Ryan Crile | University of Central Florida | 2 | 0 | 2 | 0 | 0 | 0 | 2 | 0 |
| Scott Dubrule | Jacksonville University | 4 | 2 | 0 | 0 | 0 | 0 | 0 | 1 |
UCF starting lineup: 1. Eli Putnam (9) 2. Luke Hamblin (8) 3. Kyle Marsh (7) 4. Rylan Thomas (3) 5. Ryan Crile (5) 6. Bryce Peterson (DH) 7. Matthew Mika (4) 8. Logan Heiser (2) 9. Kam Gellinger (6)
UCF starting pitcher: Robby Howell (3-0)
Jacksonville starting lineup: 1. Nathan Koslowski (9) 2. Scott Dubrule (4) 3. Sam Armstrong (5) 4. Seth Dewitt (3) 5. Chris Gau (DH) 6. Franco Guardascione (2) 7. Chris Lehane (7) 8. Connor Stephens (8) 9. Dakota Julylia (6)
Jacksonville starting pitcher: Michael Baumann (1-1)