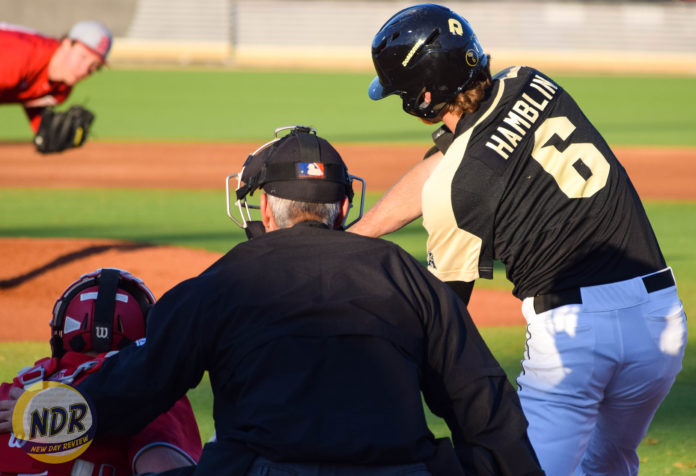 Game Recap
ORLANDO, Fla. – It looked like the University of Central Florida had wrapped up another easy win by the end of the fifth inning. But the Bradley Braves (8-5) scored five runs in the top of the seventh inning to make it a three-run game. Ultimately, though, the Knights (15-3) would win 12-9 at Jay Bergman Field Tuesday night.
Bryce Tucker earned his fifth save of the season after striking out the final three Braves batters. Joe Sheridan (3-1) got the win in relief, pitching 2.1 innings with a strikeout and allowing two hits and an earned run. Bradley starter Ryan Hodgett (0-1) recorded the loss after going 3.2 innings with five strikeouts, allowing five runs (five earned) on four hits and a walk.
The Knights played from behind early after Bradley took a 4-2 lead entering the bottom half of the fourth inning. But the Braves' pitching crumbled, allowing six runs in the fourth on two hits, four walks and two hit batters.
All six of UCF's runs in the fourth came with two outs. Rylan Thomas drew a lead-off walk that was followed by a Ryan Crile double to right field. After two straight swinging strikeouts, Anthony George's at-bat was when the Braves began to lose control.
George was hit by a pitch, forcing the Braves to go to relief pitcher Mitch Plassmeyer. With the bases loaded, the junior walked Kam Gellinger and hit Eli Putnam to tie the game. Jim Jarecki relieved Plassmeyer, but he found similar results. With the game tied at 4-4 and the bases loaded still, Jarecki walked his first two batters before he surrendered a two-RBI single to center field for an 8-4 Knights lead.
Bryce Peterson hit a lead-off homer over the center-field wall to start the Knights' four-run fifth inning. After Austin Griffin, George and Putnam all drew walks to load the bases again, a two-out wild pitch let Griffin score from third. Kyle Marsh then hit a triple down the right-field line, his team-leading 12th extra-base hit of the season, to drive in George and Putnam for a 12-4 lead.
The Braves weren't done, though. In the seventh inning, Bradley put together a five-run half-inning against relief pitcher Campbell Scholl to cut the UCF lead to just three. Bradley used four pinch hitters to generate those five runs.
It started when Andy Shadid, Nick Green and Cody Carroll loaded the bases with no outs. Luke Mangieri drove in Shadid from third and beat the throw to first to avoid the double play. One walk later, Derek Bangert smacked a two-RBI single to left field before the Knights botched a 4-6-3 double play at second to let D.J. Gasso score. Dan Bolt grounded out to the shortstop to drive in Bangert to cap the scoring.
Player of the Game: Luke Hamblin
Luke Hamblin finished the game 2-for-3 with two runs, two RBIs, two walks and a double. He scored UCF's first run of the game, advancing home on a balk in the first inning. Hamblin also accounted for the Knights' second run with a double to left field in the third.
What's next?
The Knights start a three-game series with Jacksonville University on Friday at 6:30 p.m. UCF will then travel to Jacksonville for the second and third games.
Highlights
B3 – George with a lead-off triple!!#ChargeOn pic.twitter.com/0CA3AkAPVa

— UCF Baseball (@UCF_Baseball) March 14, 2017
B3 – Hamblin drops in a clutch RBI double with 2 outs, cuts the lead to one!

Bradley 3 UCF 2#ChargeOn pic.twitter.com/y8uQgys5bS

— UCF Baseball (@UCF_Baseball) March 14, 2017
B4 – Thomas draws a lead-off walk and then Crile finds the corner in right!#ChargeOn pic.twitter.com/Tei40hDd4h

— UCF Baseball (@UCF_Baseball) March 14, 2017
B4 – In his 2nd at-bat of the inning, Thomas drives home a couple ducks!

Bradley 4 UCF 8#ChargeOn pic.twitter.com/9JdYldF51V

— UCF Baseball (@UCF_Baseball) March 15, 2017
B5 – See Ya!! Peterson launches one over the center-field fence!!

Bradley 4 UCF 9 pic.twitter.com/RV41YNkbFU

— UCF Baseball (@UCF_Baseball) March 15, 2017
B5 – Griffin scores on a passed ball, then Marsh with a laser over the right-fielders head!!

Bradley 4 UCF 12#ChargeOn pic.twitter.com/Ot3ctIFfDw

— UCF Baseball (@UCF_Baseball) March 15, 2017
NDR Notes
First-year UCF head coach Greg Lovelady and players did not speak to media after the game.
Griffin started at third base for the first time this season.
Peterson hit his third home run of the season, making him tied for second-most homers on the team with three. He's tied with Putnam and Crile.
Scoring
| | | |
| --- | --- | --- |
| | University of Central Florida | Bradley University |
| Runs | 12 | 9 |
| Hits | 7 | 12 |
| Errors | 1 | 2 |
| Left on Base | 8 | 6 |
| | | | |
| --- | --- | --- | --- |
| Inning | Team | Play | Score |
| B1 | University of Central Florida | Luke Hamblin scored on balk | 1-0, UCF |
| T3 | Bradley University | Spencer Gaa singled up the middle, RBI; Andy Shadid scored | 1-1, T |
| T3 | Bradley University | Luke Mangieri doubled to left-center field, RBI; Spencer Gaa scored | 2-1, BU |
| T3 | Bradley University | Ian Kristan doubled down right-field line, RBI; Luke Mangieri scored | 3-1, BU |
| T4 | Bradley University | Luke Shadid singled to left field, RBI; Jean-Francois Garon scored | 4-1, BU |
| B3 | University of Central Florida | Luke Hamblin doubled down left-field line, RBI; Anthony George Scored | 4-2, BU |
| B4 | University of Central Florida | Kam Gellinger walked, RBI; Anthony George advanced to second; Ryan Crile advanced to third; Rylan Thomas scored | 4-3, BU |
| B4 | University of Central Florida | Eli Putnam hit by pitch, RBI; Kam Gellinger advanced to second; Anthony George advanced to third; Ryan Crile scored | 4-4, T |
| B4 | University of Central Florida | Luke Hamblin walked, RBI; Eli Putnam advanced to second; Kam Gellinger advanced to third; Anthony George scored | 5-4, UCF |
| B4 | University of Central Florida | Kyle Marsh walked, RBI; Luke Hamblin advanced to second; Eli Putnam advanced to third; Kam Gellinger scored | 6-4, UCF |
| B4 | University of Central Florida | Rylan Thomas singled, 2 RBIs; Kyle Marsh advanced to third; Luke Hamblin scored, Eli Putnam scored | 8-4, UCF |
| B5 | University of Central Florida | Bryce Peterson home run to center field, RBI | 9-4, UCF |
| B5 | University of Central Florida | Eli Putnam advanced to second on wild pitch; Anthony George advanced to third on wild pitch; Austin Griffin scored on wild pitch | 10-4, UCF |
| B5 | University of Central Florida | Kyle Marsh tripled to right field, 2 RBIs; Eli Putnam scored; Anthony George scored | 12-4, UCF |
| T7 | Bradley University | Luke Mangieri reached first on fielder's choice, RBI; Cody Carroll out at second; Nick Green advanced to third; Andy Shadid scored | 12-5, UCF |
| T7 | Bradley University | Derek Bangert singled to left field, 2 RBIs; Zach Fairchild advanced to second; Luke Mangieri scored; Nick Green scored | 12-7, UCF |
| T7 | Bradley University | Brendan Dougherty reached first on fielder's choice, RBI; Derek Bangert advanced to second on an error by second baseman, advanced to third; Zach Fairchild scored, unearned | 12-8, UCF |
| T7 | Bradley University | Dan Bolt grounded out to shortstop, RBI; Brendan Dougherty advanced to second; Derek Banger scored, unearned | 12-9, UCF |
Statistics and Starting Lineup
Pitching
| | | | | | | | |
| --- | --- | --- | --- | --- | --- | --- | --- |
| Player | Team | IP | R | ER | H | BB | SO |
| Joseph Sheridan (3-1) | University of Central Florida | 2.1 | 1 | 1 | 2 | 0 | 1 |
| Bryce Tucker | University of Central Florida | 1.0 | 0 | 0 | 0 | 0 | 3 |
| Chris Williams | University of Central Florida | 3.0 | 3 | 3 | 6 | 0 | 4 |
| Ryan Hodgett (0-1) | Bradley University | 3.2 | 5 | 5 | 4 | 1 | 5 |
| Mitch Plassmeyer | Bradley University | 0.0 | 2 | 2 | 0 | 1 | 0 |
| Jim Jarecki | Bradley University | 0.1 | 4 | 4 | 2 | 4 | 1 |
Hitting
| | | | | | | | | | |
| --- | --- | --- | --- | --- | --- | --- | --- | --- | --- |
| Player | Team | AB | H | R | HR | RBI | SB | BB | SO |
| Luke Hamblin | University of Central Florida | 3 | 2 | 2 | 0 | 2 | 0 | 2 | 0 |
| Kyle Marsh | University of Central Florida | 4 | 1 | 0 | 0 | 3 | 0 | 1 | 0 |
| Bryce Peterson | University of Central Florida | 4 | 1 | 1 | 1 | 1 | 2 | 1 | 0 |
| Anthony George | University of Central Florida | 3 | 1 | 3 | 0 | 0 | 0 | 1 | 1 |
| Luke Mangieri | Bradley University | 5 | 2 | 2 | 0 | 2 | 0 | 0 | 0 |
| Derek Bangert | Bradley University | 4 | 1 | 1 | 0 | 2 | 0 | 0 | 2 |
UCF starting lineup: 1. Eli Putnam (9) 2. Luke Hamblin (8) 3. Kyle Marsh (7) 4. Rylan Thomas (3) 5. Ryan Crile (4) 6. Bryce Peterson (DH) 7. Austin Griffin (5) 8. Anthony George (2) 9. Kam Gellinger (6)
UCF starting pitcher: Chris Williams (0-2)
Bradley starting lineup: 1. Luke Shadid (6) 2. Spencer Gaa (7) 3. Luke Mangieri (3) 4. Ian Kristan (2) 5. Derek Bangert (DH) 6. Brendan Dougherty (5) 7. Jean-Francois Garon (9) 8. Andrew Ivelia (4) 9. Andy Shadid (8)
Bradley starting pitcher: Ryan Hodgett (0-0)