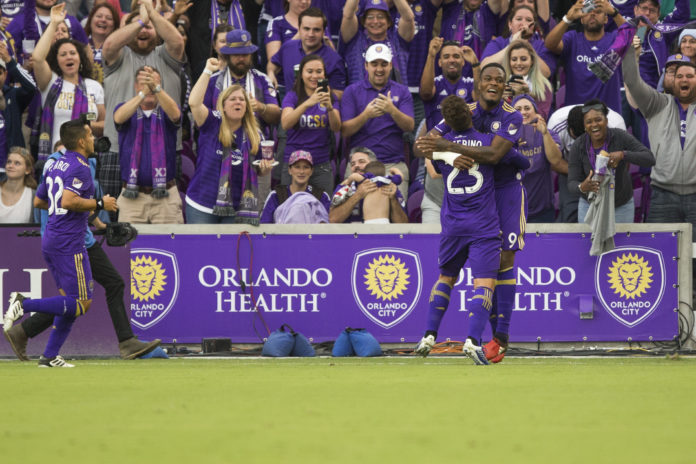 Match Recap
ORLANDO, Fla. – A new stadium provided the perfect setting for Orlando City SC's home-opener. After starting their first two seasons with season-opening draws, the Lions (1-0-0, 3 points) defeated New York City FC (0-1-0, 0 points) 1-0 in front of a sold-out crowd of 25,527 at Orlando City Stadium Sunday night.
Orlando played with a sense of togetherness that even NYCFC head coach Patrick Vieira acknowledged after the match.
"I felt they work really hard for each other," Vieira said. "There was a really togetherness on the team. I think they fight and work hard in every single ball. They didn't give up nothing. And I think when you look at the goalkeeper, who was, for me, the man of the match."
City scored the lone goal of the game in the 15th minute. Giles Barnes made an immediate impact in his Orlando City debut when he subbed in for an injured Ricardo Kaká in the 11th minute. Forward Carlos Rivas led Barnes into NYCFC's left part of the box that gave Barnes room enough to send the ball to third-year Orlando forward Cyle Larin on the back post. With a defender on him, Larin leaped and headed the ball downward, making it bounce past New York City goalkeeper Sean Johnson.
"I think [Larin's] neck grew two inches as well," Barnes said after the match. "But great header. That's what he's all about. We'd spoken before the game as well. He prefers the ball going to the back post, so I knew I only had one target, but I knew where he was going to be. So, it was my job to put it in and around an area that he can attack.
"Again, great finish from him. We've seen it all over the years that he's been here, and he started off exactly where he left off."
New York City wasn't able to score not for a lack of opportunities. Vieira's team possessed the ball for 68.4 percent of the match and doubled Orlando's shots, out-shooting the Lions 14-7.
"That doesn't make me happy, for sure," Kreis said after the match. "Like I said, we did some things well tonight, and we didn't do some other things well, mostly what happened when we had the ball. And I think there's a lot of reasons for that, but it will be a big focus for us that we need to value the ball a lot more than we [did] tonight."
Orlando City's defense was a focus in the 2017 preseason. In addition to signing a host of back-line players—including starting center-back Jonathan Spector—the Lions also spent 10 days in Jacksonville, Fla., focusing specifically on defense. For Kreis, he felt his team last season wouldn't have finished with this result.
"I do think that in times past, even the group that we had last year, I feel that this game would've ended up differently," Kreis said. "The team spirit would have buckled, and there would have been a mistake that could cost us. Tonight, the guys continued to fight, they continued to stay together. Even though there were some mistakes happening, a lot of mistakes happening, people had positive reactions to those mistakes and made plays.
"So, a big, big night for everybody defensively. And that's something to build on."
Man of the Match: Joe Bendik
Though Larin scored the lone goal of the match, Orlando goalkeeper Joe Bendik kept New York City scoreless. Bendik finished with seven saves, including a crucial save in the 86th minute.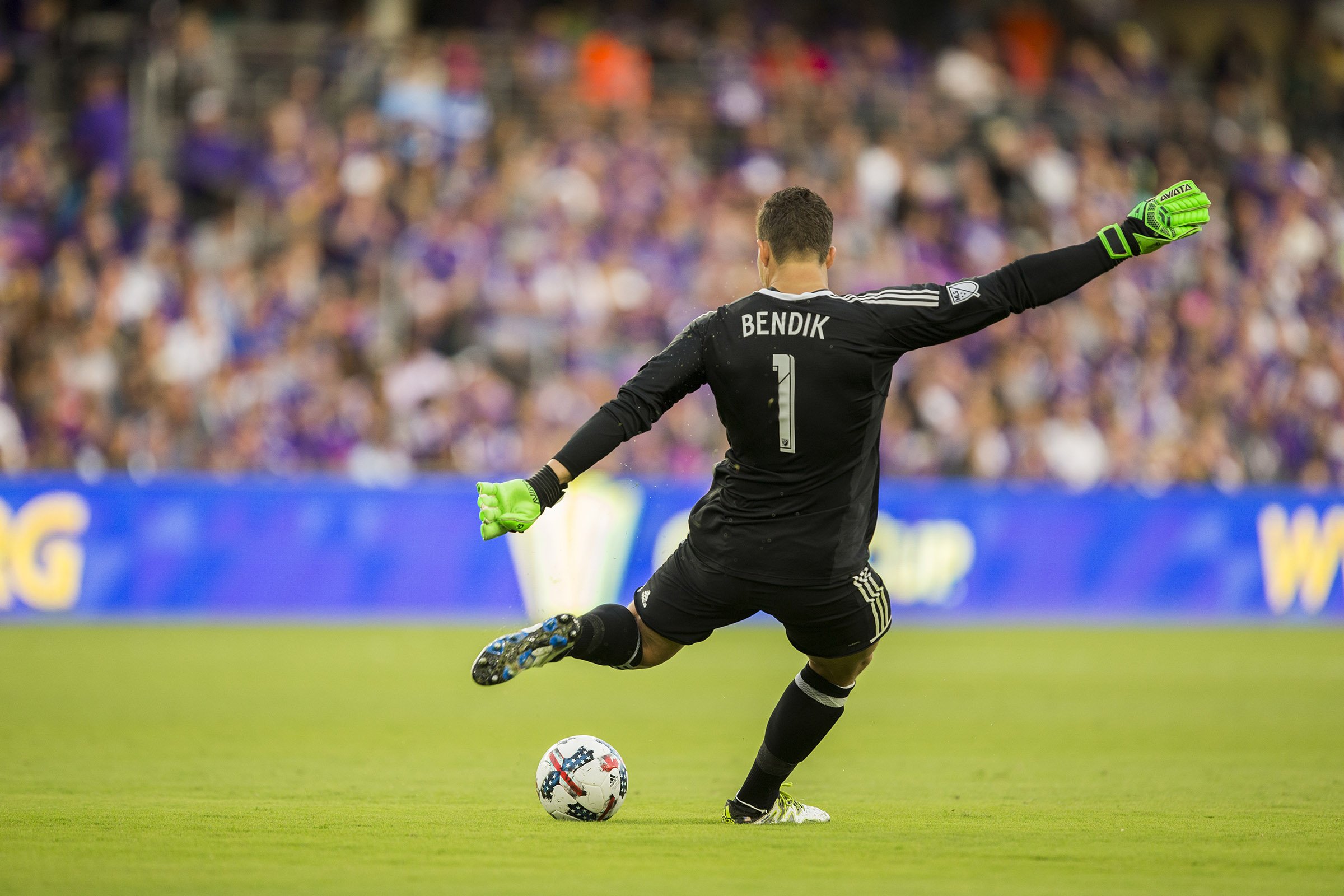 What's next?
Orlando City travels to face the New England Revolution on Saturday at 2 p.m.
Team Captain Ricardo Kaká Sustains Early Injury
Kaká sustained an injury in the 11th minute after a deep attack that found him in NYCFC's box. His shot was deflected, and, afterward, the Brazilian went down holding his left hamstring. The 34-year-old will be evaluated by doctors and will have an MRI on Monday.
"For me, it was—just was ready to move on. Make a decision and get somebody else on the field," Kreis said. "Very, very disappointed for Ricky because he's worked extremely hard in the offseason and extremely hard in the preseason.
"And it looks like this could be a pretty serious injury. So, really disappointed for him. This was a huge night for him. I think everybody could see the energy he was already putting into the game in those 11 minutes. And I think this was gonna be a special night for him. Deeply disappointed for him, but the team moved on, and I think that's a positive thing."
Kaká finished with one shot in 11 minutes of play.
"He's a great player. He's a loss, certainly," Spector said after the match. "But I thought Giles came in and did extremely well. And that's one of the great things about this team. There's some strength in depth. So when someone like Ricky, like Kaká goes down, you have someone like Giles Barnes to come in."
Both Matías Pérez García and Larin subbed out of the game with apparent injuries, but Kreis said that both only suffered cramps.
Will Johnson Starts at Right-back, Servando Carrasco Starts in Midfield
During the offseason, Orlando City sustained injuries to its outside backs. First, Rafael Ramos went down with injuries to both hamstrings in training scrimmages against Toronto FC. Then, Tony Rocha sustained an injury in a friendly against Saint Louis FC. Back-up Kevin Alston has been nursing a leg injury.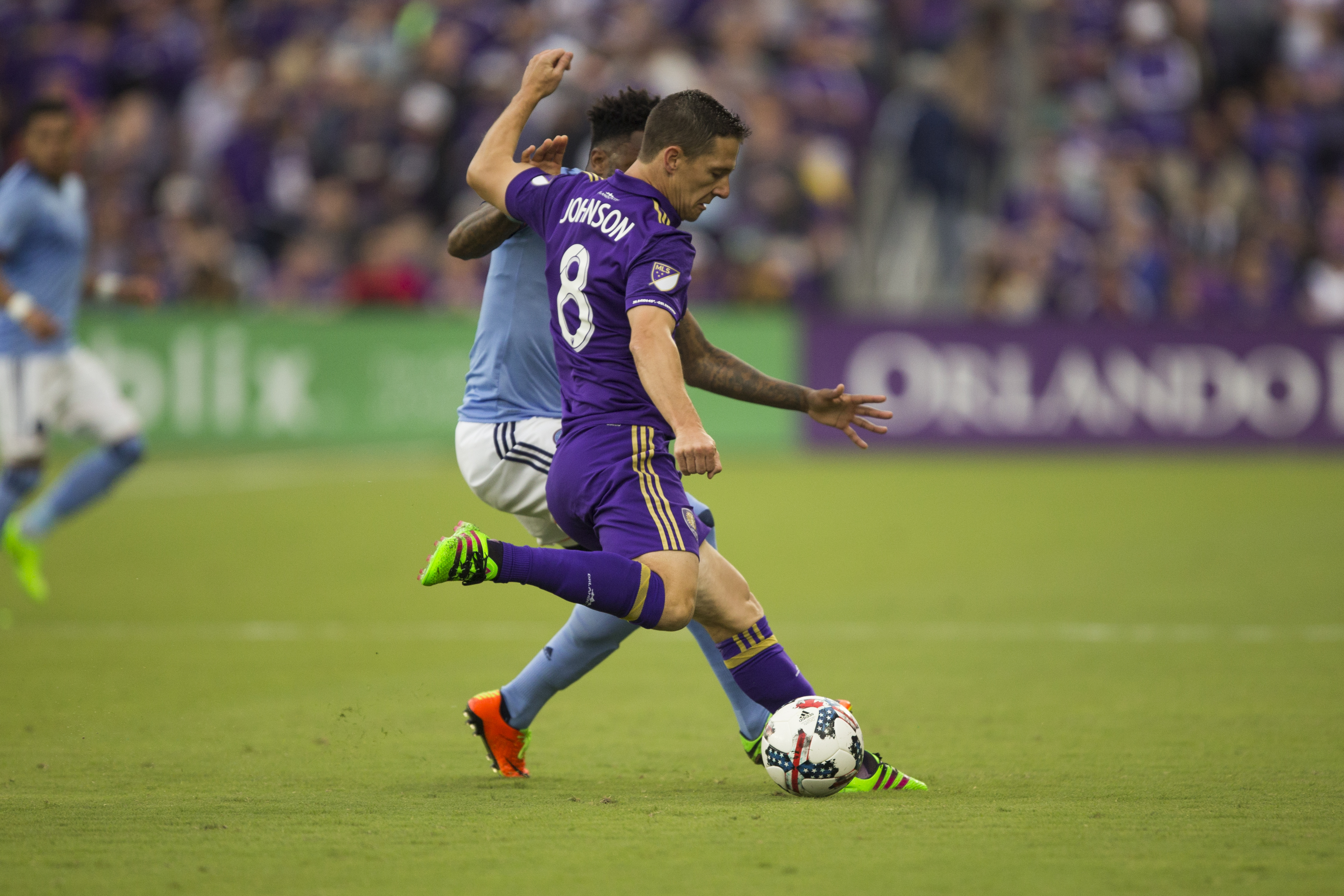 In their stead, first-year Lion Will Johnson filled in at the right-back position. He played the entire match, completing 65.2 percent of his passes and was an instrumental part of the Lions' shutout defense.
"I think a massive defensive performance. I know he was at the right spot at the right time on many occasions," Kreis said. "Really appreciate his commitment level and his leadership and his fight. I think that to me was typical—I think the whole team really put forth a Will Johnson effort. And that's what it's gonna take to get points in this league."
On the attack, Kreis said Johnson could've positioned himself better.
"When we had the ball, I think his positioning probably wasn't quite right to help us to keep it often," he said."
Jason Kreis Feels Relief After Win
During the team's media day on Tuesday, Kreis said that the only pressure he and his team feel is self-imposing. He said external pressures from fans, the media or other teams don't affect the team.
After Sunday's win, Kreis said he thought there was a sense of relief.
"I think there is. I think that, obviously, all of the energy, all of the nerves that go into a night like tonight are gonna play their toll," Kreis said. "And I think now we've got this one in our pocket. We've got the first win, we've got the first shutout, and I think now we move forward."
Highlights
One for the record books. #WelcomeHome pic.twitter.com/oiDnSMEGAm

— Orlando City SC (@OrlandoCitySC) March 5, 2017
32′ | Massive save! NYCFC catches City on the break but #JoeKnows that ain't happening. #ORLvNYC | 1-0 pic.twitter.com/rvFJzm08k7

— Orlando City SC (@OrlandoCitySC) March 5, 2017
53 ' | Big time stand on the line from Jose to keep the lead intact. #ORLvNYC | 1-0 pic.twitter.com/zGXPMLsxIR

— Orlando City SC (@OrlandoCitySC) March 5, 2017
85′ Joe coming up huge for the boys with class back to back saves. #ORLvNYC | 1-0 pic.twitter.com/xDfiPUg72j

— Orlando City SC (@OrlandoCitySC) March 6, 2017
Nothing but love from The Wall for new man, @GilesBarnesReal. 👏👏👏 pic.twitter.com/W55zbon21k

— Orlando City SC (@OrlandoCitySC) March 6, 2017
What a way to break in the new home. #WelcomeHome pic.twitter.com/VpcALK7jyN

— Orlando City SC (@OrlandoCitySC) March 6, 2017
NDR Notes
Kaká went down in the 10th minute with an injury after having his shot deflected from inside the box. He held onto his left hamstring afterward.
Barnes assisted in his debut on Larin's goal in his third minute of play.
After Kaká left the game with an injury, Johnson took the captain's band.
Servando Carrasco started in the midfield while Johnson started at right-back. Currently, right-backs Ramos, Alston and Rocha are all out with injuries.
Scoring
| | | | |
| --- | --- | --- | --- |
| Time | Team | Goal-scorer | Assisted by |
| 14' | Orlando City SC | Cyle Larin | Giles Barnes |
Statistics and Starting Lineups
| | | | | |
| --- | --- | --- | --- | --- |
| | Goals | Assists | Shots | Shots on Goal |
| Orlando City SC | 1 | 1 | 7 | 1 |
| New York City FC | 0 | 0 | 14 | 7 |
Orlando City starting XI (4-4-2): Joe Bendik (GK); Donny Toia, Jonathan Spector, José Aja, Will Johnson; Ricardo Kaká, Antonio Nocerino, Servando Carrasco, Matías Pérez García; Cyle Larin, Carlos Rivas
NYCFC starting XI (4-3-3): Sean Johnson (GK); R.J. Allen, Maxime Chanot, Alexander Callens, Ronald Matarrita; Alexander Ring, Andrea Pirlo, Maximiliano Moralez; Jack Harrison, David Villa (C), Rodney Wallace