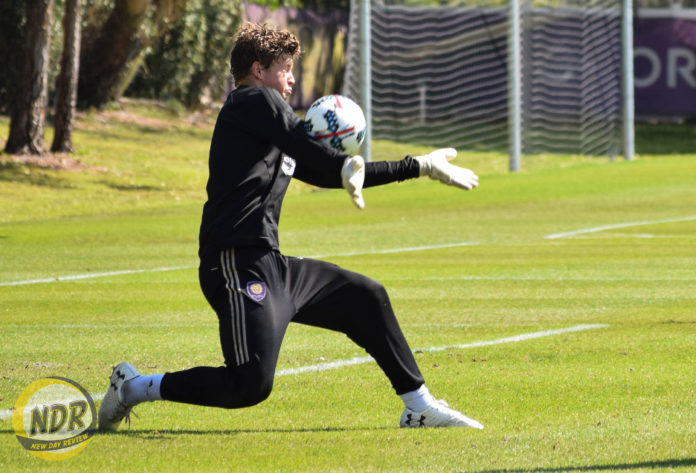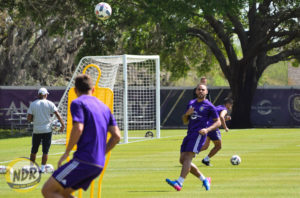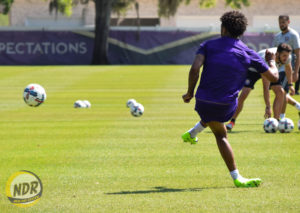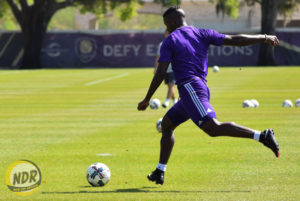 March 9, 2017 at Sylvan Lake Park
HC Jason Kreis
When asked about his team's depth, Kreis said his team's depth is being tested in the "worst way."
I would say be depth is being tested in the worst way right now. With, again, four players on the injured-reserve list out for the game, we're being week by week. First week, we checked the box, we got the job done. Second week, now, we lose Kaká. But we played, I think, 80 minutes, 84 minutes or something, 83 minutes, without him. We would suppose that the same group can do the same job.
Giles Barnes replaced team captain Ricardo Kaká after the team captain went down with an injury in the 10th minute of the 1-0 win over New York City FC.
We're working with all of the attacking players in the different roles for the four players that are most advanced in the field. For me, it's important that all the players understand what their responsibility is when they're caught in those positions. We want some rotation. We want the players to feel like they can push forward so the midfielders can play as a forward for a bit, and the forwards should be able to play as midfielders for a bit. So, we saw quite a bit of rotation just in the game against New York City, and we want to continue. So, there'll be different players in different positions during the game.
When asked about if anything caught his eye upon watching film from Sunday's win, Kreis said he was pleased with the defensive organization.
I was very pleased, actually, with the defensive organization and the defensive commitment. Because against a team with as many weapons as New York City, you know that you're going to be giving away some goal chances. And I would say that we kept those to a pretty good number. And then the commitment level that was shown when there was things happening in and around our box was fantastic. So, you see a different mentality among the group and a different responsibility for everybody to defend.
After Kaká left the pitch with an injury, Will Johnson was given the captain's armband.
I think a lot of it has to do with Will's mentality, first and foremost. He's a born competitor. He comes out every single day and gives absolutely everything that he can. And I think he shows a real trust in the coaching staff to do that, to know that we're not going to overwork him. If we do that, if we worked that way so that he's prepared for the weekend—so his effort level and commitment level in the training sessions. It's his wanting to win every single activity that he does out here and instilling that in other people. It's his communication with all the players around him to try to get the best out of all the players around him and to organize the players in front of him as well. So, he kind of has all of the qualities that you're looking for in a leader and somebody that could and should wear the captain's band.
On Instagram, Pérez García posted Sunday's game was a final for him and his team. At training on Thursday, he said that's because his team is approaching every game like it's a final.
I think whether Kaká's on the field or Kaká's not on the field, whether Kaká's in the group or not in the group, I think all of our players, this year, should be going about this with a mentality that this is an opportunity for us that will go away unless we grasp it; that we have a different hunger level this year to perform every single game and to give back to the fans what they've given us for the last two years. And, hopefully, it sounds like that a player that is saying the same things that every single game is critically important to this group.
Orlando City SC plays the New England Revolution on Saturday at 2 p.m.
It could. Yeah, it could. I would say it's typically the other way around. So, if it's really, really hot, I think that's gonna have more of an impact about how you wanna approach a game than if it's really cold. 'Cus, hopefully, truth of the matter is that if it's really cold, there's one way to warm up: Run a lot. And unfortunately, people on the sidelines won't be able to do that. I think we approach this game with a mindset that both teams are going to be on the same field with the same conditions, and we do everything we can to win the game.
When asked about the challenges New England will present, Kreis said the Revolution's best players have been together for a long time.
You see a team that's been together a long time now. Their absolute best players have been together for a very long time. All of their attacking group has been together for a very long time and a lot of players that can hurt you any given minute. So it's gonna require another massive defensive commitment on our part. And the good thing is that we have a win in our pocket now. We have a strong defensive performance. But the truth of the matter is that we all know that we need to improve. And so we have three points in our pocket with the mindset that we need to be better this weekend than we were last weekend.
The Revolutions Lee Nguyen is currently sidelined with an injury and is listed as day-to-day.
Lee's a good player. A very, very good player that often times makes the team tick similar to the way Kaká does for us. But I know they've got other players—Daigo Kobayashi, in particular, who comes in and can fill that same role. And they can shift players around with guys like Kelyn Rowe, who can move into more of a No. 10 role. So, as I said before, it's a team with a lot of weapons that can hurt us any given minute.
Following Orlando City's win on Sunday, several New York City fans were arrested after assaulting a police officer.
I honestly didn't know much about it. My parents were in town this weekend, and they brought it to my attention. For me, we have so much to be concerned with and worried with as a coaching staff and as a team to do our absolute best on the field that we wouldn't want to typically spend a lot of time thinking about that. But, for me, it is something that I hope that our fans and our country don't go to that level. Because you want the fans to be passionate; you want the fans to give everything that they can; you want them to help lead your group and bring a certain spirit, but to take it to that level, for me, is always way too much. And I hope that—I want this game to become massive in our country. But I hope that our fans can comport themselves better than they do in other places.
For Sunday's game, the team traveled together on a bus to the stadium. Kreis said that was merely because of uncertain traffic patterns.
That was 100 percent about that being the first game and not knowing what the traffic patterns would like around the stadium and just a concern for having guys show up late because of traffic and because of this that or the other. Getting into the right parking place isn't all that with it being the first match. I don't think that's something that we'll continue with.
When asked about Carlos Rivas' performance on Sunday, Kreis said the Colombian was just missing a goal to complete his performance.
When I think about the match, I really think to myself that Carlos Rivas was a player that deserved to score a goal in that game. The amount of work that he and Cyle [Larin] both put in for us—I'm a big proponent and a big believer in if you really, really work hard enough, good things will happen for you. And I love it when the guys that work extremely hard have some statistical success. So, really happy that Cyle got off the schneid right away after what I think was a little bit of a difficult preseason for him. And Carlos has had a fantastic preseason and had a fantastic performance but then just needed to put the finishing touch on it by scoring that last goal. So, love to see that happen this weekend for him.
At one point in Barnes' career, Kreis called the 28-year-old forward one of the best players in the league.
I saw right away that Giles was talking and having a good time with Cyle, and also he's a player out there that has such experience and some leadership capabilities that he's doing, some coaching on the field as well. We went into the offseason thinking we needed more players like that, so it's nice that we've added another one in him. And I think he's got a real good relationship with all the players right away, which speaks volumes for him as well as for the group here that's always so accommodating.
F Matías Pérez García
Without Kaká, Pérez García said the team's goals don't change.
My responsibility is always to help the players play. Obviously, it's gonna be difficult without having Kaká on the field, but our goals don't change, and we all just have to regroup and go forward… In my position, I feel like I have to assume a little bit more responsibility with Kaká out.
New England will be the Lions' first road opponent.
Our goal is to continue on this winning streak. We know it's gonna be a difficult game, not only for us because it's the first match away, but also because it's not a grass field, and that's gonna be difficult. We also know that it's gonna be really cold there, and that's gonna be a different change for us. But, at the same time, we're just ready to go there and continue winning.
Pérez García suffered cramps during Sunday's game.
I feel good. Obviously, I still have a little bit of pain on my legs but nothing that's gonna hinder me from doing well on Saturday.
Kreis has praised the new mentality by his entire team.
I put on my Instagram that this last game was a final. And the reason why I did that is because, us as a team, we decided that we were going to play every game as if it was a final. That was our first game in the new stadium. So, to us, that's behind us. And, now, this next game, we're gonna play it as if it's our final as well.
DF Donny Toia
Without Kaká, Toia said Barnes filled in nicely.
Obviously, it's tough. He's a playmaker, and you bring him in for that reason. So it's definitely gonna be difficult, but, at the same time, we have the depth. We have Giles Barnes who came in. Played extremely well right off the bat. So, I think we're okay right there, but, obviously, it's rough when you have someone like that go down that early in the season. Hopefully he can recover quickly and be out in the field sooner than later.
When asked about how he adjusted to finding a starting role, Toia said he needed to be more fit than he was at the beginning of the season.
I think just obviously coming into a new team you gotta prove yourself again. I didn't come in as fit as I should've been. So I just worked on that a little bit. And then, whether I was on the left or the right, I just tried to focus on doing the right things with the right foot and control what I can control, and that's defending and playing as good as I possibly can. So, I just kinda stuck with that, and, as of now, it turned out well.
When asked about how he thought he played on Sunday, Toia said he was pleased with himself.
To be honest, I don't say this much, but I felt like I played pretty well defensively. So, I think, as a team, we were solid all around. I think if we can keep the ball a little bit more instead of hitting direct balls too much, but I think all around we were great.
When asked about why he thought the defense played so well, despite most everyone being pretty new, Toia said it was a matter of communication.
Everybody just communicated very well, and we just worked for each other. I think that's what it comes down to is working for each other. It's not individual effort out there. It's everybody's doing everything for one other. So, if you stick together for 90 minutes, you'll get a result.
When asked about where he feels most comfortable, Toia said it was on the left side.
I feel more comfortable on the left. Obviously, I'm a left-footed player, but, throughout the last three or four years, I've been playing right-back as well. So, pretty comfortable with both. It's just—obviously, more dominant foot is left.
When asked about his thoughts on new England, Toia acknowledged that the Revolution make a push for the playoffs each season.
Cold weather. They're a good team, obviously. They make a push for the playoffs every year, and they have great players. We just gotta stay compact and make sure that we keep the ball as much as possible and work around them. Work around their midfield and get crosses in.
When asked about the kinds of challenges the upcoming weather will present, Toia said it was mainly about keeping possession.
We just want to keep the ball and possess as much as we can. Obviously, at that point, I mean, you can't control the weather. I know it's gonna be windy, so, like I said, you just have to keep the ball on the ground and possess as much as we can that way we're not running more than we need to.
You definitely gotta make sure your body's warm before the game—especially since it's gonna be on turf as well. So that's not gonna help at all. It can be difficult at times.
When asked about his thoughts on the new back-line and the interconnected relationships, Toia said it's been good so far.
I think it's good so far. Obviously, it's only been one game, but we've had the whole preseason to work on things, changing players in and out. I think it always comes down to communication. As long as we're communicating with each other, whether there's a forward coming in or pushing and sliding over, the communication has to be there. And, so far, it's been good. If it's like that, then we'll be in good shape all season.
Kei Kamara scored seven goals in 21 starts last season for the Revolution.
Just gotta keep him in front of you and don't let a cross in because he can win headers. That's for sure.
When asked about what Barnes brings to the team, Toia regarded his physical stature.
He's a strong guy—strong, fast guy. He can hold the ball for us. He's technically there as well. So, I think we have a great midfielder in front of me, and as long as I communicate with him and direct him defensively, I think we'll be okay because he's got everything, the right direction and everything, going forward. So, I don't think he needs much help there.
When asked if he would like to go forward more, Toia said Orlando City is trying to get outside backs to go forward more.
Obviously, it just depends on the game situation and stuff like that. That's definitely one of the things we're working on is trying to get the outside backs to go forward and get crosses in and help out the attack. So, if we can go forward, we'll go forward. But I think the main priority is playing defense. So, like I said, it just depends on the game and the situation. But, yeah, I would like to go forward.