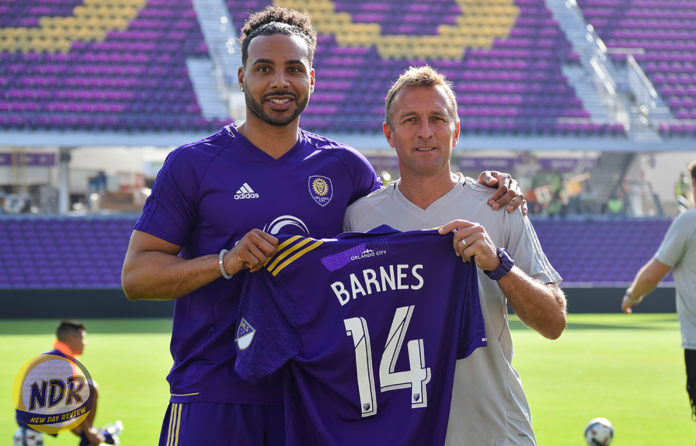 Orlando City SC officially acquired forward Giles Barnes in a trade moments after the conclusion of a friendly with Saint Louis FC on Feb. 25. So, the 28-year-old hasn't had much time to acclimate himself with his team.
Despite just moving to Orlando less than two weeks before his debut in a 1-0 win over New York City FC on Sunday, Barnes hasn't found it difficult meshing with his new team. That's specifically because of City head coach Jason Kreis' instruction.
"I thought [my first appearance] went pretty well," Barnes said after the NYCFC match. "It's easy when you've got instructions. Jason, as I said, is very meticulous, very strategic in everything that he does. He makes it very simple. So, he explained it to me during the week what my role is on the team if I was to come on in any of the front four positions. So I knew exactly what I had to do when I came into the team."
Kreis acknowledged after Sunday's win that Barnes is still learning. That is expected for a player who spent all preseason with another team.
"He did well. I think that he's still learning," Kreis said. "Obviously, he knows exactly what's expected of him when he plays in that midfield role. I think, naturally, he's a little bit more of a second striker, so to put him in a wide position, there's a real defensive role for him. And so I'll continue to work with him on that. But, obviously, coming into a game like that, the way he did, almost zero warm-up—he had to throw himself in there—was a difficult one to join."
Barnes helped the Lions record their first goal of the season when he chipped a ball from the left part of the box to the far post for third-year striker Cyle Larin to head the ball past NYCFC goalkeeper Sean Johnson.
"I saw Giles get the ball, and he looked up once, and after when he looked up, I knew he was gonna cross it back post, and he saw me, and I made sure I scored the goal," Larin said after the win over NYCFC.
Orlando City travels to face the New England Revolution on Saturday at 2 p.m.