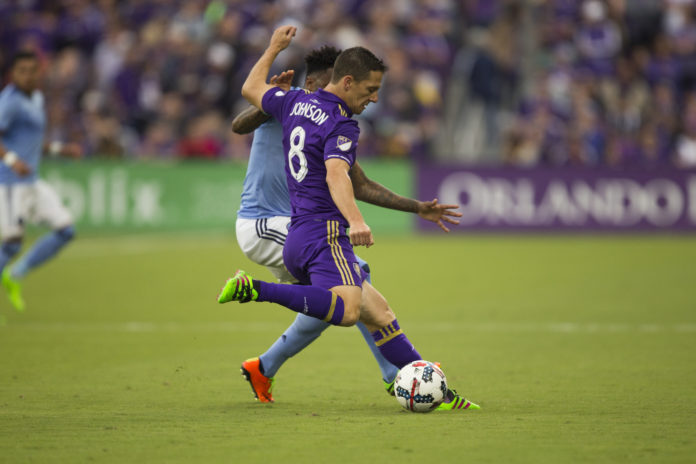 Match Recap
ORLANDO, Fla. – In Ricardo Kaká's absence, Orlando City SC has seen a new team leader emerge. First-year Lions midfielder Will Johnson has donned the captain's armband since the Brazilian sustained a hamstring injury in the season-opener. In Saturday's match against the Los Angeles Galaxy, Johnson only increased his stock with a goal and an assist in a 2-1 Orlando City (4-1-0, 12 points) win over Los Angeles (2-4-0, 6 points) at Orlando City Stadium in front of a sold-out crowd of 25,527.
"You can see how quickly he wants to close things down, how much effort he's willing to give," City head coach Jason Kreis said after the match. "The capacity for the running is top, top level. And just a real sense of urgency when we're under some stress.
"So, those are the reasons you bring a Will Johnson in. I think his attitude and his work rate are infectious."
After L.A.'s Romain Alessandrini equalized in the 83rd minute, City fired back with a match-winner in stoppage time. Johnson delivered a corner kick from the right side into a falling Cyle Larin, who fended off Galaxy defender Jermaine Jones to boot the go-ahead score past Galaxy goalkeeper Clément Diop.
"I just kept focused," Larin said after the match. "I knew I was going to get my chance. And I told [assistant coach Bobby Murphy] I was going to score. And I told him, 'Just wait.' And I scored, and it was just a happy feeling."
Said Johnson on his delivery to Larin: "We put a lot of value into our set pieces, understanding games are won and lost. I think both goals kinda come off set pieces, so that's a big focus of us. Talked about it in preseason being much better on set pieces than the team was last year, so just getting in good spots. You have to be good with the ball and make sure that you get opportunities to get set pieces, and then, when you get 'em, try to take advantage."
Johnson opened the scoring in the ninth minute with a half-volley that sped past Diop in the far-post corner. Following a cleared corner kick that Johnson delivered, right-back Scott Sutter found himself near midfield and delivered a ball back into Johnson. The Canadian then bounced the ball off his chest before striking it for the 1-0 lead.
"When you take the set piece and the ball gets knocked out, a lot of times the guy who takes the piece isn't accounted for and, so, just tried to time my run, stay onside," Johnson said. "Once it sat up for me on my first touch, I knew that I could try to get it over to back post. So, thrilled to just score my first goal for Orlando, in general."
Man of the Match: Will Johnson
Johnson scored his first Orlando City goal in the ninth minute for a 1-0 lead before finishing his day with an assist on the match-winning score in stoppage time. Additionally, the 30-year-old finished with three shots (two on goal), two tackles and completed 76.3 percent of his 38 passes.
What's next?
City will travel to face New York City FC on April 23 at 1:30 p.m.
Orlando City Is Always Aggressive Early
Orlando City generated a lot of goal-scoring opportunities early in the match. In the sixth minute, a free-kick set piece bounced off both posts and was deflected and cleared. After Johnson scored in the ninth minute, Colombian striker Carlos Rivas curled in a shot that bounced off the left post in the 18th minute.
For Kreis, being aggressive early is always a part of his squad's game plan when at home.
"Our idea is to always be aggressive at home in the opening stages of the match," Kreis said. "And we're always looking to dictate the terms in our building. This is our home. And I thought we did a nice job of it today, several goal-scoring chances. And I think it's critical to score a goal. Often times, you can have those goal-scoring chances and all that momentum.
"If you don't actually take your chance, then you put yourself in a really precarious position 'cus you've expended a lot of energy to get there. So, happy to see another early goal for us tonight."
Orlando City finished with 12 shots (eight on goal) compared to L.A.'s 18 shots (seven on goal).
Jason Kreis Sees Improvement in Possession but Is Still Not Satisfied
One of the focuses for Orlando City in the Lions' early winning stretch has been possession. That's been an area where Kreis sees his team needs to improve. Against New York City FC in the season-opening 1-0 win, Orlando City held just 31.6 percent of the possession. In the 1-0 win over the New York Red Bulls, City held 45.5 percent of possession.
In Saturday's match, Orlando City and Los Angeles were about even. City held 49.1 percent of possession.
"We did better for stretches, and, as I said, part of the game-management situations toward the end of the game where the middle portion there where it seemed like we were giving chance and chance away," Kreis said. "The opposite of that is that you have to hold onto the ball in an effort to not continue to give them the ball so they can have chances against us.
"So that's the particular moment where I would want to really delve into and see what the choices were—whether or not we could have established a better tempo at that moment to alleviate some of the pressure, to have the ball in their half of the field rather than continuing to give it to them and drop into our half."
Highlights
6′ | A free kick finds the head of Spector but the effort somehow pings off both posts… WOW. 😱

0-0 | #ORLvLA

📺 @FOXTV pic.twitter.com/7qJJI4WAZu

— Orlando City SC (@OrlandoCitySC) April 15, 2017
Gotta love this start! Goal from Johnson and the assist from Scott Sutter in his second start!

1-0 | #ORLvLA

📺 @FOXTV pic.twitter.com/ZcZRiepMTh

— Orlando City SC (@OrlandoCitySC) April 15, 2017
90'+: GOAL. @CyleLarin hits the potential game-winner in added time. City leads 2-1.#ORLvLA #OCSC

— New Day Review (@NewDayReview) April 15, 2017
NDR Notes
When the Galaxy last visited Orlando, the Lions defeated Los Angeles 4-0. That was on May 17, 2015 for Orlando City's first-ever home win in Major League Soccer.
Both of Johnson's assists so far have been off of corner kicks. Johnson delivered the corner kick into Servando Carrasco for the lone goal in the 1-0 win over the Red Bulls.
Saturday is Rivas' birthday.
Joe Bendik finished with five saves.
Scoring
| | | | |
| --- | --- | --- | --- |
| Time | Team | Goal-scorer | Assisted by |
| 9' | Orlando City SC | Will Johnson | Scott Sutter |
| 83' | Los Angeles Galaxy | Romain Alessandrini | n/a |
| 90'+ | Orlando City SC | Cyle Larin | Will Johnson |
Statistics and Starting Lineups
| | | | | | |
| --- | --- | --- | --- | --- | --- |
| | Goals | Assists | Shots | Shots on Goal | Possession % |
| Orlando City SC | 2 | 2 | 12 | 8 | 49.1% |
| Los Angeles Galaxy | 1 | 0 | 18 | 7 | 50.9% |
Orlando City SC starting XI (4-4-2): Joe Bendik (GK); Donny Toia, Jonathan Spector, Tommy Redding, Scott Sutter; Will Johnson (C), Antonion Nocerino, Giles Barnes, Cristian Higuita; Carlos Rivas, Cyle Larin
Los Angels Galaxy starting XI (4-4-2): Clément Diop (GK); Ashley Cole, Jelle Van Damme (C), Daniel Steres, Nathan Smith; Emmanuel Boateng, Jermaine Jones, Joao Pedro, Romain Alessandrini; Gyasi Zardes, Giovani dos Santos