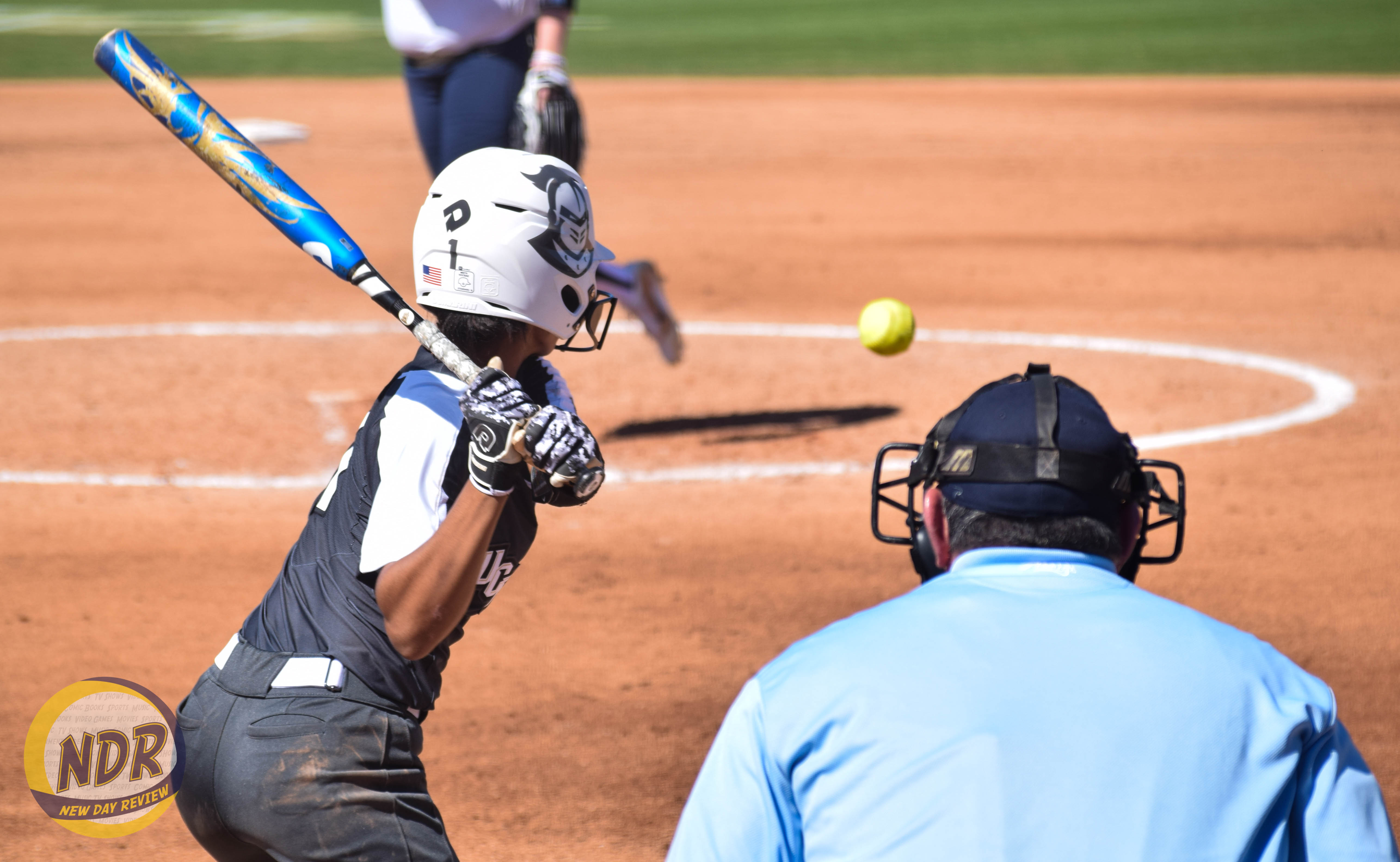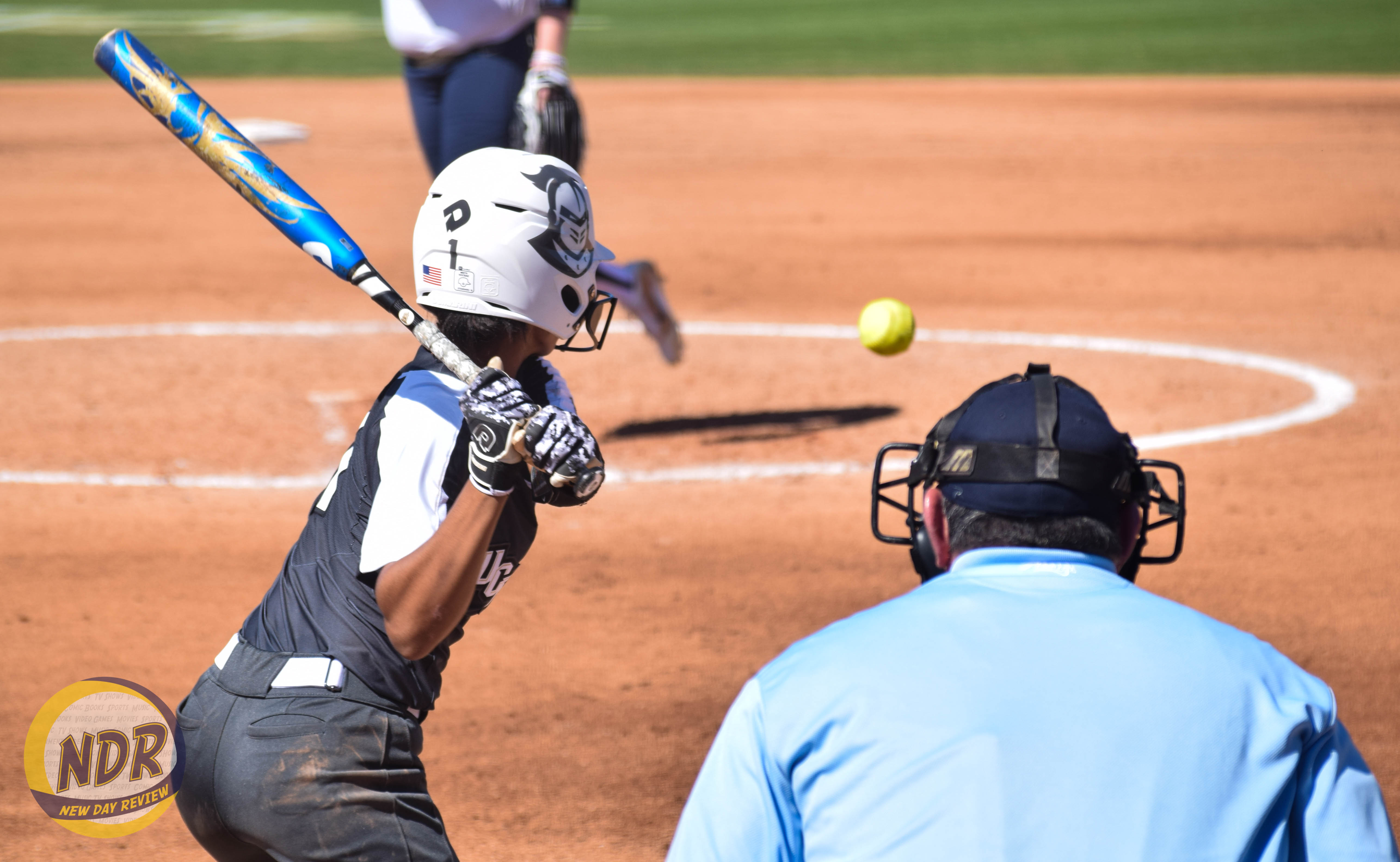 Game Recap
ORLANDO, Fla. – University of Central Florida associate head coach Corrie Hill said that this was a game her team wanted. After being shut out 6-0 on Opening Day by the University of Pittsburgh, the Knights almost avenged their loss. Ultimately, though, the Knights (2-3) lost 6-3 to the Panthers (5-0) in eight innings at the UCF Softball Complex Sunday afternoon.
Alea White (0-3) started her third game in three days, pitching her second complete game. She finished with seven strikeouts, four earned runs and five hits in 8.0 innings pitched.
"[White] did a fantastic job for us," UCF head coach Renee Luers-Gillispie said after the game. "[Catcher Autumn Gillespie] was calling the game, and I thought Autumn did a fantastic job of calling the game. She knew what Alea was working on and how we needed to be a little different today than we were the first day that we played them."
Pittsburgh's Kaitlin Manuel walked on a full count with the bases loaded to give Pittsburgh the narrow 3-2 lead in the top of the eighth inning to bring home Hannah Edwards from third. A three-RBI double to right field by Olivia Gray cleared the bases and gave the Panthers a 6-2 lead.
For Luers-Gillispie, it's important that her team moves on from moments out of their control.
"It's just unfortunate," Luers-Gillispie said. "She did a good job, threw the pitches she needed to throw. It didn't go our way. It happens. Full count, bases loaded—that's your scenario you think about every day. That shouldn't have changed the game. We still had to score in order to win the game. That one run wouldn't have made a difference… We can't use that situation to hinder us because we're focused on something else instead of the moment."
Entering the bottom of the seventh with the game tied at 2-2, the Knights had an ample chance to win the game. Left fielder Linnea Goodman hit a lead-off single to left field. Shortstop Brittany Solis then reached first on a bunt that was shallow enough to allow her to beat out the throw. Designated player Courtney Rotton then got on base courtesy of a fielder's choice to third base. A swinging strikeout by Cassady Brewer and a line-drive out to second base by Tamesha Glover eventually ended the effort.
UCF had an opportunity to take the lead in the bottom of the fourth inning, too, but nothing came of the situation. After Gillespie and Goodman both singled with two outs, Solis flew out to center field.
Down 2-0, the Knights tied the game up courtesy of a two-RBI double by Glover. Solis and Rotton both walked with one out. Brewer then grounded out at third base to advance Rotton and Solis to second and third respectively. With two outs away, Glover had a base hit into shallow left field that allowed Solis to score and gave Rotton enough time to beat out the throw home.
"She did a great job being able to come up with runners in scoring position," Luers-Gillispie said. "We talk about that all the time with leaving 10 people on base in this last game. You gotta have the clutch hits, and Tamesha definitely was the one that came up and had the one and only clutch hit that we had today."
Pittsburgh took advantage of early mistakes to open the scoring in the top of the first inning. McKayla Taylor reached third on a fielding error by UCF second baseman Aubrey Johnson. That allowed Edwards, who hit a lead-off single on the second pitch, to score the Panthers' first of two unearned runs in the first. Manuel got a base hit between first and second base to drive in Taylor.
Player of the Game: Alea White
White pitched six straight innings after giving up two unearned runs in the first. She recorded a season-high seven strikeouts and pitched her second-straight complete game.
What's next?
The Knights will travel to California to play in the Mary Nutter Classic. They will play the Cal Poly Mustangs at 6 p.m. and the UCLA Bruins at 11 p.m. on Friday, Feb. 17.
Highlights
DOUBLE! The first collegiate hit for @KKlarkowski goes for extra bases to start the B2 #ChargeOn pic.twitter.com/SKWfVekbPE

— UCF Softball (@UCF_Softball) February 12, 2017
CLUTCH! Glover connects on a two-out, two-RBI DOUBLE to tie it up, 2-2 #ChargeOn pic.twitter.com/7J7qDkEcmP

— UCF Softball (@UCF_Softball) February 12, 2017
Swing and a Miss! White notches consecutive K's to end a Panthers threat, 2-2 after T4 #ChargeOn pic.twitter.com/XJ3JiXVBRJ

— UCF Softball (@UCF_Softball) February 12, 2017
NDR Notes
White pitched her second-straight complete game, recording a season-high seven strikeouts in 8.0 innings pitched.
The Knights left 10 runners on base against Pittsburgh.
Pittsburgh defeated the Knights 6-0 in the second game of a double-header on Friday.
Scoring
| | | | |
| --- | --- | --- | --- |
| Inning | Team | Play | Score |
| T1 | University of Pittsburgh | McKayla Taylor reached on a fielding error, advanced to third base; Hannah Edwards scored, unearned | 1-0, Pitt |
| T1 | University of Pittsburgh | Kaitlin Manuel singled through right side, RBI; McKayla Taylor scored, unearned | 2-0, Pitt |
| B3 | University of Central Florida | Tamesha Glover singled through left side, advanced to second, 2 RBIs; Courtney Rotton scored; Brittany Solis scored | 2-2, T |
| T8 | University of Pittsburgh | Kaitlin Manuel walked, RBI; Taylor Myers advanced to second; McKayla Taylor advanced to third; Hannah Edwards scored | 3-2, Pitt |
| T8 | University of Pittsburgh | Olivia Gray doubled to right field, out at third, right fielder to second baseman to third baseman, 3 RBIs; Kaitlin Manuel scored; Taylor Myers scored; McKayla Taylor scored | 6-2, Pitt |
| B8 | University of Central Florida | Autumn Gillespie grounded out to first base unassisted, RBI; Aubrey Johnson advanced to second; Tamesha Glover scored, unearned | 6-3, Pitt |
Statistics and Starting Lineups
Pitching
| | | | | | | | |
| --- | --- | --- | --- | --- | --- | --- | --- |
| Player | Team | IP | R | ER | H | BB | SO |
| Alea White (0-3) | University of Central Florida | 8.0 | 6 | 4 | 5 | 3 | 7 |
| Kayla Harris (3-0) | University of Pittsburgh | 6.0 | 2 | 2 | 6 | 3 | 3 |
Hitting
| | | | | | | | | |
| --- | --- | --- | --- | --- | --- | --- | --- | --- |
| Player | Team | AB | H | R | HR | RBI | BB | SO |
| Hannah Edwards | University of Pittsburgh | 4 | 2 | 2 | 0 | 0 | 0 | 0 |
| Kaitlin Mannuel | University of Pittsburgh | 3 | 1 | 1 | 0 | 2 | 1 | 0 |
| Tamesha Glover | University of Central Florida | 4 | 1 | 1 | 0 | 2 | 0 | 0 |
| Linnea Goodman | University of Central Florida | 4 | 3 | 0 | 0 | 0 | 0 | 0 |
UCF starting lineup: 1. Linnea Goodman (7) 2. Brittany Solis (6) 3. Courtney Rotton (DP) 4. Cassady Brewer (3) 5. Tamesha Glover (5) 6. Kyra Klarkowski (9) 7. Aubrey Johnson (4) 8. Autumn Gillespie (2) 9. Willow Kalinen (8)
UCF starting pitcher: Alea White
Pittsburgh starting lineup: 1. Hannah Edwards (7) 2. Erin Hershman (8) 3. McKayla Taylor (6) 4. Giorgiana Zeremenko (DP) 5. Kaitlin Manuel (3) 6. Olivia Gray (5) 7. Connor McGaffic (9) 8. Valerie Ortega (2) 9. Marissa DeMatteo (4)
Pittsburgh starting pitcher: Kayla Harris