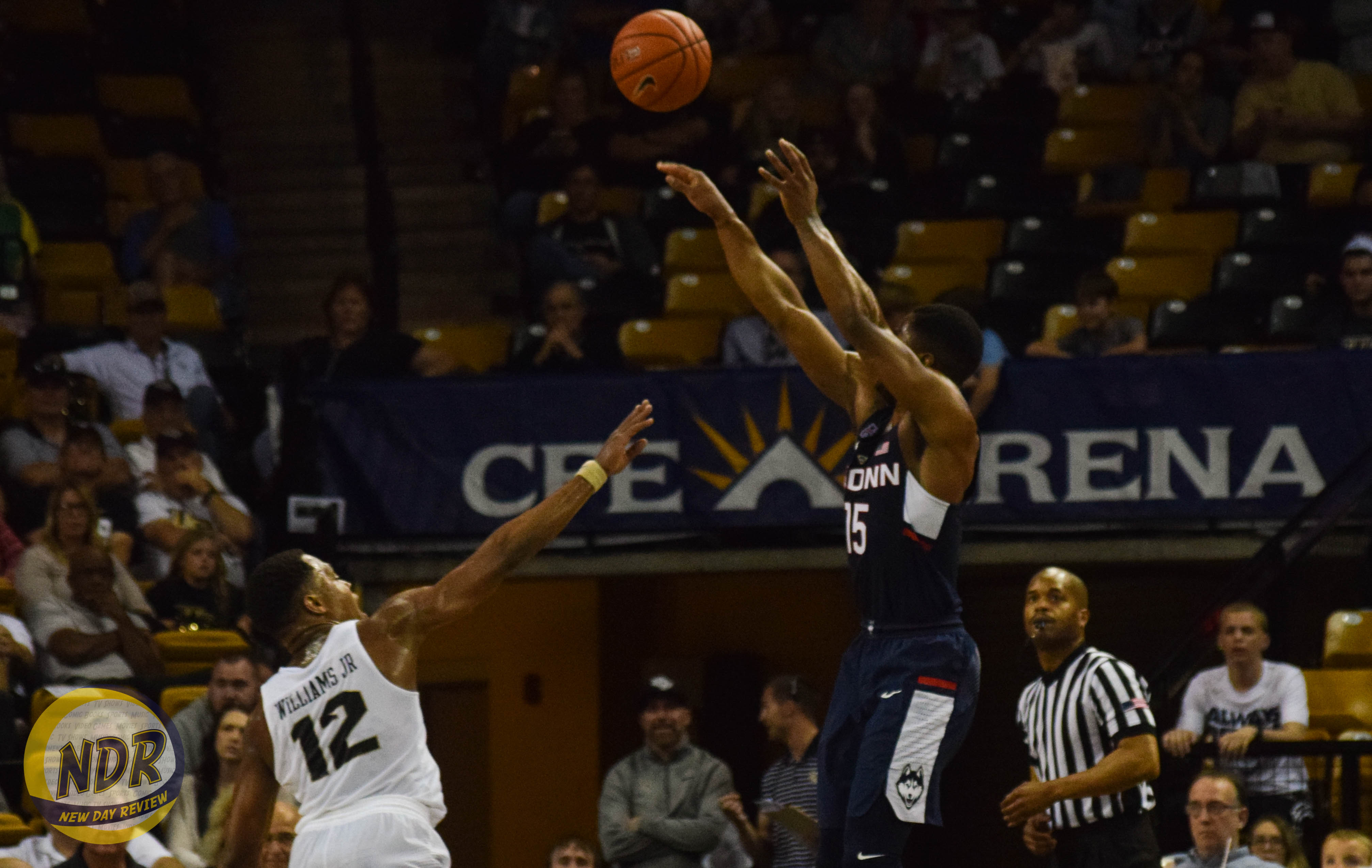 Game Recap
ORLANDO, Fla. – For first-year University of Central Florida head coach Johnny Dawkins, it's been about his team consistently competing.
"I'm proud of our guys for how we kept competing," Dawkins said after the game. "I think we got down by as many as 18, and our guys weren't deterred. They kept fighting. I could see it in their eyes in the huddle that we could try to battle back, and they gave us a chance at the end which is what you want."
The Knights (15-10, 6-7 in American Athletic Conference) lost 66-63 to the Huskies (12-12, 7-5 in AAC) at CFE Arena in front of an announced crowd of 5,215.
The Knights began their comeback effort with a little over a minute left in the second half. Down 61-52 with 1:19 to go, redshirt sophomore B.J. Taylor drove to the hoop for an and-1 layup. He would make the ensuing free throw. Redshirt senior Nick Banyard's layup at the 28-second mark made it a four-point deficit. With UConn in the double bonus, Jalen Adams drained both his free throws to make it 63-57 UConn lead. Ultimately, free throws kept the Knights at bay for the final result.
"We played more than just 10 minutes of good basketball," Dawkins said. "We just didn't play 40 minutes of it. And that was the unfortunate part."
With UConn leading 56-40 with eight minutes to go in the game, the Knights went on an 11-0 run to cut the lead to just five. Banyard, who finished the game 3-for-5 from beyond the arc, started the run with a three-pointer. Taylor and redshirt junior A.J. Davis each added four points in the run.
Both the Knights and the Huskies both couldn't find the basket early in the game. With 13:47 to play in the first half, the score was 4-3 after Tanksley Efianayi scored the Knights' first three points. It didn't help the Knights that center Tacko Fall had earned two personal fouls by the 18:36 mark.
"Tacko picks up two fouls, right away, within 90 seconds," Dawkins said. "And, right off the bat, that changes our entire game plan. I mean, of course, we are playing around Tacko. So he goes out for 18 minutes roughly in the first half. That's hard. That's hard. And both of them are picked up on offensive fouls."
Fall finished the game with six points and 11 rebounds in 18 minutes of play.
Player of the Game: Rodney Purvis
UConn guard Rodney Purvis was 5-for-6 from three, making all of his field goals from that range. He finished with a team-high 18 points in 39 minutes.
What's next?
The Knights will host the Tulsa Golden Hurricane on Tuesday at 7 p.m.
Highlights
Tank off the bench for 3! #ChargeOn pic.twitter.com/KgJ5taYVLP

— UCF Men's Basketball (@UCF_MBB) February 11, 2017
We're 6-for-12 from three-point range and it's 22-22 late in the first. #ChargeOn pic.twitter.com/135JcCcxr1

— UCF Men's Basketball (@UCF_MBB) February 11, 2017
L
I
T

COME ON @UCF_MBB! pic.twitter.com/jy6MBlEXLe

— UCF Knights (@UCFKnights) February 12, 2017
NDR Notes
UConn shot 69.2 percent from three-point range. Entering Saturday night's loss, the Knights were first in opposing field-goal percentage (0.355) and opposing three-point percentage (0.299).
Fall recorded single-digit points and double-digit rebounds for the first time since the 65-62 win over the University of Massachusetts. That game, he tallied nine points and 16 rebounds.
Scoring
| | | | |
| --- | --- | --- | --- |
| | 1st Half | 2nd Half | Final |
| University of Central Florida | 23 | 40 | 63 |
| University of Connecticut | 35 | 31 | 66 |
Statistics and Starting Lineups
Team Leaders
| | | |
| --- | --- | --- |
| | University of Central Florida | University of Connecticut |
| Points | B.J. Taylor (20) | Rodney Purvis (18) |
| Rebounds | Tacko Fall (11) | Amida Brimah (12) |
| Assists | B.J. Taylor (3) | Jalen Adams (7) |
| Blocks | A.J. Davis, Chad Brown, Nick Banyard (2) | Jalen Adams (2) |
| Steals | A.J. Davis, Tacko Fall, Matt Williams, Tanksley Efianayi, Nick Banyard (1) | Vance Jackson, Rodney Purvis (1) |
| Turnovers | Tacko Fall, B.J. Taylor (3) | Jalen Adams (3) |
| Minutes | B.J. Taylor (39) | Jalen Adams, Rodney Purvis (39) |
Team Statistics
| | | | | | |
| --- | --- | --- | --- | --- | --- |
| | Rebounds | Assists | Blocks | Steals | Turnovers |
| University of Central Florida | 39 | 8 | 7 | 5 | 11 |
| University of Connecticut | 37 | 14 | 4 | 2 | 14 |
Shooting Percentages
| | | |
| --- | --- | --- |
| | University of Central Florida | University of Connecticut |
| FG% | 34.9% | 44.2% |
| 3FG% | 26.9% | 69.2% |
| FT% | 66.7% | 64.7% |
UCF starting lineup: B.J. Taylor (G), Matt Williams (G), A.J. Davis (F), Chad Brown (F), Tacko Fall (C)
UConn starting lineup: Jalen Adams (G), Rodney Purvis (G), Vance Jackson (F), Kentan Facey (F), Amida Brimah (C)