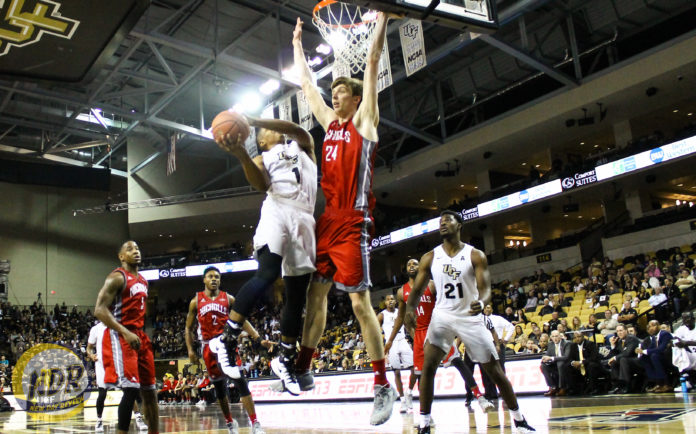 Notes & Quotes: UCF Men's Basketball (1/16)
ORLANDO, Fla. – Throw the records out the window.
That's how University of Central Florida head coach Johnny Dawkins and redshirt sophomore point guard B.J. Taylor are approaching Tuesday's bout against the University of South Florida Bulls. It'll be the first time the in-state rivals will meet under the official "War on I-4" banner.
"Well it's like every rivalry. It's a big deal," Dawkins said before practice Monday morning. "It's our area, and you wanna compete. You wanna be a part of something like that. And I'm glad we have an opportunity to compete against a rival… You throw the records out the window whenever you're playing your rival. It doesn't matter."
Tuesday's matchup will give UCF (13-4, 4-1 in American Athletic Conference) an opportunity to close the margin in the two schools' overall records. The Bulls (6-10, 0-5 in AAC) currently have the advantage at 22-11.
But as the Knights' head coach and leading scorer both said, records—longstanding and contemporary—are out the window.
The Knights are in a good place, though, as they sit at the No. 3 spot in the American Athletic Conference after a 77-70 win over the University of Houston Saturday. Despite the wire-to-wire win, Taylor said his team needs to put together complete 40-minute games.
"I think we're still trying to put together a full 40-minute game," Taylor said before practice Monday morning. "I mean, we've had lapses in every single game we've played this year. We haven't been as focused at certain points in the game, so I think just going out there putting together a full 40 is what we're focused on."
Despite the Knights being No. 1 in opponent field-goal percentage (0.337), Taylor primarily sees inconsistencies coming on the defensive side.
"I think we gotta cut down on some of the lapses we have in the game, especially on defense," he said. "We have a chance to be one of the best defensive teams in the country, so we just gotta stay focused for a full 40-minute game. We can't let adversity in the game knock us off. We have to keep staying focused and push through those times.
"Once we get to that point and move it towards March, and we've put together full 40-minute games, we'll be a good team."
Dawkins, on the other hand, is concerned about both turnovers and defense. In Saturday's win, the Knights committed 20 turnovers compared to Houston's 11.
"One of the biggest things we need to improve on is valuing the basketball," Dawkins said. "And that's limiting our turnovers. That's an area that we're focusing on, and we have to keep shoring up our defense. We've had some really good defensive performances, but we still haven't had a defensive performance where I think we've put it together for 40 minutes."
The Knights host the Bulls at CFE Arena at 7 p.m. The game will be broadcast on ESPNews.
Correction: B.J. Taylor is a redshirt sophomore. (1/17/2017)