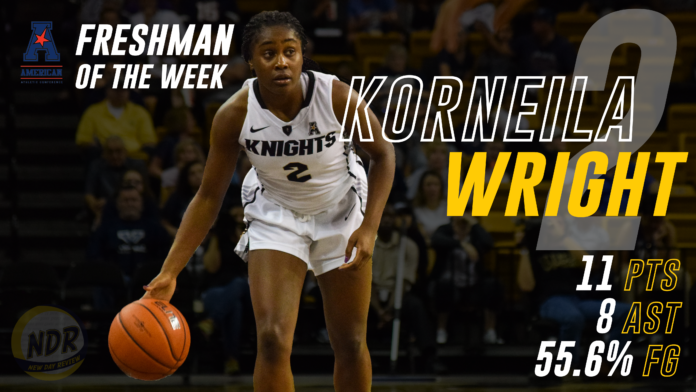 She's only a freshman, but the Orlando, Fla., native is already starting to make a name for herself.
On Monday, the American Athletic Conference announced that true freshman point guard Korneila Wright earned AAC Freshman of the Week honors for her performance in the Knights' 62-48 win over the Houston Cougars on Jan. 11.
"I am really blessed and honored to receive this award as a freshman," Wright said. "I have to give thanks to my teammates and coaches for pushing me every day and for giving me confidence to play in the American Athletic Conference."
The Jones High School product recorded 11 points and eight assists, surrendering just one turnover in 38 minutes of play in the Knights' first conference win of the season.
Wright has started 15 of UCF's 17 games so far. She is also ranked in the top five in assists in the AAC.
So far this season, Wright is averaging 5.0 points, 4.1 assists and 1.9 steals per game in 31.4 minutes per game.
On Wednesday, the Knights will travel to face the East Carolina Pirates at 7 p.m. They will return to CFE Arena for a 1 p.m. game against the Tulsa Golden Hurricane on Jan. 21.