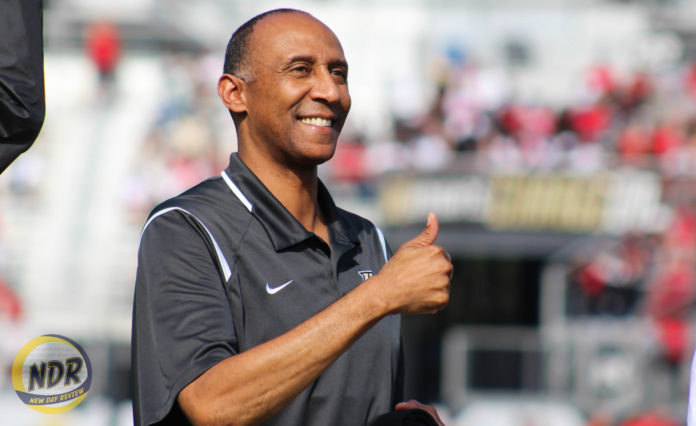 Jan. 1, 2017 at CFE Arena
Availability: HC Johnny Dawkins, PG B.J. Taylor
HC Johnny Dawkins
The University of South Florida holds the overall record over the UCF Knights at 22-11.
One, I think they're really competitive. I think they do a great job of mixing their defense. They play multiple defenses. And they have some good players—guys that can make plays, guys that can make shots.

Well it's like every rivalry. It's a big deal. It's our area, and you wanna compete. You wanna be a part of something like that. And I'm glad we have an opportunity to compete against a rival. And so, you know, we're excited. I'm sure our players are—just like I'm sure their staff and players are as well. That's what a rivalry game is about. We told our guys. I'm sure they told their guys the same thing. You throw the records out the window whenever you're playing your rival. It doesn't matter. The main thing is that you guys are competing against two teams that are in the area, and you want to put your best foot forward.
UCF has won 13 games so far this season. Last season, the Knights only won 12 total.
Well I think a lot of times, for young people, you need to constantly give reminders. For us, the reminder is that we go to the next play. What's happened in the past is behind us. We have to keep looking forward. And we have an opportunity to compete against another team in our conference this week, and we have to prepare for them and forget about what you've done in the past.
The Knights currently have four players on their roster who are ineligible to play because of NCAA transfer rules. They will be available next season.
I think the guys that are sitting out have been really helpful for our group because it's provided really good practices, very competitive practices for our guys. So we may be limited with what we have as a team this year with regards to depth, but that depth is made up for in practices because we do add four or five players that can compete and push these guys every practice. We give our grey team a lot of respect, and we compliment them quite a bit because every day they come into practice to compete, which we really have to push our team that goes out and play every night.
Despite being the No. 1 team in the nation in opponent field-goal percentage, Dawkins and his team aren't satisfied with their defensive performances yet.
One of the biggest things we need to improve on is valuing the basketball. And that's limiting our turnovers. That's an area that we're working on, and we have to keep shoring up our defense. We've had some really good defensive performances, but we still haven't had a defensive performance where I think we've put it together for 40 minutes.
USF is 0-5 in American Athletic Conference play so far. They are the only team without a conference win in the AAC.
You throw the records out the window. It's a rival game. They're gonna throw the records out the window—so are we. And they're a good basketball team. I've watched enough tape on them. They're very competitive. They're gonna have their opportunity to win games, and they're gonna win some games. That's for sure. What we have to do is make sure we come in and stay focused and concentrated on things we've done well so far.
When asked about how and when his staff reviews game film, Dawkins said preparation begins right after the final buzzer of the previous game sounds.
We're watching [film] that night. Our guys aren't going home. We believe in going right to the next game and also getting ready for our feedback segment with our players. So, you know, we stay here no matter what time the game is. We're going to continue to watch the game we just played as well as the opponent we're about to face. We start our process right away.

Well, we're establishing that culture with not just our players but with our staff. There's a certain way we want to operate, and I think that filters down to everyone. So it starts with our staff and how we approach every game and how we approach these situations. And then we want to pass those same standards down to our players. I tell our guys all the time, "It's a lifestyle. You have to live what we do." In doing that, we're showing them. The few times where guys have come back to shoot late at night, and they seen us still in the office, and they're going, "I didn't realize you guys were still here." I'm like, "No, absolutely, this is how we approach it, too." But we want that to become our habit. And that's what we're working toward.
The Knights won 77-70 over the Houston Cougars to capture their fourth conference win of the season. Last season, they only won six conference games.
I thought one of the things that was really big for us was I thought A.J.'s contributions in comfortable in this role. I think, both offensive and defensively, he was probably as active as he has been. He was probably as assertive as he has been as well. He really stood out for us on both sides of the ball. I thought, defensively, his energy—if you saw him, he was…making a lot of plays for us. And then, offensively, I thought he was really in attack mode, which really helped our offense as well.

Still working on us valuing the basketball, taking care of the basketball. We're working on that. And we're still trying to shore up some things defensively for our team. Understanding how we have to play when Tacko's [Fall] in the game, when Tacko's out of the game—just making sure we keep a certain level of intensity, a certain level of focus.
UCF is one of eight four-loss teams that have played 17 games so far.
We're focused on the process. It's a long season. We still have around 13 league games to play, so we're not even halfway through our league. So, all we're doing is concentrating on our opponents. And those things will take care of themselves. And people are gonna talk about, you know, where you are with regards to the season. We're never gonna concern ourselves with that. We're gonna concern ourselves with our next opponent and try to get them all the attention that's required.
The UCF-USF rivalry intensified this season when the War on I-4 was announced as an official rivalry between the two institutions.
Well, it's definitely a great opportunity for us to represent UCF. Coach always tells us we play for something more than ourselves, and I know these schools have had a good history. I think they came up around the same time. It's just another opportunity for us to get out there and compete against another good team in conference.
UCF has won seven of the last 11 meetings against the Bulls. Last season, the Knights won 64-54 at USF.
In conference, I think you have to throw the records out the window. You can look around college basketball and see top teams losing to teams whose records aren't so good in conference every day. So, every conference game is going to be a battle. You gotta go out there with the right mindset and treat it like it's another game and treat it like you're playing the best team in the conference because, if you don't, that's when you get popped.
When asked about what the focus was for the team, Taylor said it's still about putting together complete games.
I think we're still trying to put together a full 40-minute game. I mean, we've had lapses in every single game we've played this year. We haven't been as focused at certain points in the game, so I think just going out there putting together a full 40 is what we're focused on.

I think we gotta cut down on some of the lapses we have in the game especially on defense. We have a chance to be one of the best defensive teams in the country, so we just gotta stay focused for a full 40-minute game. We can't let adversity in the game knock us off. We have to keep staying focused and push through those times. Once we get to that point and move it towards March, and we've put together full 40-minute games, we'll be a good team.
Since joining the AAC, the Knights haven't posted better than a 13-win season. They've won 13 of their first 17 games so far.
I mean, we put in a lot of offseason work. Coach came in, and we went straight to work from day one. So, I mean, everything we've gotten this year, we've earned it. And we're just looking to keep growing… Coach always tells us to stay in the heat of the moment. "Don't get caught up in what you've done so far." So that's what we're doing. We just want to have more success than we're having right now.
UCF's 10-0 run to start the game against the Cougars helped the Knights get their fourth conference win of the season.
I think it's important for us to come out and play strong defense. More than our scoring to start off last game, it was our defense, which was huge for us. So it's definitely important for us to come out there and set a tone defensively for the type of game we want to play, and I think if we can come out and do that, then most of the games the rest of the season, we can be a good team.
USF has lost its last five games, all against conference opponents. Former Bulls head coach Orlando Antigua was also fired on Jan. 3, according to a report by WUSF News' Mark Schreiner.
Our situation's different in the fact that, I mean, our situation [happened] at the end of the season. So I can't even imagine what those guys are going through, but I'm sure they're going to come out and play extremely hard. I know they got a lot of pride being at USF. I know some of those guys. They got some good players, so I'm sure they'll come out and play with a lot of pride. This is a rivalry game, so I'm sure they'll be just as excited to play as we are, so, I mean, we have to come out and treat it like it's another game. We can't try to focus on that because that's when it gets in your head and stuff. We just gotta come out and stay focused.
To start the season, A.J. Davis was hurt. Then Taylor suffered a hand injury.
We've had some adversity to start the season with A.J. being out, and then I went out and had guys banged up. So, I think, now that we got everybody back healthy, it's good for us to start to grow together and get chemistry together, stuff to keep that going. And we have a lot of older guys on this team. We got a lot of mature players. We got fifth-year seniors, fourth-year juniors, so we're a mature team. We got some older guys, so I think that helps a lot on the floor.
When asked about specific challenges that the Bulls will present, Taylor said the game's all about the rivalry aspect.
It's a good game for UCF. This is our rival school, so it's another opportunity for us to go out there and play our game and improve our record in the conference.

The fact that it's a rivalry game is always special. Like I said, you can look at the rivalries across the country, you gotta throw records out the window in a game like this. There's a lot of good teams in this conference, so I'm sure they're gonna come out and play hard and be excited to play us. So we gotta match their energy level.