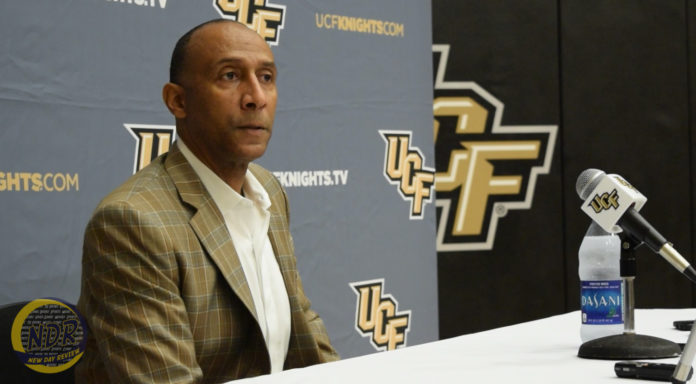 It started in November 2015 when the University of Central Florida hired Danny White as its new athletic director. Then, Scott Frost, the highly coveted offensive coordinator and quarterback coach from the University of Oregon, was hired in December. In March and April, UCF hired Johnny Dawkins and Katie Abrahamson-Henderson to head the men's and women's basketball programs, respectively. The hiring of Greg Lovelady to lead the baseball team capped off the Knights' slew of new hirings.
Undoubtedly, UCF had entered into a new era of athletics.
For Dawkins, he and Abrahamson-Henderson are on the same page when it comes to the school's new culture. The relationship between the two coaches has been important to Dawkins.
"I think we work well together. I think we have a really good relationship," Dawkins said during the Knights' media day. "I think we're both trying to accomplish the same things. We wanna set a new standard for our programs. We want to take our programs to new heights… I think we both realize that it's not gonna happen because we just want it to happen. Speaking with her and us having some great discussions, we realize that we all need each other, and we need the community to rally around what we're trying to accomplish, as well."
When it comes to the school's new culture, Abrahamson-Henderson literally sees eye to eye with Dawkins. For both coaches, it's about building something new, but it's not in spite of the previous establishment.
"When I see [Dawkins], I look in his eyes, and he's like, 'Yep. I'm going through the same things.' And that is building a new culture," Abrahamson-Henderson said during the Knights' media day. "And not that the last culture was wrong, it's just that the team's gotta buy into what we're about.
"Danny White did a great job of hiring people because we all have the same agendas; we all have the same philosophies as to empower young people."
And despite both coaches being in their first years at UCF, their relationship welcomes a two-way, open discussion. Both coaches regularly visit each others' practices while they also bounce ideas off each other.
"There's days where I go over and talk to [Dawkins] and say, 'Is this happening with you? Because this is happening with me. Give me some advice on this.' He asks me some questions. He's been at some of our practices. I've been to his practices.
"Him and I are going through the same agendas, and so is Scott Frost. So it's been really neat—the transparency with the coaches. Everybody's really awesome."
Dawkins began to instill his own philosophy of "earning everything" in offseason practices. For a time, the players weren't allowed to wear their jerseys until they had earned it. Redshirt sophomore point guard B.J. Taylor saw that as motivation.
"It goes back to…earning everything that you get," Taylor said at the Knights' media day. "Just because you go here doesn't mean you should feel entitled to anything. You have to earn what you want 'cus that's how it is in the game. Other teams aren't going to give us anything that we want.
"It brought a different vibe, a different culture around here that this is a new year, a new team, and this is how we're going to do things now."
On the women's side, Abrahamson-Henderson has emphasized the importance of buying in to the new philosophy. Team captain and sophomore guard Aliyah Gregory has impressed Abrahamson-Henderson with her intangibles.
"The culture that Coach Abe is establishing for our program is something that everybody's really excited about," Gregory said. "Everybody's bought in to what she's telling us to do. Now it's just the process of playing out in the games once the season starts next week."
With both teams' season-openers just around the corner, both teams are ready for new starts.
"It's almost here. The new era," Abrahamson-Henderson said. "They're really excited to start playing games instead of playing against each other every single day."
Said Dawkins on the start of the season: "Looking forward to the start of the season. I know our players are, as well," Dawkins said. "We all view it as a new beginning."
The women's team opens its season with a game at Florida International University on Nov. 11 at 5 p.m. The men's team will play their season-opener against Nicholls State in CFE Arena on Nov. 14 at 7 p.m.