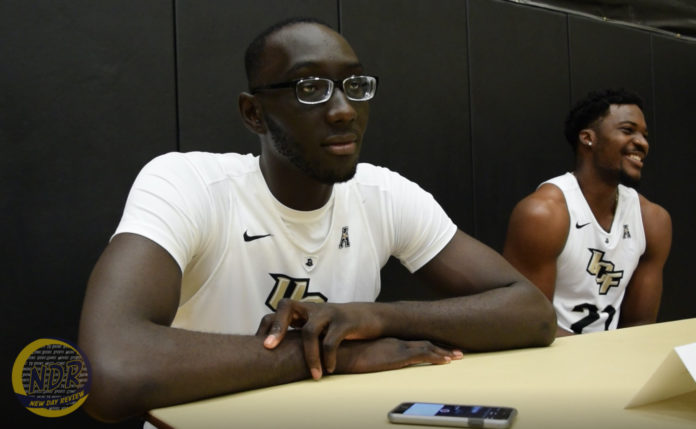 At 7-foot-6, 300 pounds, sophomore center Tacko Fall is usually the biggest player on the court. As he enters his second season of college basketball, Fall has recognized the figurative and literal big shoes he needs to fill.
"Last year I was comfortable [in the post], but this year is really going to show I learned a few moves," Fall said during the team's media day. "I'm definitely more confident. I'm in a lot better shape."
For the 19-year-old who said he usually has a "laid-back" personality, it's been about flipping a switch on the court.
"I just learned to become more vocal," Fall said. "My personality is just very laid back, so on the court, I just have to become a different person. Be demanding, be more vocal, and I've learned how to do that throughout the offseason."
In addition to Fall's improved physical stature, Knights head coach Johnny Dawkins sees the same heightened level of aggression from the UCF center.
"He's become more assertive. He's demanding the ball more in the low post, which are things that most big guys have to develop into," Dawkins said during the team's media day. "He's using his voice more now, and that's a really good sign that he's gaining confidence."
That work in the offseason could turn into more minutes on the court. Last season, Fall was limited to around 18 minutes per game. Dawkins said he wants to see Fall somewhere in the 20s.
"We'd like to see Tacko's minutes increase from the 18 minutes he was looking at last year," Dawkins said. "I think if he wants to be the type of player that I believe he wants to be beyond college, then he's going to have to be able to be out there for extended minutes."
Fall's offseason change hasn't gone unnoticed by his teammates either. Fellow big man Chad Brown recognizes the change he sees in his teammate.
"I feel like now he knows what he's capable of doing, like on the court," Brown said. "And I feel like he's kinda impressed me the most. He knows he can be dominant, and he's really been playing a lot better."
Fall's relationship with his new head coach serves as an extra push.
"He knows where I can get as a player," Fall said. "And then he would push me to get there. That wouldn't be easy, but he would do the best he can… That's what he has done for me since he got here."
The Knights open their season with a home game against Nicholls State on Nov. 14 at 7 p.m.