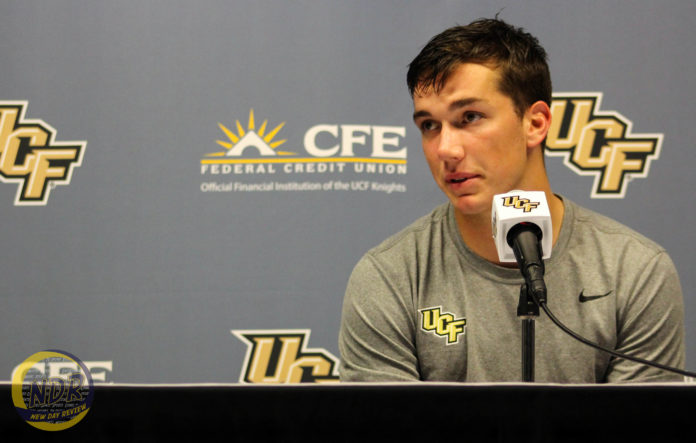 1. Feeling Homesick
Before arriving as the signal caller for the University of Central Florida, true freshman quarterback McKenzie Milton grew into a sensation at Millani High School in Hawaii. Amassing 7,303 passing yards, 81 passing touchdowns and a 65.5 completion percentage in 34 games, Milton made a verbal commitment to sign with the University of Hawaii before he decommited to join UCF.
The Hawaiian native has never been away from his hometown of Kapolei for such an extended period of time, and that has made the former Hawaii Offensive Player of the Year feel homesick. With a new scenery, comes an aching for old customs—some that even manifest as cravings.
"I definitely miss the food [in Hawaii]," Milton said. "[There's] so much good food back home. The food here isn't as great."
Milton said he misses spam, kalua pig, chicken long rice and Portuguese sausage the most. The 19-year-old has made Kyoto Sushi & Grill and Burger U his new stops to satiate his hunger.
2. Competitive Household
In Hawaii, Milton's three older brothers Matthew (24), Mark (22) and Michael (20) got him involved with sports at a very young age, taking up baseball, basketball, golf and football.
Milton said the competition between his brothers was vital to becoming the football player he is today. His brother Matthew was a starting quarterback for Millani High in 2008 before he was passed the torch.
"I grew up in a competitive household," Milton said. "You always wanted to be the best. You always wanted to be better than your brother. I think that's what's probably helped me the most growing up."
Milton said his second-best sport besides football is either baseball or golf. Though, he hasn't had the leisure time to participate in them lately.
"Football demands a lot on your body, and mentally, too," Milton said.
One of Milton's best rounds was at the 2011 Pearl President's Cup at Oahu, Hawaii, in which he placed second after a sudden-death tiebreaker in his flight. Mark finished tied for third, and Michael finished tied for 14th in their flight.
3. Living on the Water
Living in Hawaii, Milton grew up with a fondness for the ocean. With his brothers, he learned how to fish, body board and spear dive in Hawaiian waters. However, Milton said he'd love to travel to New Zealand in the near future just to escape for a vacation and try new sports.
"I've been told you can surf and ski all in one day," Milton said. "That sounds like fun."
4. Fan of the Game
While a lot of his teammates like to compare his dual-threat ability to former Cleveland Browns quarterback Johnny Manziel; however Milton's all-time favorite player has always been former Atlanta Falcons quarterback Michael Vick.
"He was incredible when he was in Atlanta," Milton said. "I was his biggest fan back then."
However, Milton's favorite team has been the Tampa Bay Buccaneers despite the long-distance separation from Hawaii. Though, he said that was never a factor for why he decided to move to Central Florida.
"I was just drawn into them when Brian Griese, Mike Alstott—all those guys—were there," Milton said. "I just always liked them as a kid."
His fondest memory was watching the Buccaneers win Super Bowl XXXVII in 2003 when he was 4 years old.
"I watched the Bucs beat the crap out of the Raiders [48-21]," Milton said laughing. "I remember that."
5. Coach Milton
As a sports and exercise science major, Milton would preferably like to stay involved with football in some capacity. He once tinkered with the idea of becoming a sportscaster and majoring in business with a minor in communications before switching his mind into becoming a coach, if making it in the National Football League doesn't pan out.
"I would definitely consider coaching," Milton said. "It's something that I thought about, but I'm not too sure where my life is going to take me. You travel a lot. So if you're really gonna be in the line of coaching, you've got to be dedicated to it."