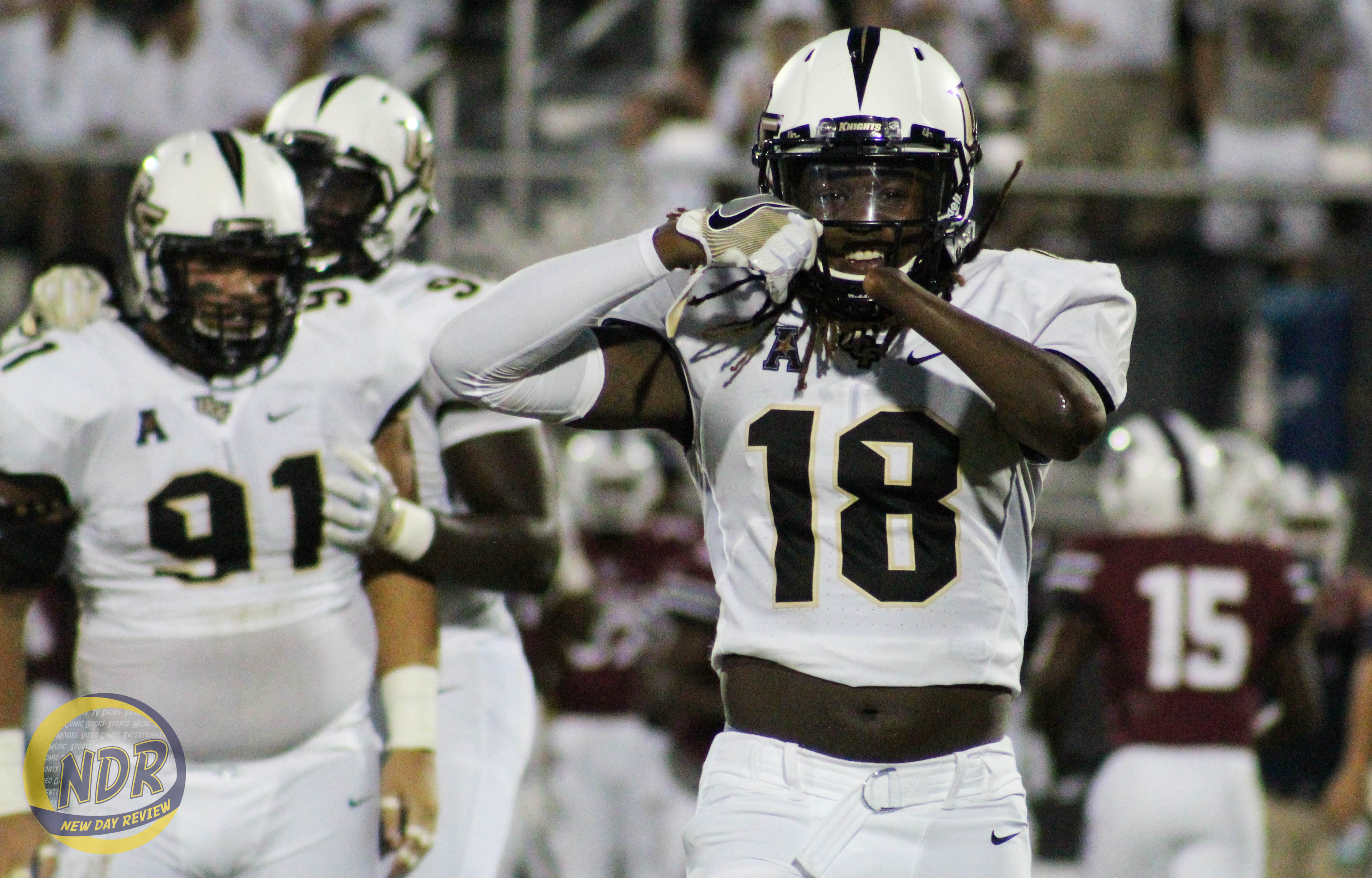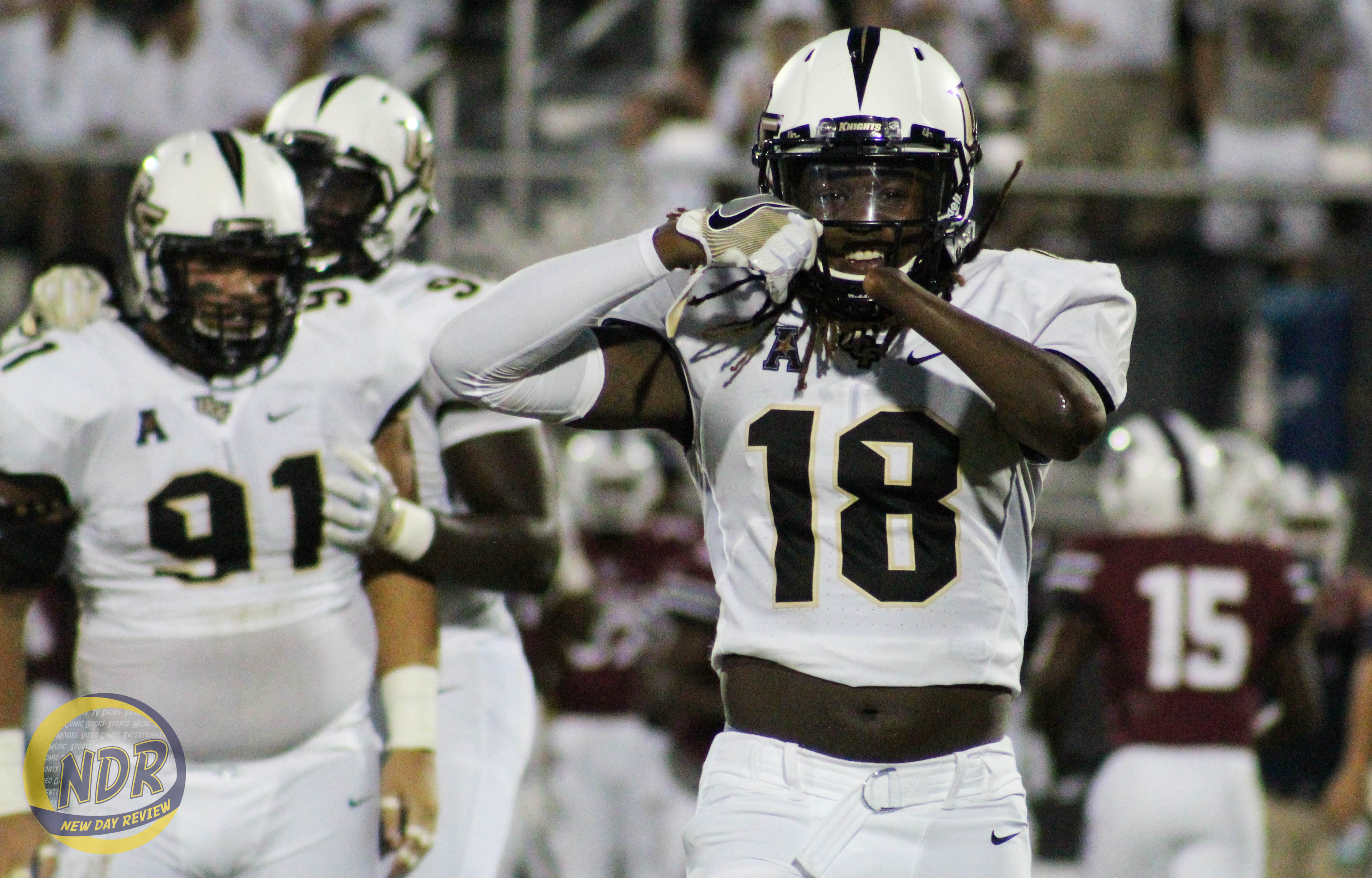 Notes & Quotes: UCF Football (Week 3)
After starting off their season playing polar opposite games, the University of Central Florida returns to the safety of Bright House Networks Stadium to face the University of Maryland Terrapins on Saturday, Sept. 17 for their second and final Big Ten clash of the season.
Following a 38-0 victory over South Carolina State University in the season-opener, the Knights were routed by the No. 5 Michigan Wolverines on the road in Week 2 by a score of 51-14. However, UCF head coach Scott Frost considered the blowout loss a moral victory.
"We're getting better all the time. I was thrilled with our energy, our passion and our effort on Saturday, [Sept. 10]," Frost said. "If we can keep that kind of energy, enthusiasm and effort—and keep adding execution to that—then I know this team will be happy at the end of the year."
Last season, UCF lost three games by a margin of more than 40 points, with their worst performance coming in a 49-point blowout to the Houston Cougars in Week 8. Former Knights head coach George O'Leary resigned soon afterward.
"That's a big test for our team is, 'What now?' I think we need to be able to handle success, and we need to be able to handle challenges," Frost added. "My impression of last year with some of these guys is when something went wrong, the team fractured… I expect this team to pull closer together through a loss or challenge like last Saturday."
The Terrapins come into Orlando for the two teams' first-ever matchup. Maryland will have a chance to match their 2015 win total (three) in only three weeks under new head coach D.J. Durkin after they rolled to a 41-14 victory over Florida International University on Friday, Sept. 9.
Durkin, who once served as the University of Florida's defensive coordinator from 2013 to 2014, helped land four straight top-11 recruiting classes for the Gators and was named Rivals.com's 2012 Recruiter of the Year.
"Anytime you got a Big Ten team coming in here, we got to prepare well. I know our kids will be ready for that challenge," Frost said.
Maryland enters this weekend as the 14th-best rushing team in the country, boasting 277 yards on the ground per game, led by a running back tandem of true freshman Lorenzo Harrison and senior Trey Edmunds.
The Knights will look to take away easy yardage with the nation's 37th-best rushing defense, which is holding opponents to 2.8 yards per rushing attempt and 103 rushing yards per game. But they might not be as successful forcing turnovers, as Maryland is one of seven teams in the nation that has yet to commit a turnover through two weeks of play.
Terrapins senior quarterback Perry Hills is converting on 73 percent of his passes (27-for-37), good enough for ninth-highest in the nation. His main target is sophomore wide receiver D.J. Moore, who is breaking out early with 10 receptions for 147 yards and three touchdowns.
"They got a couple [good players]. I watched the FIU game. But you know what, they tie shoes just like us; they put on their jerseys just like us. We're going to go out there and play great football," senior linebacker Mark Rucker said.
For the Knights, regaining health is their biggest priority after senior quarterback Justin Holman (hamstring), senior cornerback D.J. Killings (back) and junior tight end Jordan Franks (leg) all left the game early in Ann Arbor. All three players missed time last season.
Frost refused to provide any updates on his team's injuries, however, Holman did practice Thursday morning, according to Shannon Green of the Orlando Sentinel.
"Justin is working to get better as fast as he can… We'll evaluate Justin as the week goes on, and we'll evaluate the rest of the guys that could be available to play on Saturday," Frost said in his game-week press conference on Monday.
If Holman is available to play Saturday, expect UCF to get their passing game more involved after struggling to get anything going against Michigan's defense. Between Holman and redshirt senior quarterback Nick Patti, they combined to finish 6-for-22 with 56 yards passing against the Wolverines.
"We need to throw the ball better to win at the clip that we want to win at… I don't think it'll be as hard every week in and week out as it was against Michigan. They got some special players," Frost said. "It will get a little bit easier, but if we can learn to execute in a way that we can beat Michigan, then we'll be able to complete balls on everybody else."
Frost also expects his special-teams unit to reverse their blunders in Ann Arbor that allowed Michigan to block two punts, two field goals and recover a fumbled kickoff.
"Our defense played a whale of a game, but we kept giving them the ball on the 40, 30 and 20 on our side of the field. And you can't do that with a good team. If we make people march the length of the field with our defense, then I like our chances," Frost said.
The Knights are currently 2-10 all-time against Big Ten opponents. In their last four games against Big Ten teams, they've recorded a 2-2 record with wins over Pennsylvania State University and Rutgers University in 2013. Saturday will be the second time that UCF has hosted a Big Ten school since 1999 when they lost to Purdue University 47-13 (Rutgers was in the American Athletic Conference in 2013).
"We want to prove to the world that [the South Carolina State] game there was just getting our feet wet. We're just a work in progress," Rucker said. "[Maryland is] coming to our house. I hope the fans are there; a packed stadium. It's the perfect opportunity for us to show that UCF is back."
Kickoff between the Knights and Terrapins is slated for 7 p.m. at Bright House Networks Stadium.