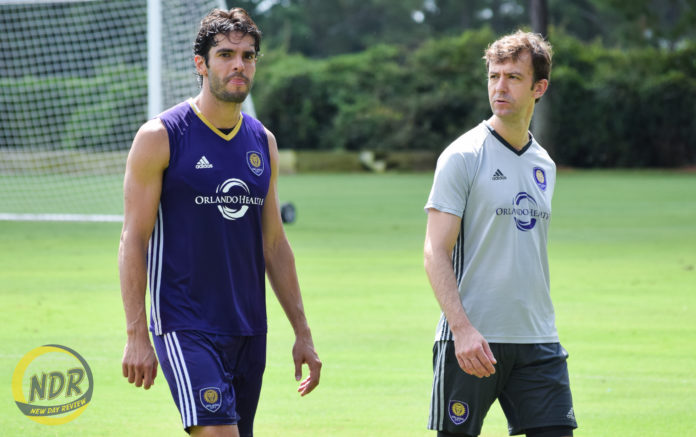 Losses like the one Orlando City SC suffered on Sunday, Sept. 11 to the Los Angeles Galaxy are anomalies that just about any team would like to avoid. But for the Lions and their captain, Ricardo Kaká, the 4-2 loss is already behind them. Though making the playoffs is still an uncertainty for the second-year Major League Soccer club, it's not something Kaká or his team focus on when it comes to in-game pressure.
"We think about the playoffs, but we don't go on the field thinking about that," Kaká said after training Thursday. "We go on the field thinking about to win, win three points, and, after that, we'll see what is our position on the table. Of course, now, not playing when you see the table, and you see you are in, it's very good, [and] it's our motivation."
It certainly has seemed like a motivation for the 2007 FIFA World Player of the Year. Following the team's loss to Toronto FC on Aug. 24, Kaká has scored four goals in the past three games, scoring his team's only two goals against New York City FC and recording another two-goal game in a 4-1 thumping of the Montreal Impact. To put that in perspective, in 43 previous appearances for Orlando before the win over NYCFC, the 34-year-old has never recorded a multi-goal game in his MLS career.
"It's [a] very good moment for me, personally," Kaká said. "After a few injuries this season, now, I have a consistency, and I played most of the last games, participate[d] in the most important moments during the game, so for me, it's important. As I said, it's a very important moment for us."
But Kaká humbly credits some of his success to mid-season addition Matías Pérez García. The 31-year-old Argentinian was acquired from the San Jose Earthquakes through a trade that sent former City midfielder Darwin Cerén to the West Coast.
"For me, it's very good because I have someone to change this position so I can be forward most of the time," Kaká said. "After that, he arrived, I scored more goals, so it's good for me and good for the team."
Kaká isn't the only Lion finding a second life in the tail end of the season. Defender Brek Shea has also had solid performances in the team's past few games as both a substitute and starter.
Shea has scored three goals this season after not having scored any in the team's inaugural campaign. Two of those three goals have come in the past two games against Montreal and Los Angeles. Shea started and played 61 minutes against Montreal and recorded three shots (two on goal) in only 17 minutes of substitution play against Los Angeles.
"We're hoping that we see continued good performances," City head coach Jason Kreis said after training Wednesday. "I think that's what we need to just focus on is continue Brek feeling positive about his performances, feeling confidence because he should. He's worked very hard to get himself to where he is right now, and he's feeling a good moment."
And though the team has its veterans rolling with momentum as they prepare to face the bottom-dwelling Columbus Crew SC, Saturday's matchup is not a game they are taking lightly. Columbus is currently in last place in the East with a 5-11-11 record.
"We don't look at things like [their record]," Lions defender Luke Boden said after training Thursday. "Columbus are a good team. [In] MLS, any team can beat any team. You look at Colorado last year. Obviously, they were bottom of the league, and this year, you're top of the league.
"And we played Columbus already, and we know how good they are. They got some good players, they're fast. They got some really fast players. So, it'll be a good game."
Columbus is led by Ola Kamara in scoring with 11 goals while Justin Meram leads the team in assists with eight. They are currently tied for the second-worst goal differential in MLS with -9. They've allowed 45 goals this season.
But Orlando hasn't fared much better, allowing the second-most goals in MLS with 49.
"We've got great players on the team, great forward players on the team, and scoring goals is not our worry," Boden said. "It's trying to keep clean sheets, at the moment. And that's a team thing. That's just not the back four. That's everybody on the field."
Columbus will travel to visit Orlando City at Camping World Stadium on Saturday. Kickoff is slated for 7:30 p.m.