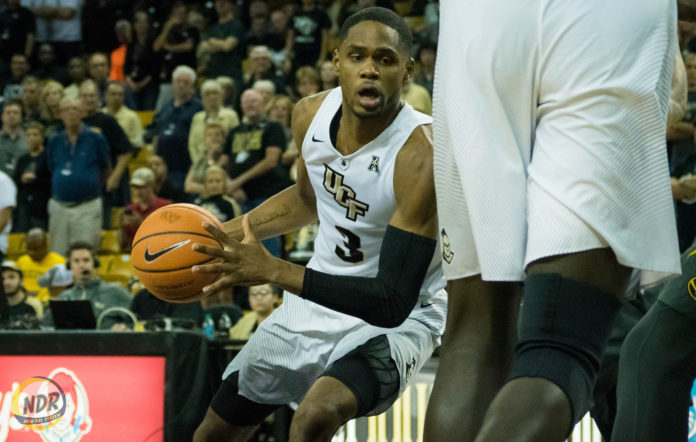 (Photo by Victor Tan / New Day Review)
Game Recap
ORLANDO, Fla. – Second-year UCF Knights head coach Johnny Dawkins wanted his team to fix two issues entering Thursday night's game against the Missouri Tigers: shooting and turnovers. After shooting a combined 25.5 percent and averaging 24 turnovers per game over their past two games, the Knights made an improvement against the Tigers, shooting 44.2 percent from the field and recording just 13 turnovers.
That wasn't enough, though, as UCF (4-3) fell to the Tigers (6-2) 62-59 at CFE Arena in front of an announced attendance of 5,122 fans late Thursday night.
"You know, I liked the improvement that we had [on offense]. I thought we valued the possessions a little bit more," Dawkins said after the loss. "I thought we made more connecting plays. You know, offensively, we shared the basketball, and that's something that we have to do, and I think our guys will see that on film tomorrow that that was a really good thing for us."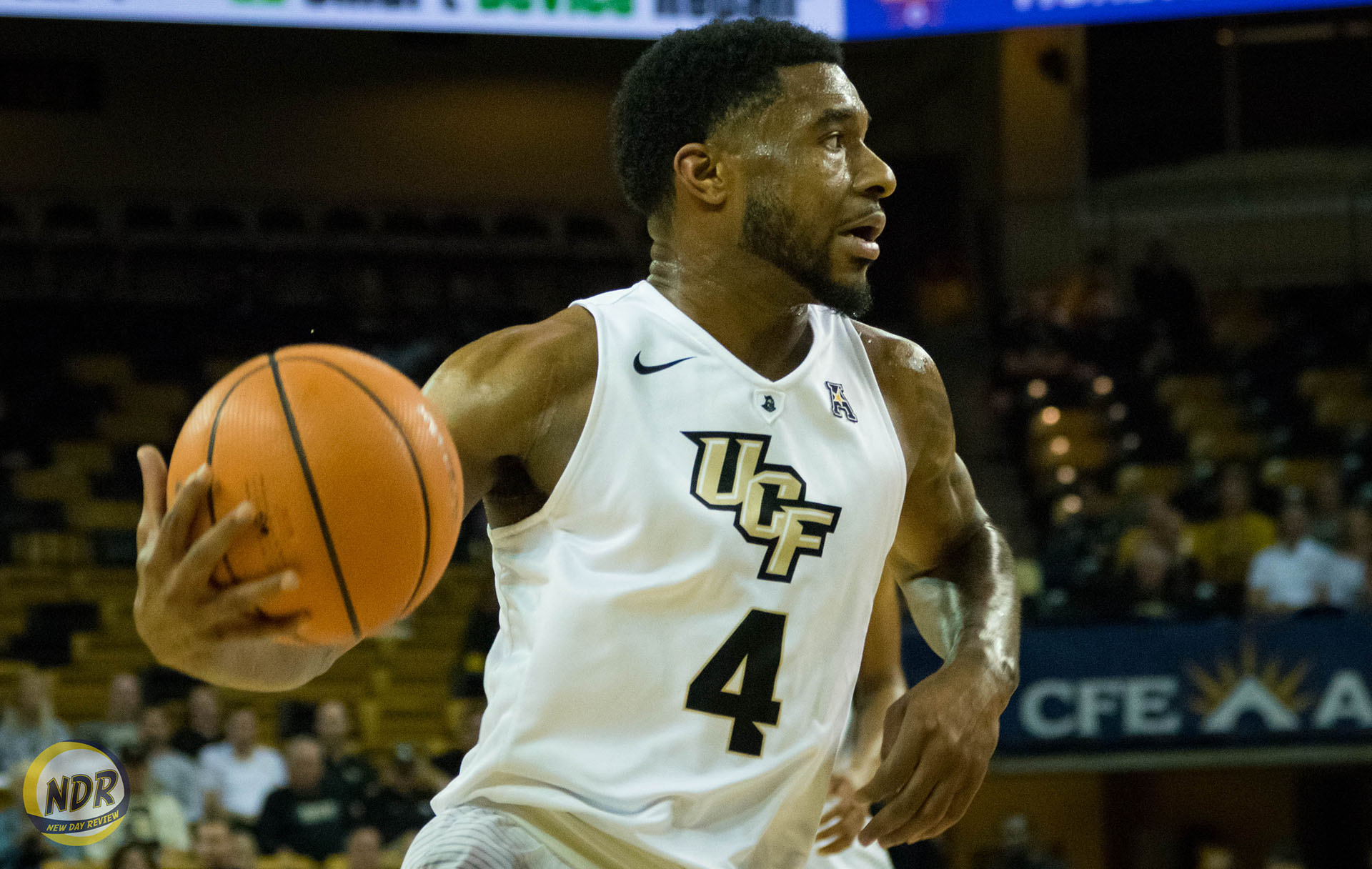 Trailing 54-46 with just over four minutes to play, the Knights began their late comeback effort. Ceasar DeJesus, first, hit an impromptu, buzzer-beating three-pointer to pull the Knights within five points. After a missed Tigers jumper, redshirt senior A.J. Davis slashed to the basket for an and-1 layup, making the ensuing free throw to make it 54-52.
Missouri was clutch in the waning minutes, though, draining a three-pointer on the ensuing possession and making another jumper two possessions later to keep UCF down five points. Knights point guard Terrell Allen made a three with 36 seconds to go to pull within two points, but three Jordan Barnett free throws kept the Knights at bay for the rest of the game.
"Well I think our guys had really good spirit," Dawkins said. "You know, I think our guys are really good competitors, and, you know, they always gonna fight; they're gonna compete, you know, and give us a chance to win. I never question that. And we believe in them. I think, like I said, they believe in us, and they kept competing, and they made some plays happen. And that was great to see. You know, a lot of different guys stepped up for us tonight."
The Knights almost took their second lead of the game, coming within two points midway through the second half, but Missouri's consistent offensive rebounding and efficient, second-half three-point shooting kept UCF at bay. Leading 36-34, Missouri used a 16-7 run to claim its third double-digit lead of the game. Barnett led the way, scoring nine of the Tigers' 16 in that run.
Timely shooting by Dayon Griffin and Tacko Fall's inside presence kept UCF in the game. With UCF trailing 52-41 coming out of its timeout, Griffin drained a three-pointer off a Fall assist, his first and only of the game. That was followed by Fall forcing a missed Missouri layup and putting in one of his own three possessions later to make it a 52-46 game.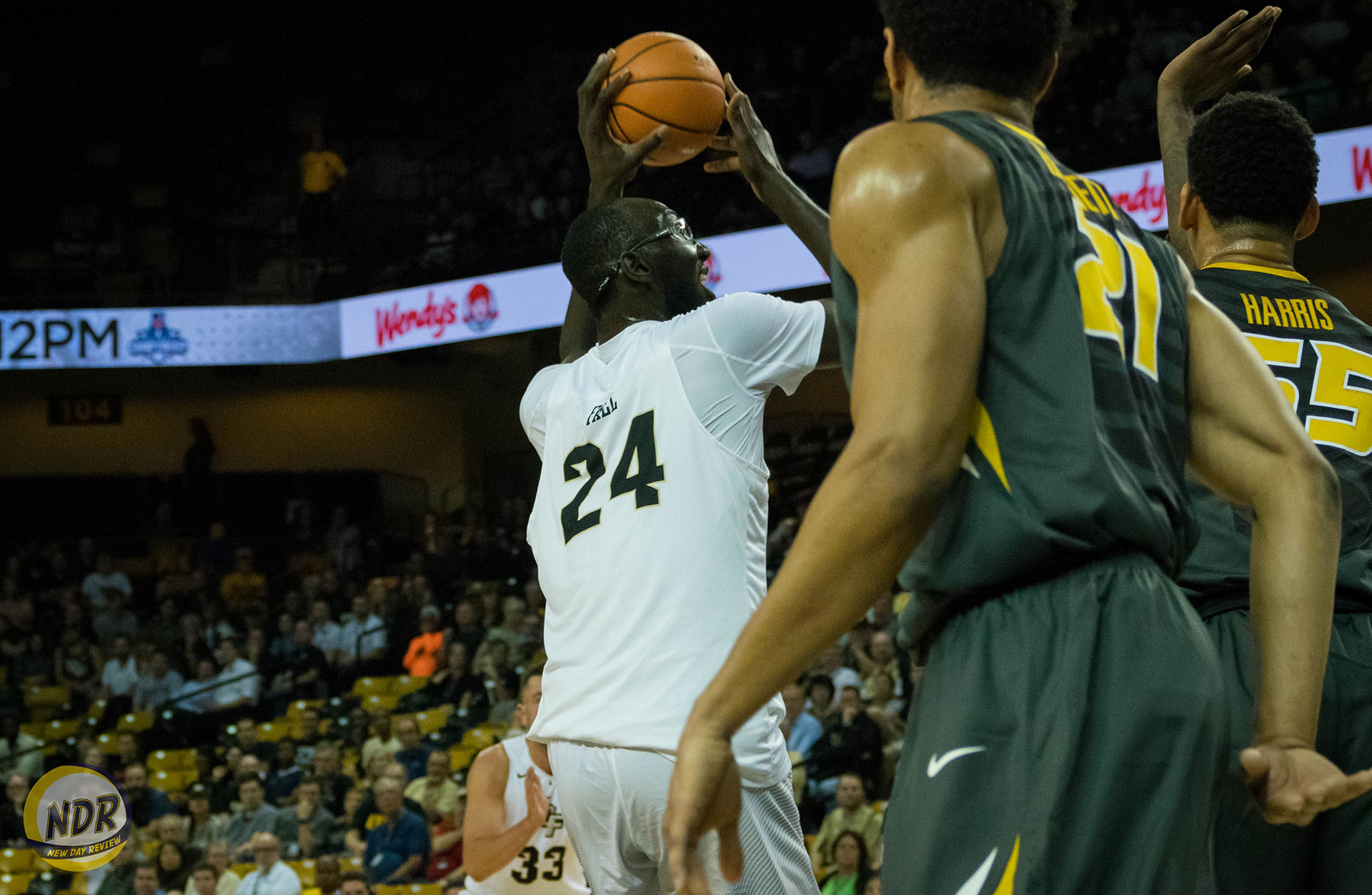 UCF started the game shooting 41 percent from the field, nearly 16 percent better than its two-game average over the Knights' past two losses. That helped the Knights jump to a 21-14 lead by the midway point of the first half.
Missouri, however, went on a 15-3 run to finish the first half with a five-point lead. Kassius Robertson and Barnett led the run with eight points and four points, respectively. Barnett started the effort with back-to-back buckets, courtesy of a Robertson steal and assist. Robertson followed that with back-to-back three-pointers before making a last-second layup to end the half.
"We went on our little run. They were bound to go on their run, too," Davis said after the game. "You know, I'm a believer in basketball's a game of runs on both ends. You know, it's just whichever team could sustain the other team's run better is the team most likely that's gonna get that separation, so, you know, during our run, they held their ground, and, you know, when they went on their run, we didn't get enough stops during that time."
Player of the Game: F Jordan Barnett
Barnett finished the game with a game-high 19 points on 7-for-12 shooting (2-for-5 from three-point range) in 35 minutes of action. He also had six rebounds, second-most for Missouri, and had two assists. Barnett was instrumental in two pivotal runs for the Tigers, one that gave them the lead before halftime and another that gave the Tigers a double-digit lead to close out the game.
What's next?
The Knights will embark on a one-game road trip to face the Alabama Crimson Tide on Sunday at 2 p.m.
Djordjije Mumin Makes 1st-Career Start
Senior Djordjije Mumin made his first-career start for the Knights in the loss to Missouri. Redshirt sophomore Chance McSpadden got the starting nod in the past two games, two losses, as he went 2-for-10 during the Knights' then-two-game losing streak. Mumin finished the loss to Missouri with three points on 1-for-2 shooting (1-for-2 from three-point range), three rebounds and an assist in 19 minutes. His career-high is 22 minutes.
"Yeah, I love Djordjije. Djordjije, that's my man. You know, just such a humble guy, you know, for him to be a senior and just stick with the game plan, and he just wants to win basketball games; he just wants to win and do his part and have a great, you know, senior season," Davis said. "So I was excited for him to get that start, and, you know, he'll do great things. He'll be just fine. We were just excited for him, just excited for him. Wish we could've got the win for him in his first start."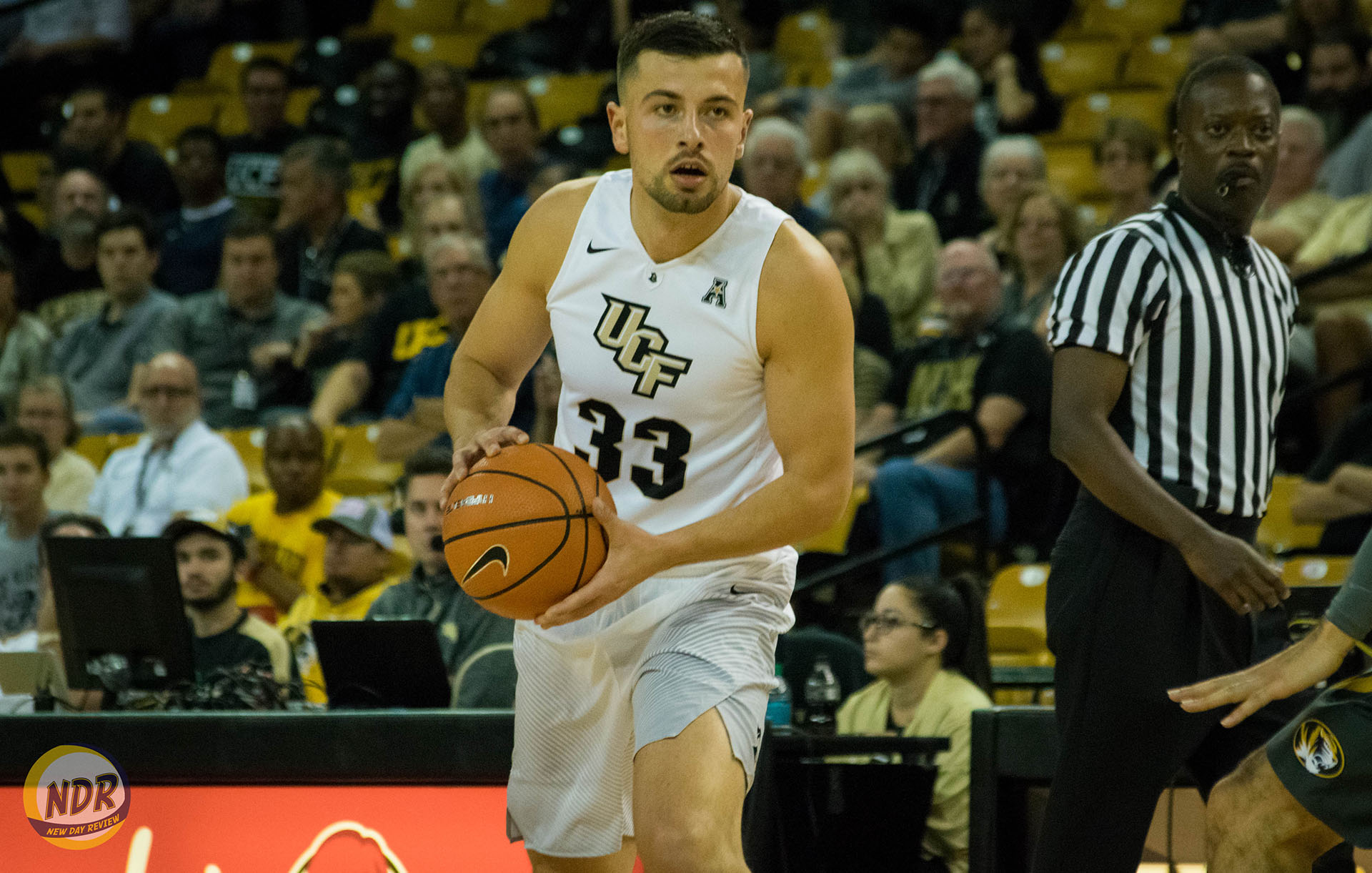 Mumin scored the Knights' three points in a 15-3 Missouri run that ended the first half. His three points made it a five-point difference entering halftime. Mumin also collected an offensive rebound and drew a charge in the first half.
"I thought [Mumin] was solid for us. I thought he came in. He played like we expected. He's a mature player," Dawkins said. "He's, you know, a senior for us, and we expect him to play that way. Thought in the game like this, that'd be a good way to go. And I thought, you know, he was really solid.
"He rebounded; of course, he knocked down an open shot, and those are things that we want from him, and I thought his minutes were positive."
Highlights
NDR Notes
Mumin made his first collegiate start in the loss to Missouri.
Fall started his fourth-consecutive game after returning from a minor hip injury he's still nursing.
Davis' six-game streak of double-digit rebounds ended against Missouri, as he grabbed nine boards in the loss.
UCF is now on a three-game losing streak, losing its first at home.
Scoring
| | | | |
| --- | --- | --- | --- |
| | 1st Half | 2nd Half | Final |
| UCF Knights | 24 | 35 | 59 |
| Missouri Tigers | 29 | 33 | 62 |
Statistics and Starting Lineups
Team Leaders
| | | |
| --- | --- | --- |
| | UCF Knights | Missouri Tigers |
| Points | A.J. Davis (14) | Jordan Barnett, Kassius Robertson (19) |
| Rebounds | A.J. Davis (9) | Jeremiah Tilmon (7) |
| Assists | Ceasar DeJesus, Dayon Griffin (4) | Kassius Robertson, Blake Harris, Terrence Phillips (3) |
| Blocks | Rokas Ulvydas (2) | Jeremiah Tilmon (3) |
| Steals | Chad Brown, Chance McSpadden (1) | Kevin Puryear, Kassius Robertson (1) |
| Turnovers | Terrell Allen (3) | Jordan Barnett (3) |
| Minutes | A.J. Davis (39) | Kassius Robertson (37) |
Team Statistics
| | | | | | |
| --- | --- | --- | --- | --- | --- |
| | Rebounds | Assists | Blocks | Steals | Turnovers |
| UCF Knights | 34 | 12 | 2 | 2 | 13 |
| Missouri Tigers | 31 | 15 | 4 | 2 | 9 |
Shooting Percentages
| | | |
| --- | --- | --- |
| | UCF Knights | Missouri Tigers |
| FG% | 44.2% | 45.5% |
| 3FG% | 33.3% | 42.1% |
| FT% | 58.3% | 50.0% |
UCF Knights starting lineup: Terrell Allen (G), Ceasar DeJesus (G), Djordjije Mumin (G), A.J. Davis (F), Tacko Fall (C)
Missouri Tigers starting lineup: Blake Harris (G), Kassius Robertson (G), Kevin Puryear (F), Jeremiah Tilmon (F), Jordan Barnett (F)
---
For more on the Knights, as they prepare for Alabama, follow Victor Tan on Twitter at @NDR_VictorTan.