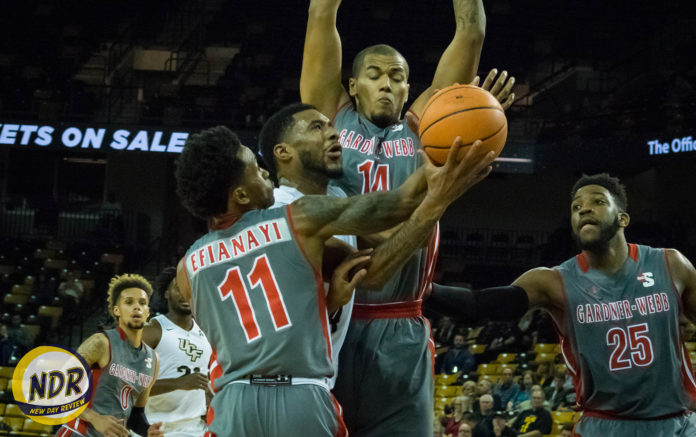 (Photo by Victor Tan / New Day Review)
ORLANDO, Fla. – The UCF Knights have hit their first bump in the road in the early-season going. After winning their first four games of the 2017-18 season, the Knights have lost their past two to the No. 19 West Virginia Mountaineers and St. John's University.
In those two losses, UCF shot a lowly 25.5 percent from the field. Just one Knight in each of the losses recorded double-digit points: Tacko Fall's 11 points in the loss to West Virginia and Chad Brown's 12 in the loss to St. John's. It's been a process, however, for UCF, as second-year Knights head coach Johnny Dawkins combats the consequences of an injury-riddled roster.
Explosive, athletic guard and Michigan Wolverines transfer Aubrey Dawkins, also Johnny's son, was sidelined with a season-ending shoulder injury before the season started. Star point guard and last season's leading scorer B.J. Taylor suffered a foot fracture in the season-opener, and even Fall is still recovering from a minor hip injury.
Forward A.J. Davis, who shot a combined 4-for-18 (22 percent) in the two losses, isn't concerned about his team's shooting woes, as he sees it as just a part of the natural ebb and flow of the game.
"[Bad shooting is] part of the game, you know?" Davis said before practice on Nov. 29. "I think we'll have games where we can't miss, and, right now, we're just in a little slump where we can't make a lot of shots. You know, it's just part of basketball. We'll be alright. Keep on shooting the ball; don't let it get to your head, and, you know, just make the next one."
Part of the Knights' lack of rhythm derives from their recent inability to maintain possession. Against West Virginia and St. John's, the Knights recorded 48 turnovers. UCF is currently 334th out of 351 schools in turnovers per game (17.7).
For Johnny, fixing his team's turnover issues will help resolve the team's shooting problems.
"Well an adjustment we need to make is taking care of the basketball. We're turning the ball over way too many times," Johnny said before practice on Nov. 29. "I mean, that's something I'm totally opposed to as a coach. I don't like it, and we have to clean that up, so we're working on that.
"And then we need to make sure that along with valuing the basketball, just valuing the possessions as well. So, you know, making sure we clean up our turnovers but also searching out and being patient, how to search a great shot, not settling for just mediocre shots, and that's something that this team has to learn."
One cause of UCF's increase in turnovers is internally manufactured. Johnny said he wanted this year's team to play faster, as the additions of guards Terrell Allen, Ceasar DeJesus, Dayon Griffin and Chance McSpadden have provided depth to what was a seven-man rotation a season ago. Though, without Taylor leading the way, the Knights have been slow to acquire a faster pace.
"I think wanting to play faster has affected with the turnovers, with the group that we have out there. We have a young perimeter out there," Johnny said. "We started a freshman and a sophomore in the backcourt, and, at this level, neither one of them had that experience yet.
"So, I know there's a learning curve there, but, you know, we're gonna tweak what we do to try to help them with that. We showed them some scenarios on film that I think they really understand, now, kinda what we're working for. And we'll see, tomorrow, if we can go out there and perform, you know, at that better level, especially valuing the basketball."
Fortunately for the Knights, a similar defensive mindset has carried over from last season to this one. Despite not leading the nation in opposing field-goal percentage, UCF is still a top-25 defensive team. The Knights are 21st in the nation in opposing field-goal percentage, allowing teams to shoot just 36.7 percent and average 66 points per game.
UCF's most impressive defensive showing came in its last loss to St. John's, holding the Red Storm to just 46 points. St. John's was averaging 78.5 points per game before playing UCF.
"Defensively, I feel like we're improving. You know, we held St. John's, our last game, to 46 points," Brown said before practice on Nov. 29. "You know, they're a really good offensive team, so I feel like we're taking that next step defensively, and, you know, that's what we need for us to win basketball games on a daily basis. You know, if we do that every single day, then we're gonna give ourselves a chance to win every night."
The Knights host the Missouri Tigers in a late-night matchup on ESPN2 Thursday night. Tipoff between UCF and Missouri is at 9 p.m.
---
For more on the Knights, as they look to host the Tigers, follow Victor Tan on Twitter at @NDR_VictorTan.