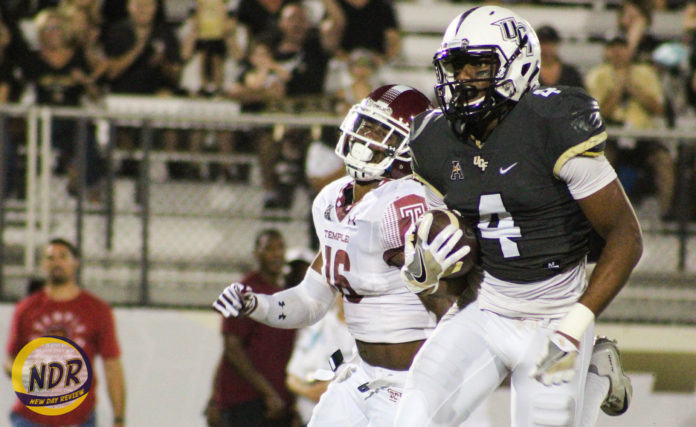 (Photo by Christopher Bobo / New Day Review)
ORLANDO, Fla. – University of Central Florida offensive coordinator and wide-receivers coach Troy Walters watches his receivers corps like a hawk at practice. In the hot morning sun, Walters is paying attention to his receivers' routes, footwork and hands, making sure all is in order. His mind is at ease knowing depth at wide receiver will provide UCF's quarterback with plenty of options.
"We've got a lot of talent," Walters said after practice on Aug. 7. "A lot of guys that can make plays. And, so, it kinda forces everybody to be ready. When your number's called, you better make a play because if you don't, someone behind you is ready to step in. So, it's been great."
Of the receivers who caught at least one ball last season, the retuning players consist of redshirt junior Tre'Quan Smith, junior Cam Stewart, junior Tristan Payton and sophomore Dredrick Snelson. The incoming freshmen, Marlon Williams, Gabriel Davis and Emmanuel Logan-Greene, are all three-star recruits, according to 247Sports.com and Rivals with ESPN having Logan-Greene and Williams as four-stars. Also in the group are University of Florida transfer Case Harrison and Tristan Reaves, who played special teams last season.
For Walters, the leader of that group is hopefully Smith. Last season, he led the team with 57 catches, 853 yards and five touchdowns. Smith was named to the Fred Biletnikoff Award watch list this preseason. Smith has now been tasked with becoming the leader of the group.
"Big thing for him is set the example," Walters said after practice Aug. 10. "Go out there and do what we're asking you to do. And the younger guys are gonna follow him. The young guys are gonna watch him. And so he's gotta step his game up, which he has. You know, it's kinda lead by example right now. Set the example, and he's doing that. And he's gotta be more vocal."
Smith isn't the only player who has made a difference so far in training camp. Quarterback McKenzie Milton said he has noticed difference-makers, and he is certainly happy to have a deep group.
"It's definitely a blessing," Milton said after practice on July 27. "Cam Stewart has been stepping up. There's a lot of good freshmen, too, that look solid and a lot of good vets. So it's exciting. Case Harrison from Florida—he's gonna be a guy this year."
That young talent is something that has Walters has noticed, too. Davis' blocking and toughness, Williams' ability to catch the ball high and Logan-Greene being "slippery" are all qualities Walters has praised.
"All of them are doing a great job, you know? We're throwing a lot at them," Waters said. "We're throwing a lot at them, and the defense is throwing a lot at them. So, any time you have that combination, you know, usually their heads are spinning. But, you know, those guys came in early. A lot of the freshmen came in early and got into the playbook and really learned what we're trying to do."
To help the young players adjust even more, Smith is taking some freshmen under his wing. One of those players is Williams.
"On offense, I like my receiver Marlon. Marlon Williams," Smith said after practice on July 27. "Because he's a pretty stocky kid, and he made a couple great catches and a couple bursts after the catch. So I'm really looking forward to see how he develop."
With so many weapons and a year under their belt in second-year head coach Scott Frost's offense, expectations for UCF have risen. This wide-receiver corps is one of the reasons that UCF has higher expectations for this year. Those expectations are something Smith feels like his group will live up to.
"I look at the past season, and I know, by far, we could have done way better," Smith said. "We left a lot of plays on the field. I want the expectations to be high 'cause I want to be able to live up to them and pass the expectations. Because I know, for one, like I said, our last season wasn't our best season. It's yet to come."
---
For more on the Knights, as they prepare for their season-opener on Aug. 31, follow Ryan Weiss on Twitter at @NDR_RyanWeiss.